enrollment
Is Graduate Enrollment Softening?

If there is anything as sure as death and taxes in the higher education arena, it is continuously shifting markets that make enrolling students a seemingly impossible challenge. Right when you feel you may have unlocked the mysteries of the prospective student market it changes, requiring you to adjust and refine. We may be seeing that now with graduate enrollment trends.
Should we be alarmed at the latest graduate enrollment trends?
The most recent spring 2022 Current Term Enrollment Estimates released by the National Student Clearinghouse indicates that year-over-year (YoY) spring graduate enrollment contracted in 2022 (blue lines below) for all but for-profit institutions. This follows tremendous growth in 2021 (orange lines below). Is this the beginning of longer term contraction? Is this a correction from pandemic-driven expansion? It certainly offers a check on all of the recent hype being given to the graduate market as being the epicenter of future growth and financial success.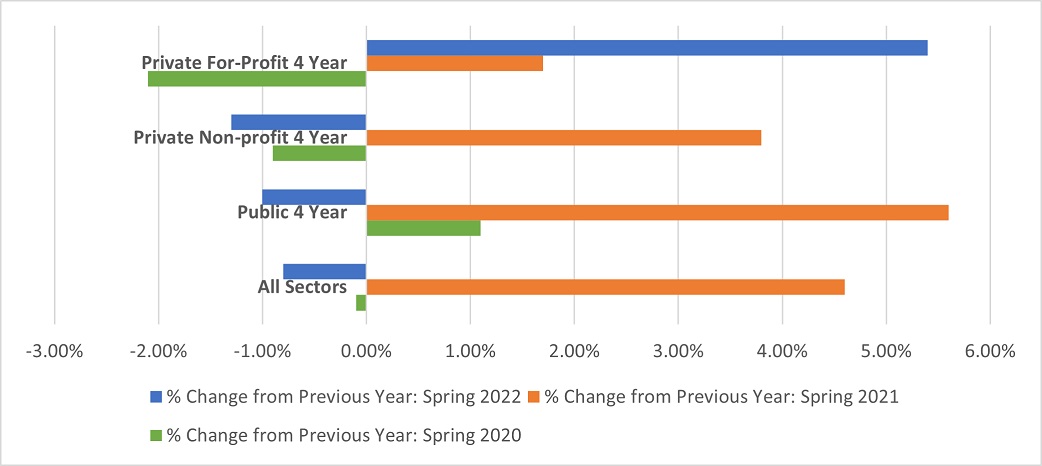 So is the graduate market—a market segment which has provided a relatively sturdy source of enrollment and revenue growth in the last three years—losing steam? Is this the end of the graduate market as the enrollment and revenue savior? The answer is obviously no. Note that the contraction in spring 2022 isn't as large as the growth in 2021, and as such, graduate enrollment trends still show a trajectory toward growth. Also consider that spring enrollment is often not quite as robust as fall—which sees the lion's share of new students entering.

How do you respond?
If we are seeing a (slight) correction in graduate enrollment, it is more important than ever for schools to continue to refine, evolve, and bolster their marketing and recruitment strategies. It is a sign that competition may be increasing for a slightly more finite audience. The institutions that will "win" students as competition tightens are those that meet their expectations and needs.
This will entail schools investing in and effectively executing on more sophisticated and state-of-the-art marketing and recruitment practices and strategies. In a way, things are getting back to normal, but now institutions need a more sophisticated and complex set of strategies and tactics to engage and enroll a student.
Be investment-minded
I have continuously challenged my colleagues across the country to adopt a more investment-minded approach to their efforts in the graduate market. Doing so pushes institutions to commit to developing and adopting more robust and innovative strategies and methods, while leveraging state-of-the-art technology to drive more meaningful engagement practices. This cannot be done without investment, so more and more institutions are really figuring out what ROI really means.
Lead from the front
Along with an investment mindset, successful enrollment leaders are enhancing their own knowledge of the most up-to-date strategies and tactics that the more successful institutions are using to market, engage, nurture, and convert graduate students. Leaders must push their institutions to meet the market where it is today, rather than hoping that the market will respond to outdated strategies and tactics – which produce less than desirable outcomes.
Steady on
As graduate enrollment trends flatten, the temptation to abandon and pivot must be controlled. Graduate enrollment potential remains strong, and most institutions can honestly do far better in their efforts to optimize enrollment. In previous blogs, I have mentioned the importance of providing an experience that is expedient, engaging, personalized, and authentic. Here are six things that will inject lift into any institution's funnel:
Speed to lead: More than 60 percent of graduate students are likely to enroll at the school that first responds to their RFI submission. Are you scaled in a way that allows you to engage with leads within minutes of inquiring? If you take more than a day, you will disappoint more than 70 percent of your prospects.
Personalized engaging content: Is the way you communicate with your inquiries designed to be engaging, personalized and authentic? While more than 80 percent of graduate students are willing to receive a non-personalized email, fewer than 10 percent say that it satisfies their expectation of personalized communication.
Text messages: Is your enrollment operation set up to be able to use text as a communications channel with inquirers and applicants? If not, you are missing the opportunity to use a channel that is second only to email as a preferred method of communication among today's prospective graduate students.
Calling: Although phone calls are only the third most preferred channel for institutional communication among prospective graduate students, the savviest institutions in the country continue to spend considerable resources on call centers. Why? Because they know that phone calls—or even voice mail messages—often "close the deal." Technologies such as visual caller ID can make calling even more effective by branding a call to a prospective student who is interested in your institution.
Search engine optimization (SEO): Are you approaching your SEO efforts as an ongoing process rather than a one-time event? If not you are losing out among the more than 80 percent of graduate students who begin their program search on a search engine.
Personas: Are you using a singular approach to messaging and marketing for each of your programs? If so, you are likely not meeting the expectations of today's graduate students for customized search experiences that make them feel like you know them. Almost any program attracts at least two different types of students. Develop those personas and then create content that aligns with each one. (I dive into more detail about personas here.)
Explore more in our Graduate Student Report and in a conversation with us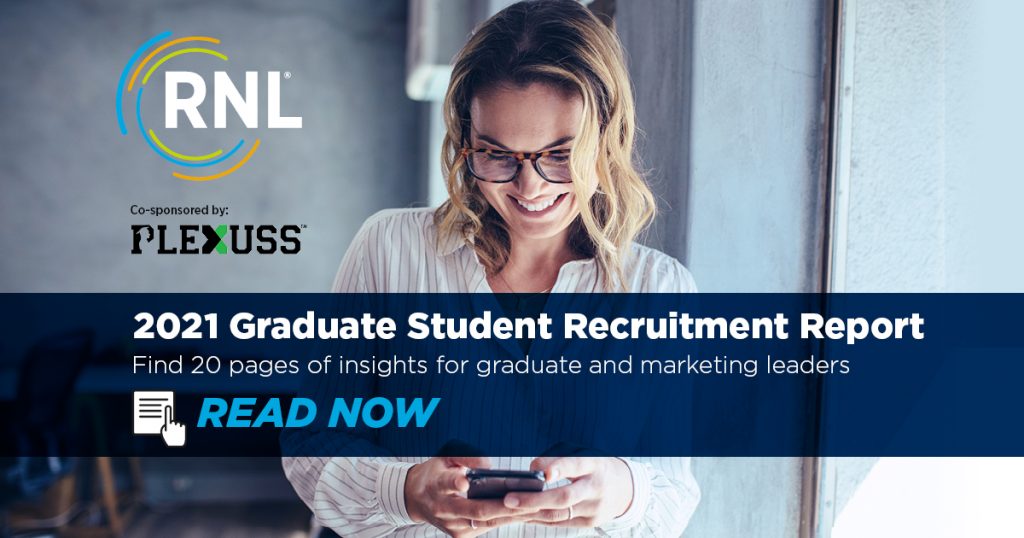 I highly recommend reading RNL's Graduate Student Recruitment Report for all the data and analysis from our survey of 1,500 prospective graduate students. My colleagues and I also are here to help you achieve your graduate enrollment goals. Reach out and we'll set up a convenient time to talk.
No one knows exactly what the future holds for the graduate market. A weakening economy, but one with low unemployment, has no parallel in the recent past. But if the new National Student Clearinghouse data point toward a softening in graduate enrollment trends, it is time for institutions to ensure that they are ready to aggressively compete for students by demonstrating that they understand their expectations and needs. The question then is: how will you position yourself to compete and succeed?
What are your best enrollment strategies for graduate students?
Our graduate enrollment experts can help you take a data-driven approach to optimizing your enrollment. Let's talk about how you can exceed your goals and position your programs more competitively in the market.
---