enrollment
What Presidents Need to Know About Launching Online Programs
As institutions look to diversify their revenue streams and expand or enhance their programmatic offerings, university and college presidents need to consider four key questions that will direct them toward a path of sustainable enrollment and revenue growth.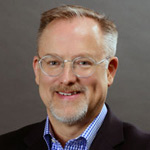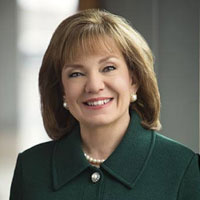 The questions were developed when I sat down with Susan Aldridge—executive higher education consultant and former president of the University of Maryland Global Campus—and my colleague Scott Jeffe—vice president of research at RNL—to develop a session on the "Graduate and Online Imperative" we presented to more than 300 presidents at the annual NAICU conference. The responses to each of these questions represent our shared thoughts, recommendations, and insights that we hope will drive presidents forward as the university's change agent.
The imperative for expanding graduate and online options becomes clear when we consider a couple of key points of market data:
Over two years in which undergraduate enrollment has contracted year-over-year (YoY) each semester, graduate study has grown. (source: National Student Clearinghouse)
Since 2019, all but six states have seen graduate enrollment expand, and all but seven have seen undergraduate enrollment decline. (source: National Student Clearinghouse)
Since 2015, ALL net YoY undergraduate and graduate growth has been among students enrolled in "all distance courses" while there has also been net contraction each year in students enrolled in "all face-to-face classes." (source: IPEDS)
So, what do presidents need to know?
What are the key outcomes college presidents should expect from launching online programs?
At both the graduate and undergraduate level, starting an online program requires a keen understanding of expected outcomes and how (and to whom) accountability will rest for each component of the overall process. Susan indicated that, "There are many reasons to launch online and graduate programs: increasing revenue, facilities management, diversifying student populations and revenue sources to ride through the undulations in the market, meeting local employer needs to develop their workforce, etc." While there are many reasons, presidents and Boards typically have one overriding objective: increasing net tuition revenue (NTR).
An institution can expect definitive increases in NTR, but Susan also tempered this expectation. "At all three institutions where I've served, public and private," Susan said, "the rule of thumb is that online programs generate three times the NTR. However, this number, while achievable, is often diluted because other senior stakeholders (provost's office, deans, program directors, etc.) create their own definition of success—for instance, launching as many courses as possible online or starting with programs the faculty support rather than using market research to inform decisions. Soon the ROI is diminished due to decisions that lack a common understanding about a core and unifying objective." As a result, universities sink costs and online expenses exceed the revenue generated, adding to the university's financial burden.
Susan also suggested that institutions are wise to start with a small number of programs with scalability.Two high demand programs are far more cost effective than 5-10 with less potential. Why? Because a commitment needs to be made to fully invest in the development, marketing, and recruitment initiatives tied to the programs. Research will provide intelligence on student expectations, which is a key consideration. As Scott preaches, "A rising tide will not lift all boats. Online programs need to be designed with an understanding of how online students prefer to study."
What are the primary causes of failure with online program launches?
Unfortunately, there are many ways a well-intentioned plan can be derailed and end up either not producing the intended/expected revenue or having incurred a greater cost than anticipated—therefore also eroding the NTR.
One key cause of failure comes when, after obtaining Board approval, presidents disengage and turn execution over to their provost's office and move onto the next big thing. In her presidencies, Susan always remained involved in execution and believes this is part of the success that she and other successful presidents have had (think of Paul LeBlanc at Southern New Hampshire University). Susan adds that problems compound when there is a "lack of consistent, clear communication from the top about the intended outcomes (NTR), lack of market research to identify a small set of scalable and competitive priority programs, and lack of a trained specialized team with expertise in online and adult learners."
When these challenges are accompanied by a lack of accountability, we witness a perfect storm."A lack of accountability for success across the university is common," Susan said. "One team cannot be accountable for growth when other stakeholders are empowered to make decisions that inhibit meeting goals like academic program directors who take it upon themselves to deny millions of dollars in qualified applications because they want to appear 'elite'." When this happens, the investments made in the development, marketing, and recruitment of these online programs are then minimized—if not fully lost.
An equally likely path to failure is when robust, methodologically solid market research is not conducted to inform program choice. As Susan said, "A basic benchmarking against competitors does not suffice. First, because universities need a more thorough understanding of demand and employment trends for each program. Second, because benchmarking is a 'dangerous sport' when it comes to decisions like these. It assumes that those universities with whom you are comparing yourselves to have also done the due diligence when developing and investing in program offerings. "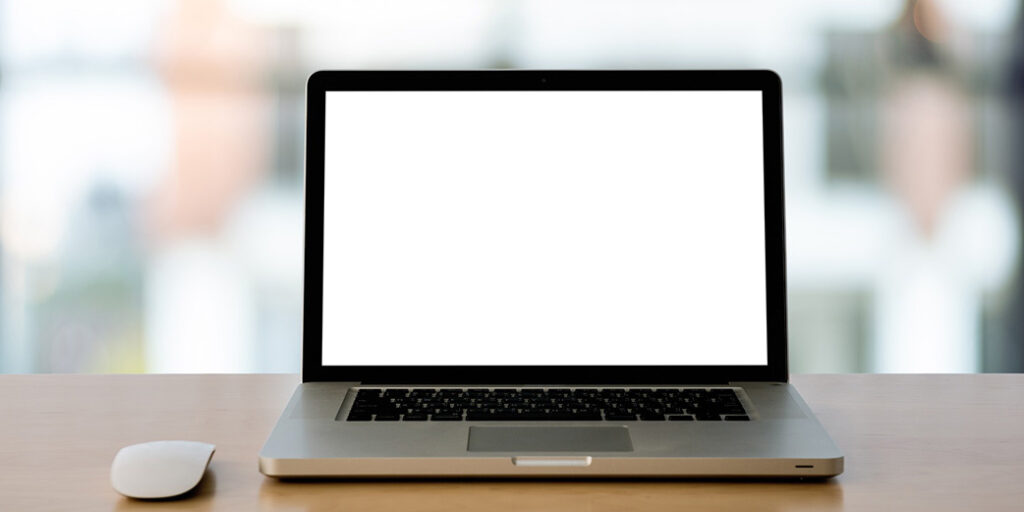 How much should a president plan to spend on online recruitment, teaching, etc. and what is the anticipated net tuition revenue?
Susan proposes that, before we even talk 'dollars and cents', university leaders need to understand that online and graduate growth leadership should report to the president as a cross-functional, operational approach across the university. Strategic online and graduate growth to generate NTR is a management role, not an academic function. The president's ongoing involvement ensures that the strategy and expected outcomes remain at the forefront, barriers are efficiently eliminated, all staff are held accountable for the successful growth, and expenditures are invested only when they are needed during the growth trajectory.
Once universities assess the internal capabilities and limitations, either internal expertise needs to be hired or contracted.There is no time for on-the-job training to generate significant revenue.Universities must hire executives with 10+ years managing successful online programs or contract out.Junior staff without expertise in this competitive, highly regulated field will not be able to lead NTR-generated results or accreditation
NTR must be projected and monitored across every program. This structure helps provide a greater sense of what outcomes to expect, clarity on accountability for those outcomes across each campus constituency, and overall goals (short and long term). Once this structure has been established, then the institution is truly ready to understand the level of investment potentially needed to not only launch a program but effectively market, recruit and enroll for that program. "Digital marketing is expensive, but essential and effective," Scott said. This is true—while not a cheap proposition, it provides a great deal of upside when looking at ROI.Traditional university marketing strategies may be ten years behind the digital strategies required for successful online recruitment.
For presidents, one of the most important cost considerations is what the institution is willing to invest in, and where? Is the university looking to hire more FTE's, faculty, support staff?Will outsourcing some of these areas (whether marketing, recruitment, and/or instructional design) provide a competitive advantage? Costs for either choice can be hefty.
When considering third-party partners to assist in filling out bandwidth and/or skill-set gaps, RNL estimates what to expect:
Course Content Development and Instructional Design
This depends on the number of programs, and overall capabilities of current faculty and/or instructional design team. Costs could range from $65K – $500K+ per year.
Recruitment
Lead Generation

Digital Lead Generation

$4,500-20,000 in ad spend per program per month

Management fees if outsourcing – about $30-50K per programs per year

Search Engine Optimization (SEO)

$40-$120K depending on number of programs per year

Lead Engagement and Conversion

If outsourcing the recruitment team (and not through an OPM/revenue sharing model), it depends on number of programs and volume. Costs could be $200K – $1mil +

Course Content Development

Depends on number of programs, but would be between $65K – $500K+
Universities have a choice: 1) Source all functions in house, or 2) outsource some or all components to a third party. Some universities have chosen to work with OPM partners and enter into a revenue share agreement, while others have taken a more investment-minded approach in order to own all their revenue through fixed fee/fee-for-service partnerships with a trusted vendor. Both have their benefits and risks.
An additional interesting fact from Scott's research, "Between 2019 and 2021, the average graduate marketing budget doubled for both public and private institutions participating in an RNL survey of graduate enrollment and marketing leaders. These numbers were; $412k for private and $598k for public universities. This is just the tip of the iceberg considering that a sophisticated digital marketing campaign for one high demand program such as an MBA can cost in excess of $100k."
This finding shows that universities still tend to woefully underfund their recruitment and marketing efforts. With that said, the huge increase in two years of marketing budgets indicates more institutions are recognizing that online and graduate education are keys to driving greater revenue growth—and are therefore investing more in it. This also shows that competition is fierce! Are these investments generating the return that universities need?How is the university generating the return that it needs?How is the university ensuring laser-focused investments to ensure the needed NTR?
How can presidents influence the transformation to new student markets?
"Focusing on the small number of competitive graduate (and online) programs that build on the brand of the institution and match the current job market is essential," said Susan. Success comes from two or three well researched and planned programs that can generate NTR may provide opportunities for the institution to expand their offerings as part of future phases.The cost of online strategies is based upon the number of programs launched.
Presidents who lead and support an investment-minded approach with the rest of cabinet—particularly with their CFOs—are more successful. In order to maximize the potential of graduate and online enrollments, this cannot be done without strategic investment. These investments include:
Market Research: Program Demand, Price Sensitivity, Market Perception
Course Development (new, current on-ground to online, refreshing stagnant online)
Digital Marketing ( expensive, but necessary to build top-of-funnel) and Lead Generation
Application Marketing
Yield
Potential FTE addition(s)
Graduate and online programs provide university leadership with the opportunity to diversify revenue sources at a time when traditional demographics and numbers are waning. Many universities are recognizing this and have already started to diversify more in these areas. The time is now to seriously consider the online and graduate programs that meet regional market demands—both programmatically and in terms of delivery/modality. There are market opportunities for tightly managed programs designed specifically for working professionals if the investments are laser-focused for quality, employability and ROI.
Watch more discussion with Susan Aldridge and Scott Jeffe
Susan and Scott discussed graduate and online innovation during this 30-minute LinkedIn Live session. Watch their conversation about how you can use a "living roadmap" to craft program strategy and the key ways leaders can support graduate and online program development and enrollment marketing.
What's the best path for your institution?
Our online enrollment experts can talk with you about launching online programs in a way that maximizes your NTR and ROI. We can discuss market research, program prioritization, digital lead generation, and most importantly total transparency and flexibility so that your institution is always in control. Reach out today and we'll arrange a complimentary consultation.
Transform your success with graduate and online enrollment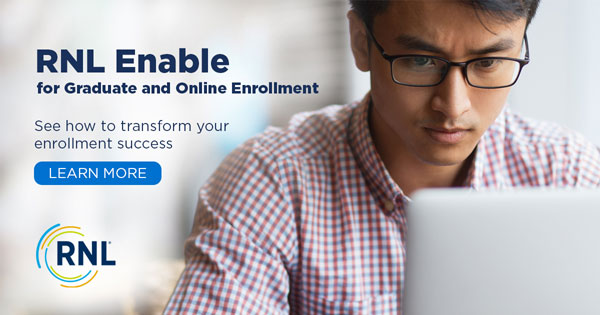 Find out how RNL Enable can support your graduate and online enrollment across the student lifecycle:
Strategy and Market Research
Teaching and Learning
Lead Generation and Conversion
Student Success and Completion
---