fundraising
Transforming Donor Engagement: RNL Experts Chat
In the 21st century, you have a ton of competition for donor attention. Your donors crave authentic engagement and want to hear about real impact, with personalized outreach that relates directly to their interests. It's hard to achieve this sort of communication synergy alone. It requires transforming donor engagement to align with donor behavior and expectations in an increasingly digital world.
I recently explored this topic with three veteran fundraising experts who have just joined the RNL fundraising team: Greta Daniels, Meg Weber, and Jay Finney. They have decades of experience successfully engaging donors. Their experience is practical—each has crafted fundraising strategy at multiple organizations and seen how donor engagement is changing. Our chat covers some of the major shifts we're seeing in donor engagement strategy and their insights into the best approaches for transforming donor engagement.
Fun facts about our fundraising leaders (click the image for a larger size)
(Since this original post, RNL has added 2 new fundraising leaders, Chad Warren and Justin Marquart. Read their discussion on donor engagement strategy with Brian Gawor.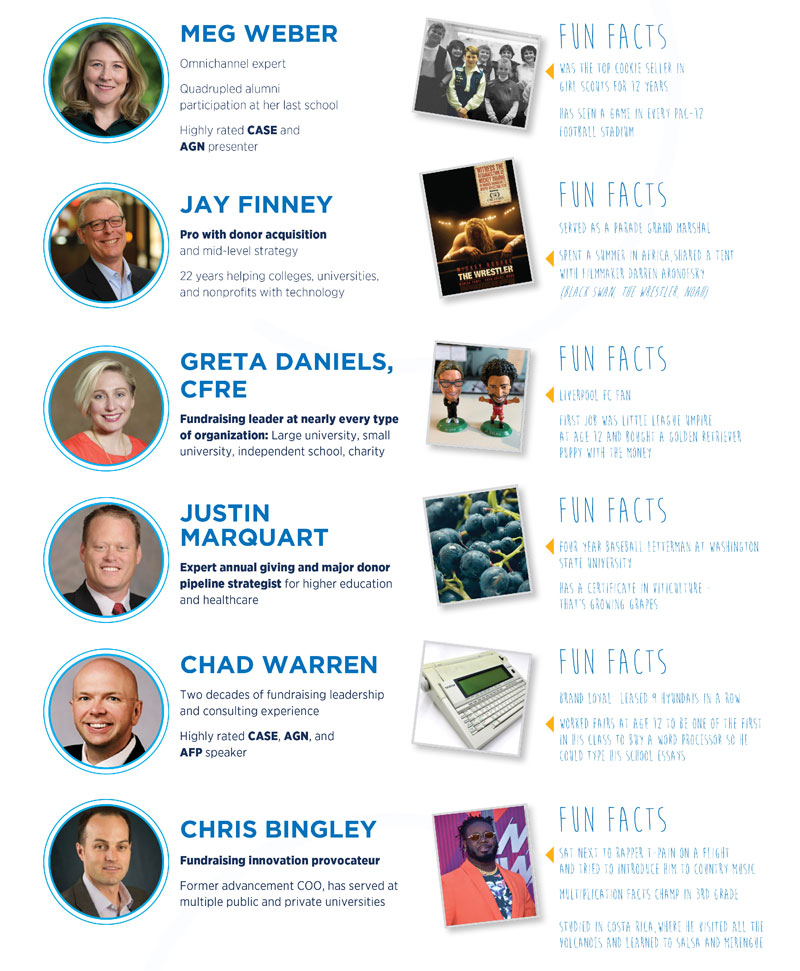 Brian Gawor: Hello, Meg, Jay and Greta and welcome to the RNL family.
To help people get to know you, we're going to talk about the next generation of donor engagement. What's your opinion on what fundraisers should be doing today? What does donor engagement look like in the 21st century?
Greta Daniels: Donor engagement in the 21st century is nimble. Conversations about great donor engagement today all use terms like personalized, responsive, and authentic, but in my experience, transforming donor engagement really boils down to how quickly you (as an institution) are able to pivot in a constantly changing media landscape. Are you poised to broadly engage your donor base when a new and exciting opportunity from university leadership lands on your desk? Are you thoughtfully incorporating new digital mediums to engage your audiences in the places they frequent? Are you collecting data to determine your effectiveness and utilizing that to inform future strategy? If you can answer yes to these questions, you're going to be better enabled to build engagement opportunities into a broader development strategy that brings results and keeps donors excited.
Jay Finney: I agree, and donors have so much control now over what they see and do in response. Donor engagement now looks like what the donor/potential donor wants it to look like. Like Greta said, it is personalized (and therefore relevant to them) and presented through a variety of channels. We need to know what is of interest to that individual and what forms of communication are they utilizing. We shouldn't just be asking what would resonate with Millennials or what would resonate with Baby Boomers. We should be asking, "What would resonate with Karen Jones?"
Brian Gawor: I agree with that, we're really on an individual level with donors now. We've already seen some great results here at RNL with both actionable surveying to uncover donors' interests as well as using data from things like digital engagement. Meg, you've seen some significant results engaging new populations in your career, what's your take?
Meg Weber: Every donor is different and so is your relationship. It used to be that you could call or mail your alumni once and have a short conversation about their support—which was often fairly assumptive that their alma mater would be a philanthropic priority. Some older donor populations are still in that space, and they remain an important part of your donor base. We should engage these folks in a way that feels natural to them and respects their preferences, while still pushing them a bit to get more engaged than in years past.
Brian Gawor: I feel like I am about to hear the "M" word…
Meg Weber: That's right, for most institutions, the largest population in their databases are Millennials, and they are probably either new donors or they've never given before. Should you be lucky enough to acquire them as a donor, keep in mind they are used to being a target of engagement strategies by everyone they deal with: retailers, non-profits, brands in general. They expect frequent, personalized communications and they are sophisticated consumers. You can't ask for their support with the assumption that because you are from their alma mater, you deserve it. Donors really want to understand how their philanthropic investment is being used.
Brian Gawor: Yes, I think it's not just about telling donors about impact anymore, it's about showing and allowing the story to be told, in an authentic way. All three of you have mentioned personalization. That kind of responsive, donor-driven communication is going to take some tech. How can schools best utilize technology to get donor attention?
Jay Finney: First off, don't always be asking for money. For example, using new technology that's available to communicate via text to inform donors/alumni about what is happening on campus or about things that are of interest to them will help to keep them engaged without them feeling like you just using this as an excuse to ask for a donation. You want to use the technology to customize the content and information that is being served up to the interests of the individual. Use this ability to serve up meaningful content across multiple channels.
Meg Weber: That's right on, Jay. And you're not going to be able to do that by hand. Machine learning and artificial intelligence (AI) are going to be key to our industry moving forward. Most of us are working with populations that are too big to manually track every donor action or behavior. Decision trees and prescriptive analytics are totally manageable with implementation of AI.
Also, keeping up with technology that reduces friction so you can meet donors where they are is really key. Communicating with donors on a platform or with a channel that they may not feel comfortable with is a waste of time and resources. This means that engagement strategies have to be multi-layered and responsive.
Brian Gawor: That responsiveness is essential. I feel like we're often so bogged down in the details of getting an appeal or set of communications out, there's never a chance to evaluate. That's what fundraisers told is in some of our recent surveys. They don't feel like they really have an opportunity to evaluate the effectiveness of their outreach because they are so locked up in following their predetermined calendar.
Greta Daniels: Definitely, it's about freeing up your most important resource, your human capital, your people. Technology frees up your team to focus on the bigger picture. Too often, development staff get buried in the weeds of day-to-day operations and the workload never allows them to time to step back, analyze results, and make tweaks (or big changes) during a fiscal cycle to improve outcomes and prevent shortfalls. Utilizing systems that take the operational load off you allows experienced development professionals to focus on the larger programmatic and mission-oriented work that will serve as the driving force for their success.
Brian Gawor: You've all recently transitioned to a leadership role at RNL. You've all had plenty of experience with consultants and tech partners in your careers, and now you're the ones suggesting partnering with RNL. What are you looking for in the fundraisers you've been engaging, who do you most want to work with, and what advice do you have for people thinking about getting help? What's the best way to choose a technology and consulting partner?
Jay Finney: Ideally, you want a company that can first identify the challenges and opportunities that are unique to your organization. We like to ask: what does your data tell us? What has worked in the past and what has not? There is no more "one size fits all"—not for strategy, and not for individual donors. Secondly, you want a company that can offer a range of technology solutions. Switching from one vendor for mail to another for phone to a third for digital is not only a lot of management but a nightmare for revenue attribution.
Greta Daniels: I agree with Jay, you need to look at relationships that multiply your resources, not drag them down. Managing all these things—technology platforms, social media accounts, external partners—is work. If you are using one partner to maximize your email appeals, another to manage and monitor your digital ads or social accounts, and another to deliver a successful Day of Giving or crowdfunding platform, a good chunk of your time will go to managing those partners and attempting to integrate the different solutions into a larger strategy. When researching potential solutions and partners, I recommend focusing on those who have expertise in multiple types of donor engagement and fundraising, and who also have the capacity to build an integrated solution.
Meg Weber: Integration is important, as is working with people who really know the donor landscape. The most important question you can ask when you are making decisions about technology or working with a partner is: How does this technology or partnership move the needle in the areas I need it to? Sometimes technology is really cool but ineffective in achieving your goals. I think you need to know that your partner understands your goals. Not just what they are, but a fundamental understanding of the strategies and tactics you need to employ to accomplish those goals.
Brian Gawor: I feel like asking key questions and engaging with a partner who is as interested in finding the answers with you is crucial.
Jay Finney: That's right. You should pick a company that you are comfortable with. This is a collaboration and you need to trust who you are partnering with. In essence, you are hiring a partner to be a part of your team and, just as when you hire a new team member, it has to be someone you want to work with. We've all dedicated our careers to engaging these generous donors, and we're really interested in working with people who have that same level of passion for doing it right.
Hear more from our leaders in their webinar
Listen to Greta, Jay, and Meg continue their discussion about donor engagement during their webinar, Transforming Donor Engagement: A Fundraising Innovation Roundtable.
Or talk with us during a free consultation to find out how you can increase donor engagement and your fundraising results. Request your consultation now.
---