fundraising
Tips and Tricks for Working Remotely
Co-written (remotely) with Meg Weber, Vice President for Fundraising
COVID-19 has driven many of us in higher education from our campus offices to working remotely from our homes. While telecommuting occasionally is nothing new for campus staff, working remotely full-time for the forseeable future is a major change.
Meg and I know because both of us transitioned to working remotely for RNL in 2019 after years of working in an office. We'd like to share some of what we have learned in our first six months as remote employees to help aid in your transition. These tips can help you use this time you're working remotely to increase efficiency, get healthy, and basically become the most organized and effective employee you have ever been.
Designate a space in your house for work to delineate work time from binge-Netflix-in-sweatpants time. The physical divide will help with the psychological one. Even if you don't have an office in the home, designating a dining room/kitchen table as your work space will help to shift your mind into work mode when you sit down at it.
Already have an office? Order a balance-ball chair to help to improve your core strength, balance, and posture subconsciously while you focus on work…then promptly put it in the corner of your home office, never to be used. (Please note mine collecting dust behind me the next time you're on a video call with me).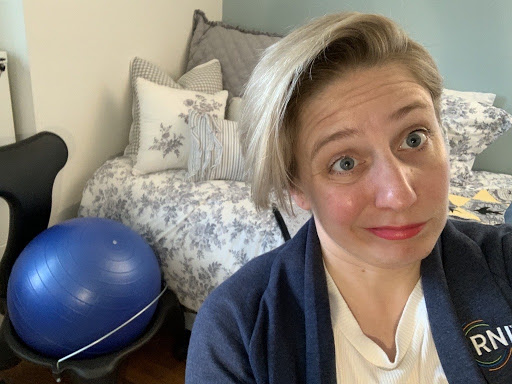 There is no force field around your house. Go outside if possible. If it's allowed and safe, make sure you actually get out of the house during the day. When we work in offices, how many steps do we take to go to the restroom, stop in Nancy's office because she always has the good chocolate, get a coffee, ask a colleague a question? In home offices, there is a tendency to make the short journey from bed to desk and stay there most of the day. With spring blooming in many corners of the country, get outside when it's possible and enjoy the changing weather. Take a call or two as you walk around the block (and creep on your neighbor's landscaping).
Are your kids home too? Good luck pal. Just kidding (sort of). This is a great time to talk to your kids about boundaries. Hopefully they have some school work to do while you are working. Set up specific chunks of time, say 25 minutes at a time, to focus on one of your projects while they focus on one of theirs. If you're partnered, and your partner is at home too, try to coordinate your conference calls so that one of you can be the primary caretaker for the time that you have to be on a call. If you are a single parent (like Meg!), threats and bribery work. (In-home child care is an option, of course, but that decision depends on what you can afford and if you feel it will be safe during this crisis.)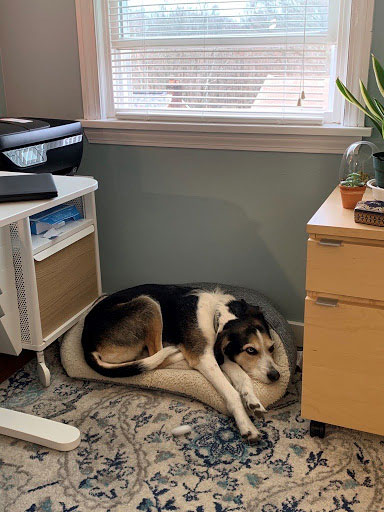 Hug your pet. The #1 best thing about working from home is your proximity to the furry friend who dominates your Instagram feed. Enjoy it! Move your pet's bed into your office space so you can stare at them during conference calls. Make sure you have a supply of treats to quiet them during those same conference calls if necessary.
Talk radio is your new faux friend. Miss the dulcet tones of your office mate or that nice lady from accounting whose voice carried down the shared corridor eight hours a day? Not sure how to focus in so much quiet? Throw on your local news station, NPR, or a podcast. Personally, I have found the talking to be more effective in inspiring focus than music.
Be mindful of what's behind you. Video meetings are about to become a lot more commonplace. And people are nosy. They may not be focusing on your face as much as the messy room, dog strutting by, your ceiling fan rotating, or other activities in the background. You can have fun with this, too. Some of the video call providers will allow you to trade out your background (hey look, Meg's working from the Eiffel Tower today, she must be throwing caution to the wind!), or to blur out your background so it isn't so distracting.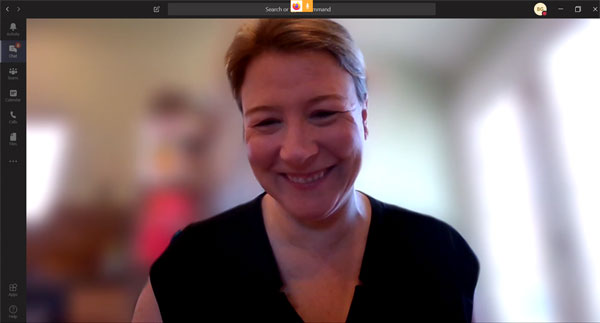 Pants are optional. Shirts… not so much.
Make the most out of working remotely to make it rewarding
Hopefully, many of us will be returning to offices in the coming weeks. This time of disruption can be an interesting opportunity to focus on productivity, let your family experience what you do at work, and even establish a good home office for future telecommuting. Welcome (temporarily) to the world of working remotely, and we hope you and your students, colleagues, communities, and especially loved ones stay safe during this transition.
If you have any tips to share, please email Meg or myself, we'd love to hear from you (and perhaps update this blog with your suggestions if you like). And, on a more serious note, we are also here to help you during this crisis. We have a COVID-19 resource page with all of our related blogs and are also available to discuss how you can adapt your strategies during this very crazy time.

---