fundraising
The Schuler Initiative: Increasing Young Alumni Participation Through Intentional Listening and Innovation
Over the last decade, more than two-thirds of colleges and universities reported a decline in their alumni giving percentage. Concerned by this trend—particularly among recent graduates—and its impact on the longer-term financial stability of higher education institutions, the Schuler Education Foundation launched the Schuler Young Alumni Engagement Initiative in 2018.
In partnership with five liberal arts colleges—Bates, Carleton, Middlebury, Wellesley, and Williams—and RNL, the Initiative was launched as a three-year project to better understand young alumni. The end goals were to increase donor acquisition and retention rates across the pilot institutions. Our five institutions were chosen based on the strength of their existing advancement programs and for their potential to build a scalable pilot program that could serve as an example for others. Each college received grant funding to support communication and solicitation efforts, longitudinal market research, and investment in staff and technology.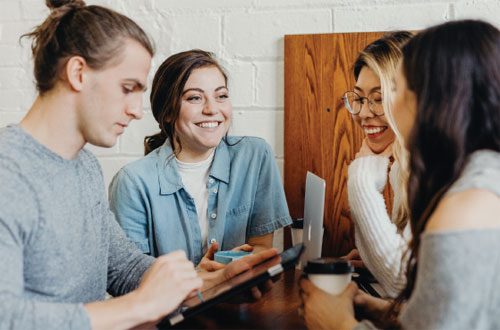 The Schuler Scholar Program was founded in 2001 and has helped more than 1,500 high-potential high school students earn full scholarships and graduate from top liberal arts colleges across the county.
Announced in April 2021, the Foundation will invest up to $500 million in the Schuler Access Initiative to substantially expand access for both undocumented students and Pell-eligible students to attend highly selective liberal arts colleges.
Step one in young alumni engagement is to listen
To attain these donor acquisition and retention goals, we started the project by listening to this unique population directly. Instead of making assumptions, the Schuler Education Foundation sponsored surveys in 2018, 2019, and 2021, inviting graduates from the classes of 2002-2017 to share their perceptions of higher education, their volunteering and giving habits, and how they preferred to interact with their alma maters. The survey was then expanded nationally. With more than 40,000 alumni from 36 colleges and universities participating, we found resounding similarities across public, private, large, small, rural, and urban institutions. (You can download our 2020 report on this part of the research study.)
Through three years of intensive research and application, findings that stood out include:
Young alumni are philanthropic and many give at significant levels. Nearly 9 out of 10 young alumni report making charitable contributions, with one-third donating $1,000 or more.
Authentic connections for students and alumni are key. Young alumni who reported higher rates of student satisfaction and feel connected to their alma maters are 4x more likely to give.
Campaigns that directly support today's students inspire giving. Nearly 70 percent of young alumni report the desire to make a difference in the lives of current students is a top motivator.
Lead with impact and invest in ongoing stewardship. More than 95 percent of young alumni stated it was important to see evidence that an organization is making an impact.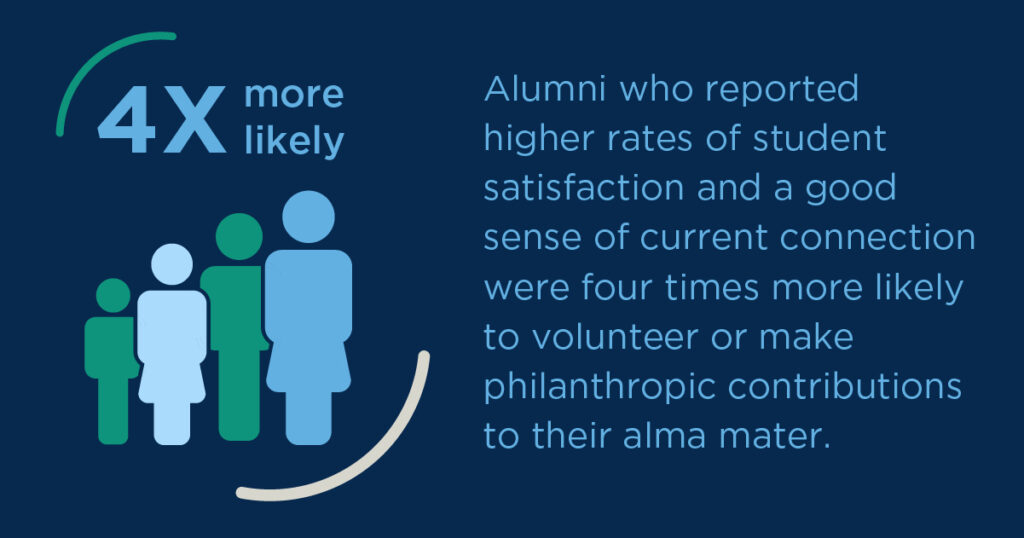 After listening through surveys and with volunteers, a change in young alumni engagement boosted fundraising results
The colleges took this information and applied it to their programming. Through innovative solutions and some trial and error, we learned how to better engage with this population and saw outstanding results. In fact, the colleges achieved a 54 percent growth in the young alumni donor base and 74 percent overall young alumni donor retention, reversing a four-year decline in renewal rates. Even with the pandemic and other events of 2020, four out of five institutions were able to improve first-time donor retention by up to 20 percentage points, with an average rate of 46 percent, more than double the national average for private institutions in 2020.
Seven key tactics that boost young alumni donor response
For institutions hoping to improve their young alumni engagement (and who isn't!) we found the following to be imperative for success:
Importance of leadership-level buy-in. The Initiative highlighted the importance of building the pipeline of long-term alumni donor support, which helped with leadership-level buy-in and support from administration, advancement leadership, and trustees.
Campuswide effort. The responsibility of annual giving and engagement cannot rest on the shoulders of annual giving professionals, alone. Every interaction with faculty, staff, advisors, coaches, and administration sets the groundwork for the perceived satisfaction of students. Those relationships and perceptions can have lasting impacts on their sense of connection to their alma maters.
Embrace the entrepreneurial spirit. Testing creative applications in channel use, communication style, gift designation options, and calendar timing is important to connect with this group of alumni in our ever-changing world.
Focus on technology. Expanding channel scope and test innovative technologies like texting, video, alternate payment options and both giving day and crowdfunding platforms helped create a sense of personalization at scale – allowing small shops to expand their reach and offer an improved experience – especially important given the pandemic.
Peer-to-peer outreach works. In the first two years of the Initiative, a focus on volunteers energized class agents and helped drive results. The pilot institutions engaged nearly 1,200 volunteers, and spikes in class year giving can be attributed to highly active volunteers who solicited their peers.
Big tent initiatives. Giving day marketing, digital platforms and the encouragement of peer advocates helped drive excitement for short bursts of time. Matches and challenges can also supercharge these events – creating the sense that one individual's gift, combined with the gifts of other supporters, really can make a significant difference. Roughly one-third of survey respondents indicated that they were motivated by matches or challenges where individual gifts unlock additional funds.
Commit to ongoing donor education and stewardship. An annual giving program can't rely on solicitations alone. Communicating the impact of gifts and expressing appreciation on a regular basis are integral to a successful program.
Read our findings in the 2021 Young Alumni Engagement and Philanthropy Report
As the lead market researcher for this project and because I'm part of this graduating cohort, I'm thrilled to now have data to better understand how young alumni are giving back throughout their communities and the world. Even with the economic downturn disproportionately affecting young professionals, the 2021 survey found that more young alumni reported donating than in the previous year.
As we reflect the Schuler family's driving belief that developing and preserving a tradition of philanthropy among young donors is critical, I am encouraged by the generosity and involvement of my generation. This research leads me to believe that institutions can effectively engage young alumni if they understand our motivations. Moving forward, RNL will continue to listen to the voices of this generation, transform fundraising programs, and share our findings as we learn more.
Read the full report here, and I hope you find the results enlightening and encouraging.
Transform your young alumni engagement
How can you engage your young alumni and tap into their philanthropic spirit? Talk with our fundraising experts and we'll share strategies that are working for institutions like yours.
---