fundraising
Advancement Leaders Speak: Talent, Donor Engagement and Key Challenges
We've just posted the results of the latest installment of our Advancement Leaders Speak survey, where we asked you, the fundraising community, about key issues, challenges, and opportunities as we engage donors. Here are some key things we learned from the over 150 respondents to this spring's survey.
Many higher education fundraising positions are open, and talent is a key issue.
84% of advancement shops have open positions right now, and half of fundraisers reported at least 1/10 of positions open.
External forces and internal issues make keeping talent a challenge. We asked you what's contributing to turnover. The top responses so far are "The overall job market, " "We are not paying enough," and "We're asking people to do too much."
Internal politics and demands came next in the survey responses. As we navigate The Great Upgrade and continued job transition, supporting your team is crucial. This means adopting the best possible tools as well as looking critically at the internal team dynamics. Choosing tools that allow you to quickly onboard new team members so they can hit the ground running will also be key. My prediction: We'll all be hiring this year, so let's get the infrastructure in place to support our new team members.
Big gifts are a priority for higher education fundraisers, annual revenue and campaign completion are next.
81% of fundraisers say booking big gifts is a high priority, and 66% are either prioritizing a current campaign or the next campaign.
58% say growing the number of annual donors is a high priority, and 54% say annual revenue is a focus.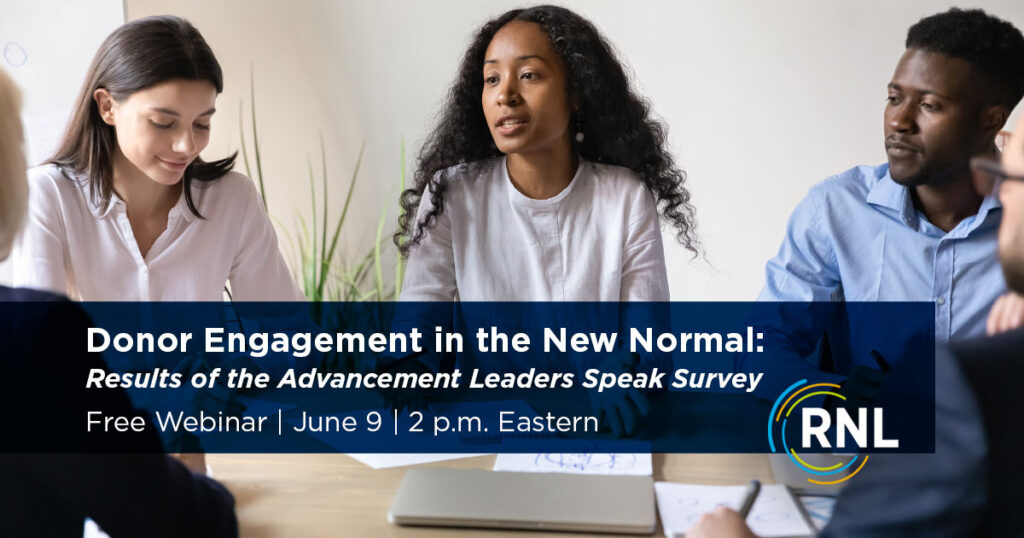 These priorities might compete for resources, but it's clear from our data that the work we do with annual donors will contribute to future major gifts. Only 34% say improving the donor experience is a high priority, and that is a miss. Making it easy to give and enhancing the joy of giving will greatly influence all the other goals.
We're unpacking the results of the survey in a free webinar on June 9. Join RNL's Sarah Myksin and me as we talk about they survey, and what's next for donor engagement strategy.
Fundraising channels are only somewhat integrated, which dilutes donor engagement
We asked about how key channels like digital, phone, email, and texting are "integrated and working together." Giving days and email are the current top contenders for most integrated, but most fundraisers only rate channels as being "somewhat integrated."
That's likely not providing the best donor experience. We've made it a big priority to integrate outreach in the RNL platform. This not only boosts ROI but also avoids real misses like annoyingly re-asking a donor who's already given recently instead of focusing on thanking them.
Fundraisers have great insights on how top brands can teach us to engage donors better
When I put the survey together earlier this year, I was very excited about a question on brands: "What brand, app, platform, or service provides you with the best consumer or subscriber experience, outside of work?"
The responses include things I expected: Netflix, Amazon, AirBnb, Target. But there were also some real surprises, like Dunkin Donuts and mobile phone providers.
What can we learn from these top brands? personalization, appropriate channel communications, and relevancy are top responses from fundraisers.
The tools that big, successful brands use are increasingly available to fundraisers. This includes AI-driven personalization, along with integrated marketing platforms and key donor service tools like chatbots.
Download the full Advancement Leaders Speak report to read quotes from fundraisers about donor engagement in the new normal. Thanks to everyone who added their perspective to this spring's survey. We appreciate the time you spent, especially on the open responses.
How do these results resonate with your experience? If you'd like to talk about how to balance competing priorities with the best new tech and strategy, and keep your team happy by reducing friction to create a better donor experience, contact us and we will set up a time to talk. Our team of experienced consultants is ready to help.
---