fundraising
3 Ways to Maximize Donor Engagement With Artificial Intelligence
Artificial Intelligence is transforming donor engagement. The technology that powers impactful, personalized experiences has never been easier to use. AI lets us listen to what donors do and what they engage with, and then tailor our communications to have the biggest impact.
Here are three ways you can make the AI revolution part of your data-powered engagement strategy.
Use real donor interests to guide your outreach with artificial intelligence tracking
We know so much about our organizations, what's happening, and what we think as leaders is important. Our donors don't, because they don't work and live here every day. There's a big risk as marketers that we'll lean toward what we think is important (or what leadership is pushing) and ignore what our constituents really care about.
AI allows us to "listen" digitally and create individual interest profiles based on what a donor responds to. The data for both individuals and groups is crucial in guiding where we put our marketing resources. The great thing about AI is that it can listen constantly and aggregate data to guide your strategy.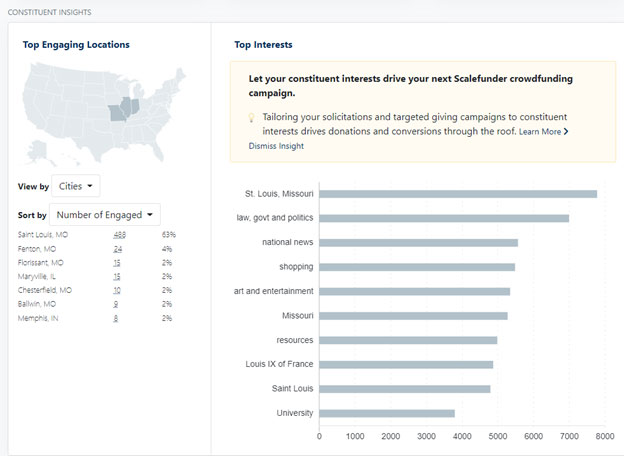 You should be watching what donors and future donors actually care about, and once you set it up, artificial intelligence lets you see that, easily.
Let artificial intelligence serve up content that your donors actually care about
You already have a ton of content ready to serve up to donors. The trick is to let the AI determine what donors really care about. Here's how that works: First, we point the artificial intelligence at your existing content. Using natural language processing (no tagging required), thousands of pieces of content can be analyzed in minutes. Then, as I've described, when you serve up content in communications, like newsletters, the AI builds a personal profile based on what the donor clicks on, watches, and responds to.
Sound familiar? It's the same basic tech that Netflix, Spotify, and Amazon use to keep us engaged. This technology takes content from "meh" to binge-worthy.
After you link the power of AI to your content and your constituent behavior, the next trick is to start providing the opportunities for personalization. You'll still want to focus on key stories to everyone in a newsletter, but now you can tailor a few sections of each email uniquely for each donor.
By choosing these opportunities for personalization from your curated content, you're sending a truly individual communication to each recipient. Here's an example of the build for an email newsletter with variable sections, based on donor interest.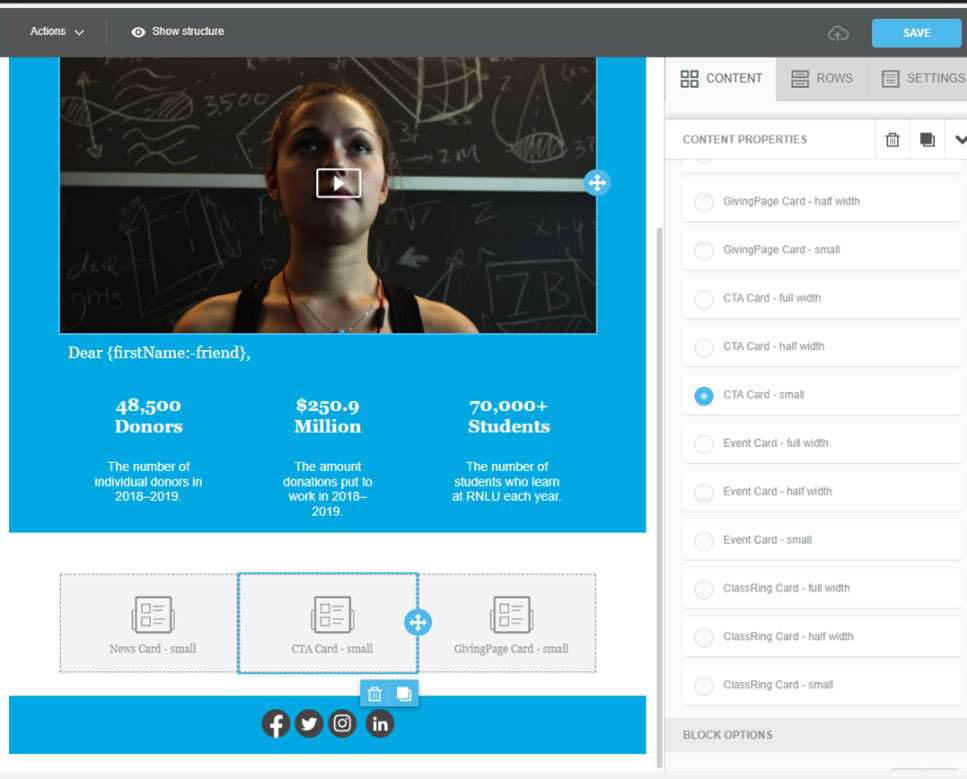 It's never been easier to harness this technology, and you already have the content to make it work. But because no human could make thousands of versions of a newsletter, you really need to hire a robot to help.
Curate calls to action and giving opportunities to maximize donor response
In the end, we want donors to take action. To make a gift, register for an event, fill out a survey, whatever you're asking for as the next step. That's what we refer to as a "call to action." AI can treat these as types of content to be curated and served up in the same way.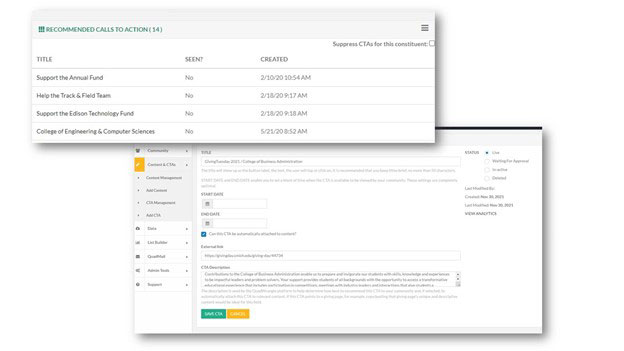 That's right, you can suggest giving opportunities to donors based on what they've actually shown they care about. A donor reads several articles on medical research – next month, their giving suggestions will reflect it.
This is what we've been dreaming of in donor engagement- using technology at scale to create personalized experiences, so we can stop sending everything to everybody and just hoping we're right about where they want to give. It's easy, the AI does the work, and if you're not using it yet, it's time to make the shift.
RNL QuadWrangle and QuadMail make it all easy. If you'd like to hear more about how you can quickly join the AI-enabled donor engagement revolution, drop us a line. We've got the robots prepped and ready to transform your strategy, immediately.
See how you could engage more donors with the power of AI
Watch this overview of the RNL QuadWrangle AI-powered platform to see how you can engage donors with curated content that's more relevant, exciting, and accessible. Then ask for a walkthrough to learn more about the:
AI insights
Dynamic emails
Event management
Content curation
Giving pages
---