enrollment
Your CRM Is the Most Important Tool for Reaching Your Enrollment Goals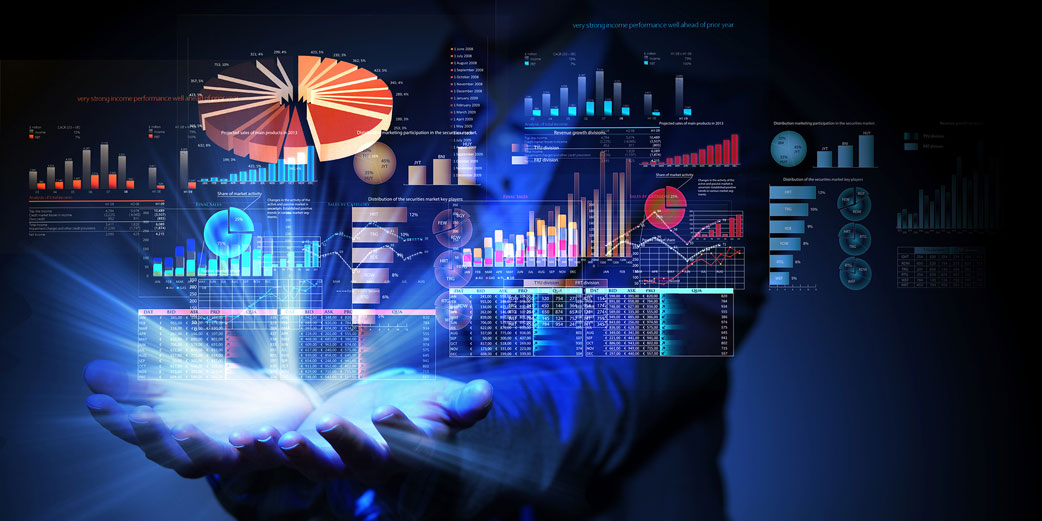 Enrollment strategy lives and breathes on data. Data guide every decision, every campaign, every activity you make regarding enrollment. That also means that your CRM is the single most important tool at your disposal to reach your enrollment goals. But do you treat your CRM as the most critical component in your enrollment arsenal?
Think about these additional things as well:
Have you thought about how your CRM is structured?
Does it make your team's job easier or harder?
Have you devoted the resources to make sure that your CRM does the things you want it to do?
Is it aggregating and organizing data so you can better understand your prospective student, the effectiveness of your marketing campaigns, and ultimately helping you achieve your enrollment goals?
A CRM is often sold to an institution as the silver bullet—which it can be. But like any other tool, a CRM is only effective if you use it the right way. Because it can be so all-encompassing, a CRM requires a lot of strategic thinking and operational consideration to align appropriately with recruitment strategy and your enrollment goals.
How confident are you in your data management strategy?
Data management, strategic insights, and continuous optimization are the most foundational and critical reasons many schools invest in a CRM. They are also the areas where schools struggle the most to manage effectively. There are so many different sources from which schools receive data—test scores, transcripts, applications, search names—that managing all those sources is no small task. It's no surprise that the question, "How will we track our sources?" is often one of the first questions I get asked when partnering with an institution to implement their new CRM system (especially when the marketing team is involved).
All that data, from all those sources, needs to be collected and organized in a way that makes it easy to retrieve to analyze, use, and learn from. Do you have a unified data management strategy across your CRM?
To take it a step further, the success of the rest of your CRM efforts are highly connected to your data management strategy. Communications segmentation, event registrations, prospect management, application decisions, and reporting all depend on good data. Your expertly crafted campaign messaging won't reach the right audience without the right data. Your counselors can't properly review applications if they can't access the right information and materials.
Investing in the success of your CRM is investing in your enrollment success
Many institutions reach out to partners such as RNL to maximize ROI on their marketing campaigns, student recruitment strategies, lead generation, and other critical components of their enrollment management. Yet many institutions do not think about investing the same way in perhaps the most important tool they have, the one that makes all those other recruitment efforts work: their admissions CRM.
If you've wondered how you might be able to do more with your CRM, but aren't sure where to start or don't have the time to do it yourself, talk with us. RNL's CRM Solutions can help you with everything from implementing your CRM to assessing your CRM to optimizing the impact of your CRM on your communication flows. We're ready to partner with you the way we have with thousands of institutions on so many other vital enrollment practices.
A CRM solution that drives enrollment results
Are you getting the greatest ROI out of your CRM? Find out how RNL's CRM experts can help you with:
Implementation acceleration
Enhanced communication flows
Data integration
Assessment and remediation
Training and guidance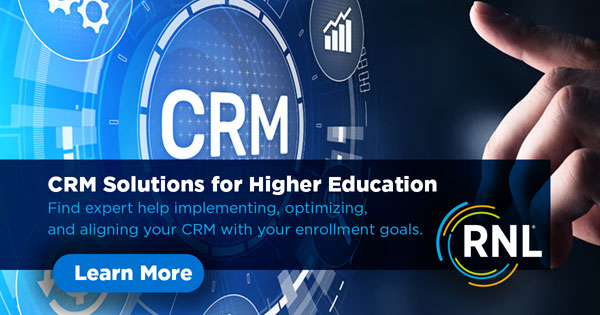 ---