enrollment
Three Unique Ways to Implement Video in Your Recruitment Cycle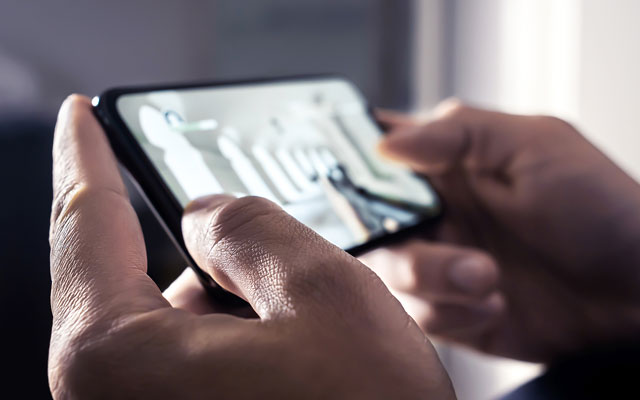 Video has quickly become the preferred way to consume content, especially among Gen Z. More than 50 percent of marketing professionals around the world rate video as the content type with the best ROI. One big reason why: Viewers retain 95 percent of a message when they watch it in a video, compared to 10 percentwhen reading it in text.
Additionally, according to educations.com, 68 percent of students are likely to point to video as an influence on their final college decision. The power of visual storytelling via video is undeniable, but the key in its success lies in your ability to strategically create and deliver a video experience that differentiates your institution.
All institutions now have video content, so how can you stand out from your competitors with a different kind of video experience? Below are three unique strategies for college recruitment videos that can help you break through the noise and increase student conversion across the recruitment cycle.
1. Convert web visitors with on-demand videos based on request for information forms (RFI), net price calculators (NPC), or visit registration forms.
The E-Expectations research series has long showed college websites are the most influential information resource for students. Leveraging their initial interest by providing a one-of-a-kind experience that compel them to take action is key in your ability to enroll them.
On-demand videos are dynamic videos, produced based on variable student level data, that present relevant and personalized content in a matter of minutes. They enable you to:
Continue student engagement with your institution.
Stand out from your competitors with a personalized experience.
Drive students to next steps in the recruitment process such as applying or visiting campus.
What kind of content should you present on the video?
In order to create a meaningful on-demand video experience, ensure that you are capturing the following on your RFI forms:
name
email
academic interest
entry year
Having at least those four key data points will allow you to provide students with a compelling value proposition based on their major of interest.
Given the large number of academic programs offered on a campus, I recommend dividing your majors into 5-10 academic areas (business, engineering, health sciences, performing arts, etc.) to scale content creation.
Regarding next steps, you can divide students into two or three segments: driving the student to apply, completing their application, or to visit campus (if they are a junior or below). The on-demand video experience needs to be short—no more than 90 seconds—and designed to capture their attention and increase conversion.
As you can imagine, there are many more use cases for on-demand video, but the strategy above for college recruitment videos is a great way to increase conversion at the top of the funnel to drive students to apply or visit your campus.
Below is an example from an on-demand video from John Hopkins University. The student that completed the RFI form in this example showed interest in their Online Graduate Electrical and Computer Engineering program. Students receive this video within minutes after submitting their RFI form.
On-demand video from Johns Hopkins University after a student completed an RFI form.
2. Deliver critical financial aid messaging in an clear and compelling manner.
The pandemic has exacerbated the issue of college affordability, making it the top college decision factor for students and their families. Moreover, this is an area that students identify as complex and hard to understand. According to our High School Student Perceptions of Financial Aid Report, two-thirds of students do not understand the cost of their education prior to making an enrollment decision—which later results in student melt (or worse, student attrition).
Video provides an excellent medium for delivering important financial aid information and your financial offer (think of the stat I mentioned above about video viewers retaining 95 percent of a message). And now there is technology to create personalized financial aid videos that can show a student's specific award offer and include benefits of attending that are customized for them. Using personalized financial aid videos allows you to:
Demystify the cost of college and financial aid awarding, so students can have a clear understanding of net cost and payment options.
Facilitate understanding of value. What is the ROI for students on an investment in an education from your campus?
Provide a consistent student experience and enable your students to make an informed college decision.
Increase yield and reduce melt because students understand the cost and benefits of attending.
Florida Southern College, a liberal arts college in Lakeland, Florida, saw a 15-point gain in yield when students watched their financial aid offer video and 3-point reduction in melt. Most importantly, 93 percent of students stated that the video was very helpful in understanding their FSC financial aid offer.
According to Erin Ervin Smith, AVP for Enrollment Management at FSC, "The personalized financial aid offer video has enabled us to articulate the financial aid message in a way that is compelling and relevant while providing students with a consistent and unique experience."
Personalized financial aid videos are created by converting your variable student financial aid awarding data into dynamic and fully personalized student videos that are delivered via text as students are awarded a financial aid offer. Check out the following sample for Florida Southern College.
Revolutionize your financial aid offers with video
Make your financial aid awards more clear and compelling with RNL Personalized FinAid Video. Deliver a customized video awarding communication to every student.
3. Enable your admissions staff to become more effective and efficient by scaling their outreach efforts with video engagement.
On average for a private institution, each admissions counselor is usually responsible for bringing in around 60 enrolled students. This means that each of them works with around 400 admitted students and close to 600 applicants. On the public side, each counselor is responsible for over 250 enrolled students, which means they work with about 1500 admitted students and well over 2,000 applicants. These numbers clearly show the need to provide your staff with college recruitment videos that create efficiencies and enable them to provide a personable and engaging experience as students navigate the recruitment cycle.
Video tools such as RNL Video Engagement allow your admissions staff to create and send thousands of personalized college recruitment videos via text or email in a matter of minutes. This makes it much easier for you to:
Break through the noise of other communications to students, stand out from your competitors, and nurture relationships with students that improve conversion rates.
Capture students' attitudes and motives. By embedding surveys on the video communication you can learn student's most important factors so you can further engage them with relevant content.
Drive students to next steps in the enrollment process.
Campuses that used RNL Video Engagement Campaigns experience on average open rates of 33% compared to the industry standard of 22%; and click through rates of 12% compared to under 3% industry rate.
Make sure your video strategy gives you an enrollment edge
In a declining market with a large number of institutions going after the same students, getting your message across is not easy. Student have many options and truly engaging them with traditional methods has become increasingly difficult in this digital age. But there are ways to scale and use video technology to help you stand out, engage students and families, and deliver compelling communications. Having a comprehensive video recruitment strategy can catapult your marketing and communication efforts enabling you to reach your enrollment goals.
How comprehensive is your video recruitment strategy? Is it personalized so that it delivers messages that really speak to students? Have you evolved your awarding communications to include personalized video? Let's talk about how you can use a modern, personalized video strategy to increase interest and yield. Ask for a free consultation with one of our enrollment experts and we'll set up a time to talk.
Ready to discuss digital engagement?
Talk with RNL's enrollment experts about using the latest digital engagement solutions to boost your yield. We can discuss digital advertising, personalized video, online chats and webcasts, remote campus visits, and more.
---