enrollment
RNL National Conference Features Record Number of Graduate and Online Sessions
In recognition of the dominant role that graduate and online enrollment has come to have in enrollment health over the last two years, The 2022 RNL National Conference will feature a full track of 22 sessions focused on nearly every aspect of expanding the enrollment of such students. There is still plenty of time to register and join more than 1,000 higher education professionals, thought leaders and experts—but don't delay too long or you'll miss out on the early registration discount.
The conference will take place on July 14-16 at the Gaylord National Resort and Conference Center in Washington, D.C., and RNL has an information-packed and and fun-filled conference planned, with plenty of opportunities for attendees to learn and network in a safe, in-person environment. In talking with Aaron Mahl, who leads RNL's Graduate and Online relationships team, he said "There is just so much going on over the three days. It's going to be like drinking from a water hose, but it's going to be great!"
My Graduate and Online colleagues joined me for a look at what is on the agenda and what their looking forward to most:
Session highlights from the Graduate and Online conference track
In reviewing the agenda, it is hard to summarize the breadth of the sessions that attendees will be able to choose from. Several focus on the relationships between marketing, enrollment, and academic stakeholders:   
Graduate and Online Recruitment Simplified: Some Remarkably Basic Advice
Colleges and universities are hoping to replace diminishing undergraduate student enrollments with more graduate and/or online students. But, they often lack the infrastructure, processes and orientation that are essential for recruitment in this space. This session will focus on practical advice on how to approach the recruitment effort from a seasoned dean who has spent over 15 years in the adult, graduate, and online space
Academic Affairs and Enrollment Management: The Bridge to a Quality Student Experience
To ensure the best possible student experience in graduate and online programs, alignment between academic affairs and enrollment management is key. Leaders from both sides should partner in all aspects of academic and enrollment operations, program development, marketing and messaging, and more. Join our conversation to explore ways to build the academic and enrollment partnership.
Others sessions focus on reflecting mission and values in graduate and online programs:
Being True to Your Institutional Brand in the Digital Learning Environment
How can universities close the gap between online and in-person student learning experiences? How can universities still retain their unique characteristics and value proposition in a digital learning environment? This session will help answer those questions through an exploration of design using the student experience lens.
Design for Diversity, Equity, and Inclusion
Online and digital learning has been put to the test during the pandemic. It has opened our eyes to the value of quality course development, but more importantly, it has highlighted the need for DEI in course design and classroom practices. Whether it is offering choice in learning materials and activities or creating an equitable learning environment, this session will highlight the use of Universal Design for Learning in ways that promote inclusion and engagement.
Still other sessions are designed to provide detailed tactical advice on how to move forward and perfect your graduate and online efforts:
Driving Online and Graduate Enrollment Growth: Building a Market Data-Informed Marketing, Enrollment, and Program Development Strategy
Join a discussion about how GWU would apply key findings from RNL's 2022 Online Student Recruitment Report to their own operations and strategies. Among the topics to be discussed: How can institutions meet students' expectations for personalized responses? How can colleges and universities adjust admissions processes to ensure timely admissions decisions? What should marketing operations do to ensure they are addressing the value propositions most important to prospective students?
How to Conduct an Internal Enrollment Assessment (and What to Do With What You Find)
Many institutions seeking help from consulting organizations are doing so because they either are experiencing enrollment loss or see it coming. With this in mind, RNL developed a two-part assessment process that allows for a survey of what is working, and what is not, in order to maximize effectiveness.  From there, we are able to get at root cause(s) and create plans to remediate problem areas, accentuate areas of strength, and plan for the future.
Find insights, innovations, and inspiration at the 2022 RNL National Conference
We hope you will join us for the conference. You can receive an early registration discount, plus your institution receives a group discount rate if six or more attend. Bringing a team helps you expand your knowledge base and also spurs discussion and momentum for change. Take a look at the session descriptions for more on the Graduate and Online track, and see the hour-by-hour agenda for the complete conference program.
Join us for the 2022 RNL National Conference in Washington, DC
Hear what's working in enrollment and student success for undergraduate students, graduate students, online learners, and more.
Choose from 120+ sessions.
Network with 1,000+ higher ed professionals.
Return to campus with the strategies and inspiration to reach your goals.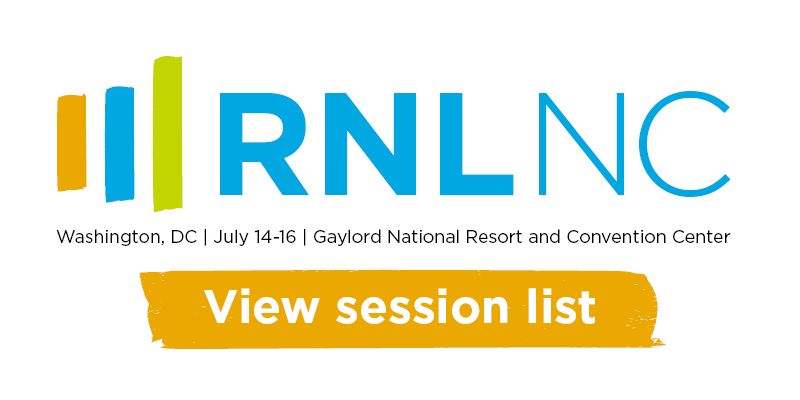 ---