enrollment
New Research Reveals What Is Most Important to Prospective Families During the College Search Process
We just closed our Prospective Family Engagement Survey after collecting responses from more than 5,000 prospective families, with the support of CampusESP, the NAIA, and 27 institutions (11 public and 16 private) from across the United States.
Our survey looked at two key items:
What types of information do families of prospective college students value? And how does this change between grades 9-12?
What information have families received and when did they receive it?
The results were stunning and challenged some of the things we think we know about the information families want to receive.
Academics and admissions
First, we learned that prospective families are very interested in information regarding academic programs (majors, minors, degrees, etc.) from the get-go. However, it's only after 11th grade that the majority of families have received any information on this topic.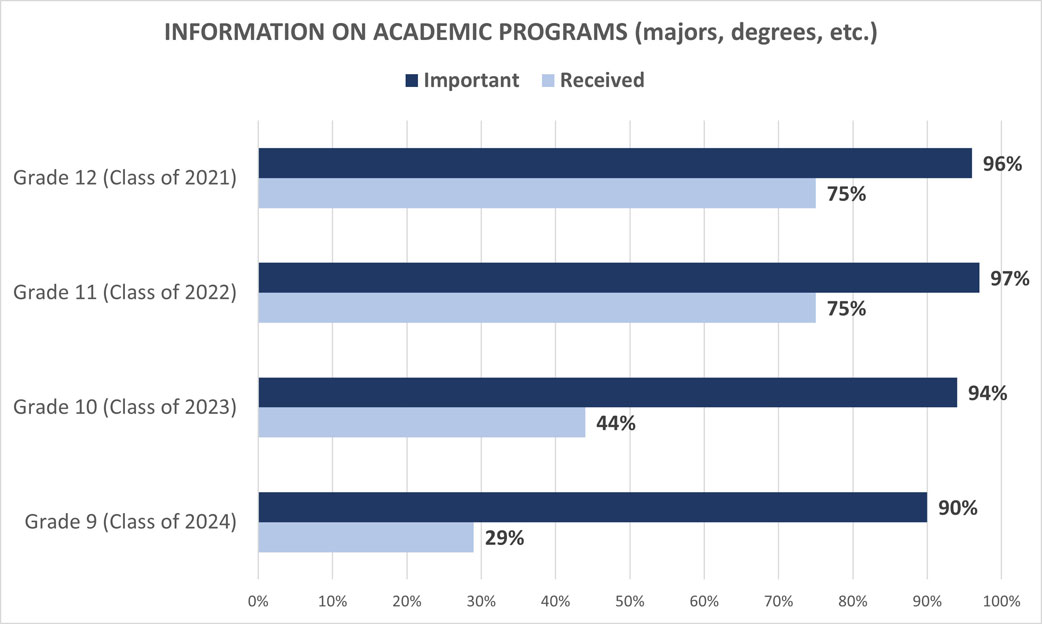 Next, all families are interested in learning about the application process and the timeline—regardless of the grade their high school student. However, when we asked families if they had seen information regarding this topic, only a quarter of families of 9th and 10th graders said they had and just half of the juniors.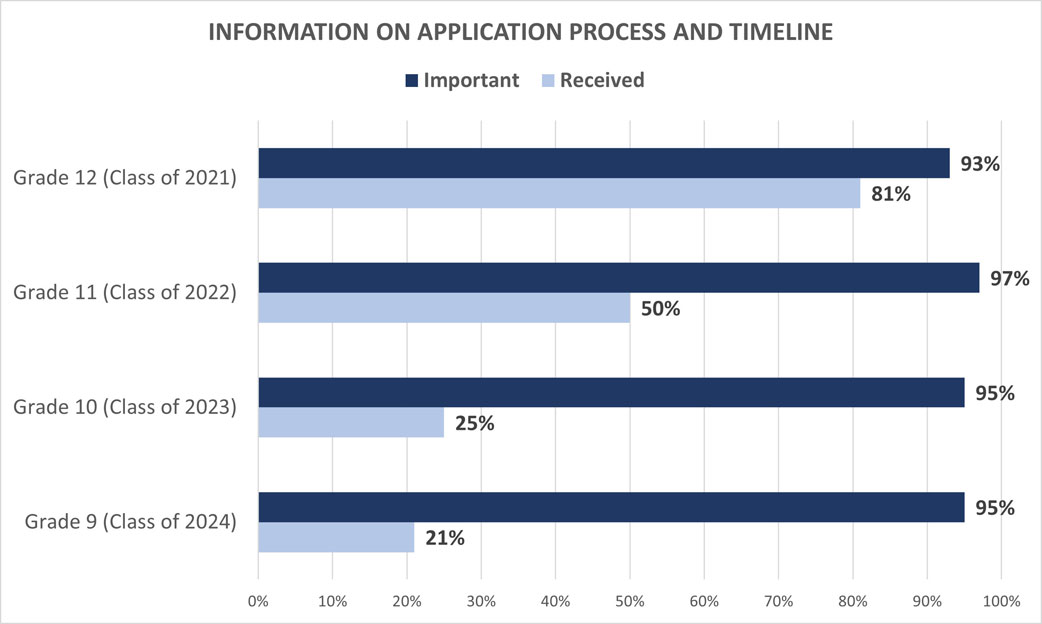 The same pattern is seen in the information regarding admission requirements. All families are very interested in learning about this from the onset of high school. Yet many families between grades 9-11 do not recall seeing information on admission requirements—with 40 percent of the families of 11th graders saying they did not receive information regarding admission eligibility and requirements at the time of this survey.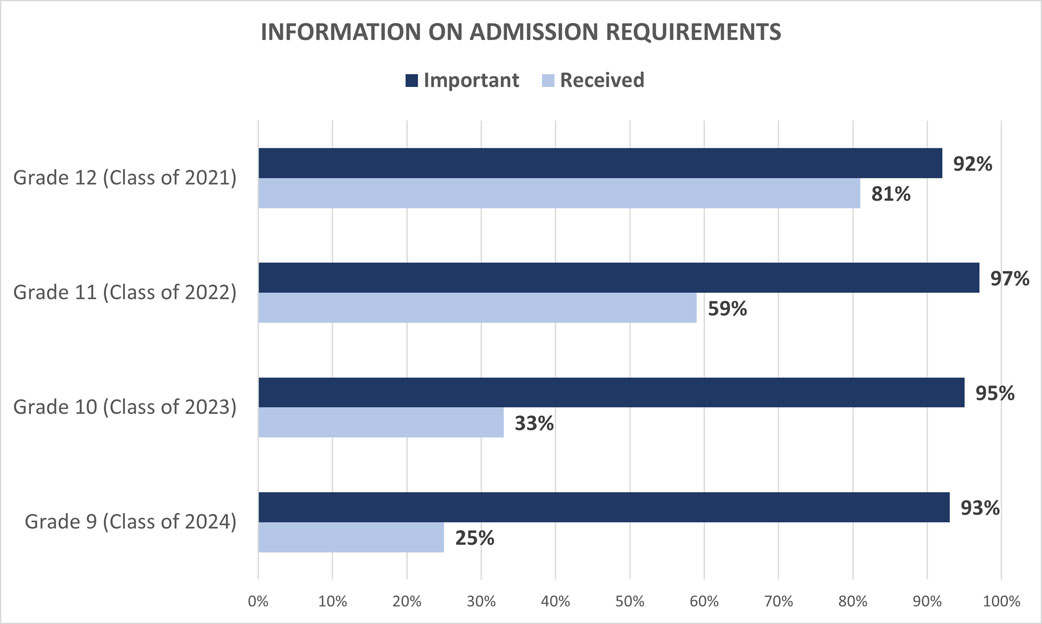 We found that equally important to prospective families is the information on the strength of the academic programs (ratings, rankings, etc.). This is key in distinguishing an institution from competitors, yet only 60 percent of families of 11th and 12th graders had received information on this topic. This number also plummets to 38 percent and 23 percent for families of 9th and 10th graders respectively.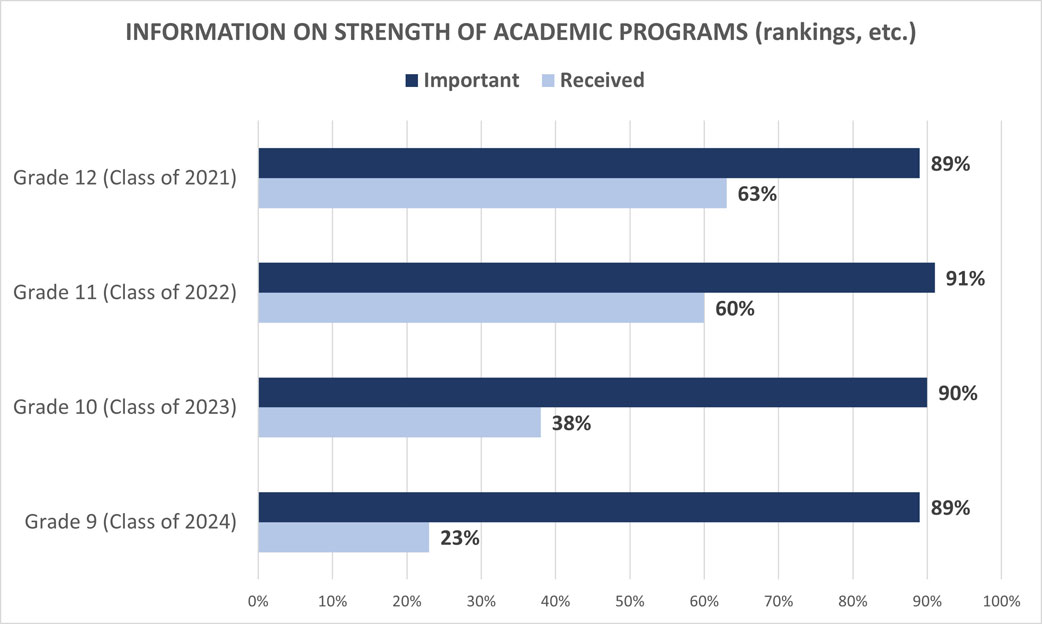 Financial aid and tuition payment
Information on scholarships and financial aid was rated as the most important topic for all families, regardless of their students' high school grade. But the results here were particularly abysmal for families of juniors, where fewer than half recalled seeing any information on this topic.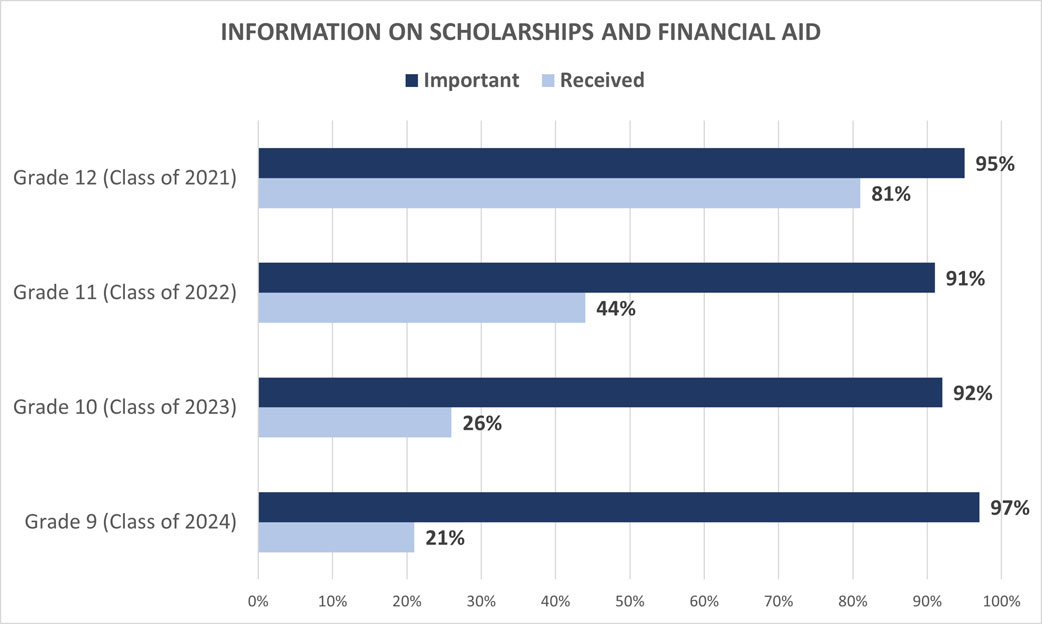 Information regarding account services and how to pay the tuition bill is an important topic for all families, from the start of the college planning process but especially for college-bound seniors. But only half of the families of 12th graders having either received or seen information regarding this topic.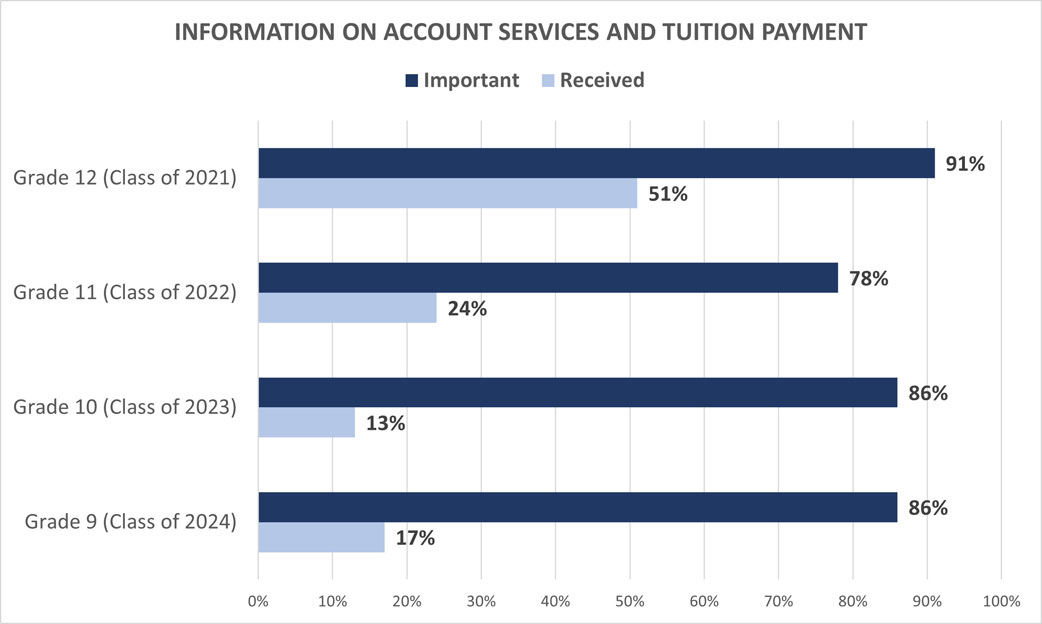 How is an institution different?
Finally, we polled families on the topic of why the institution is different—something that should dominate any communication and information sent and produced for prospective families. Three-quarters of the families surveyed overall rated this as an important topic, with families with students in 9th and 10th grade a bit more interested in learning about what makes an institution different, possibly because they are helping their students trim their list of schools down to the ones they want to visit and learn more about.
However, only 21 percent of the families of students in 9th grade and 33 percent of 10th graders recalled seeing any information about how an institution is different. This rose to 59 percent with 11th graders and 70 percent of 12th graders.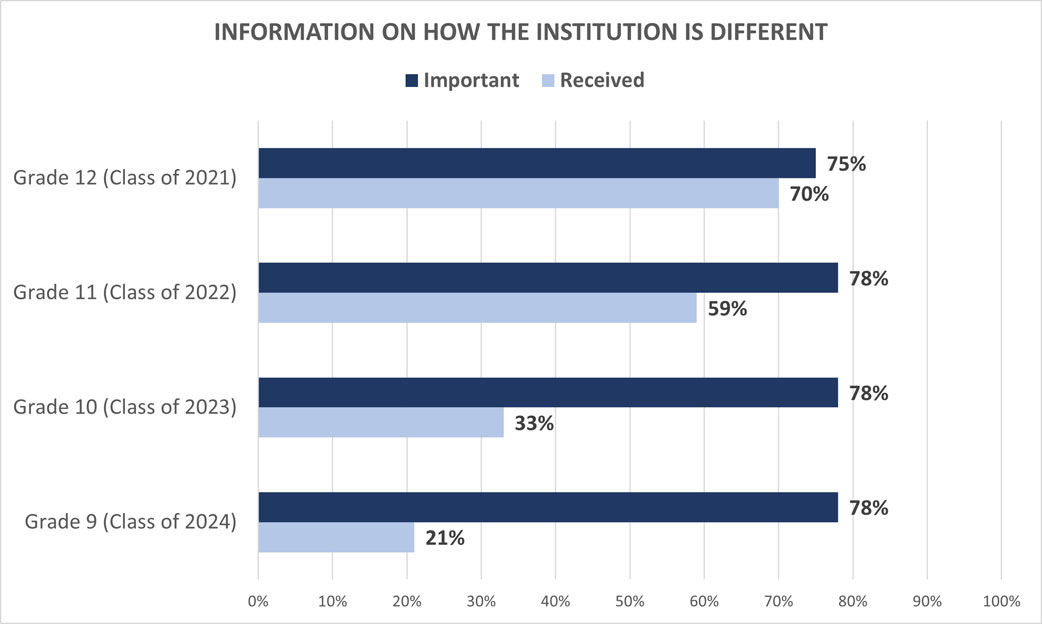 Rethink your communication strategy! You should not hold back any information to prospective families.
These results show we need to move away from marketing-centric thinking, where the institution controls the information and decides when it's best to share it with students and families. We need to shift to customer-centric/family-centric thinking and start speaking to our customer's families' motivations and from their perspective.
Put the needs of families and their students at the center of your communications. Show them what makes you different and show them what tools you have available to help their students succeed. Above all, remember to be transparent and honest. Families will appreciate that, and that in itself may make you stand out!
What's your best communication strategy? Let's talk.
How can you engage prospective students and families? Talk with our enrollment experts and find out how you can provide the information they need to get excited about your institution and move toward enrolling.
---