enrollment
Why It's Time to Level Up Student Search and Engagement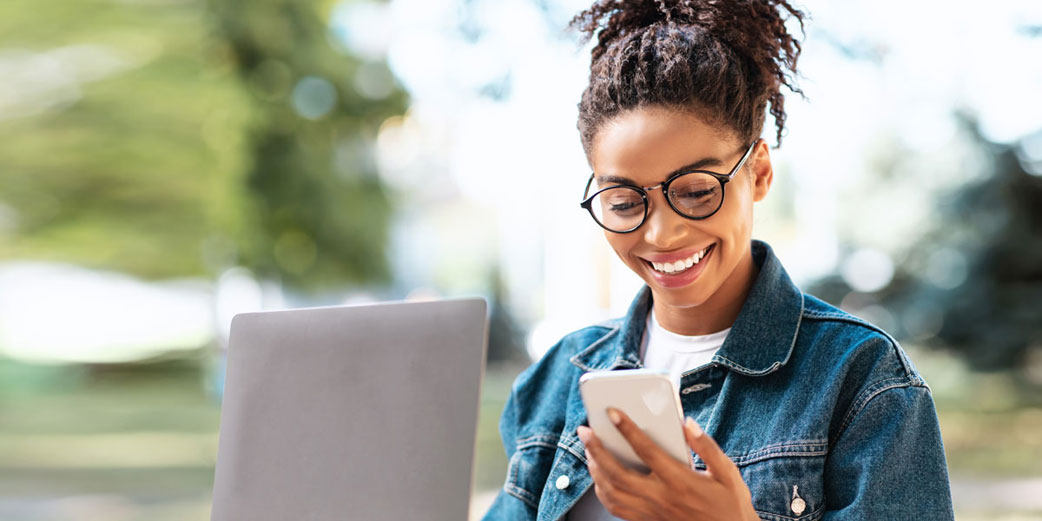 Higher education was already in the midst of a digital transformation at the beginning of 2020, but when the pandemic hit, it accelerated that transformation. This rapid change impacted not only the way campuses teach and provide services to their students, but also how campus increase student engagement with their student search efforts.
This also presented higher education with an opportunity to align enrollment marketing with modern marketing techniques and engage students on their terms. The reality is that prior to the pandemic, students' expectations were already being shaped by the experiences offered by brands like Amazon, Netflix, Starbucks, etc., whose focus on hyper-personalization enables them to create meaningful interactions with consumers anywhere and anytime. Higher education marketing has yet to achieve the level of personalized experiences that these companies do, but the pandemic forced campuses to make huge strides in this area if they want to maximize college student engagement.
Key trends shaping search and college student engagement
As we look at the current environment, the following four trends have shaped and will continue to shape how we do college marketing in general, and certainly how we conduct our enrollment search efforts.
Test optional policies mean fewer names for traditional search purchases.
As of Feb 15 of this year, only 44 percent of common app users submitted ACT or SAT scores compared to last year's 77 percent. This is certainly a very welcome trend across the industry as it broadens access to a college education, especially for minority and first-generation students. However, for colleges and universities, this means fewer test takers and with that a reduced number of students available for traditional search name purchases.
Parent involvement is at an all-time high.
According to research conducted by RNL and our partners, 99% of parents say they are involved in the search process, with over half of them starting to get involved in the process prior to sophomore year. Moreover, 80 percent of parents expect more communication from colleges and universities.
Online communities are on the rise.
A study done by Reddit and GWI found that, in contrast to social media spaces, online communities are seen as a place where users can have meaningful and respectful conversations, build authentic connections, feel more able to be themselves, and become more likely to develop a sense of belonging. Furthermore, prior to the pandemic, 76 percent of global internet users were already engaged in online communities; since then, companies of all industries have seen significant upticks in new members and engagement.
Today's students are digital natives.
On average, a student unlocks their phone 79 times a day looking for new content, and apps are what drives this level of engagement. Data from App Annie reveal that mobile apps now account for 10 out of 11 minutes we spend on using mobile devices, with only 9 percent accounting for web-browsing. In addition, 7 out of 10 of students bypass direct marketing from colleges and universities to conduct their own searches. They prefer authentic interactions, are driven by peer influence, and have very little patience.
See how you can level up your student search
Ask for a free walkthrough of RNL Student Search and Engagement, a modern search solution that delivers personalization at scale to engage students and their parents in today's digital world.
Four ways to evolve your search strategy and increase college student engagement
It is time to evolve and expand beyond the traditional direct marketing, linear, list-based only approach that mostly consists of one-way communications and transactions. Engaging students today requires a shift to a non-linear, more organic, comprehensive full-funnel approach that focuses on creating meaningful interactions via multiple channels over time—not just with students, but also with their parents. Here are four ways you can do that.
1. Diversify your lead generation strategy
Buying more traditional list names alone is not the answer to getting more enrollments. Not only is the availability of student names from testing agencies declining, but you also have to think about the economics of buying and engaging students.
Instead, combine traditional name list purchases with digital marketing and social media components so you have multiple lead generation strategies. Students today require a high level of engagement, and that level of college student engagement costs money and human resources. Your goal is to be as efficient as possible in your approach; quality over quantity is key.
Additionally, because most students bypass direct marketing, you need ways to identify, track, and engage non-responders. Tracking interactions on your website and then nurturing that student interest is a must. Other digital ad strategies such as location-based advertising, lookalike audience marketing, and social media will enable you to connect with students in a more targeted and personalized way.
2. Bring your campus community to prospective students via online communities.
Online communities enable you to showcase your campus community and culture, drive interactions, and increase affinity with organic and in-platform content. Students get authentic, community insights and peer-to-peer engagement that drive and reinforce their enrollment decision. RNL's solution drives college student engagement based on where they are in the admissions process. It allows for continuous engagement throughout the entire admissions funnel using virtual events, personalized video content, a friend finder, roommate matching, and more. Institutions that have taken advantage of the platform are seeing 2x applications rates and 3x higher yield. Additionally, institutions are able to gain organic and net-new followers who were not yet on their inquiry list.
3. Increase ease of engagement and hyper-personalization at scale.
This is the key to the type of experiences that companies like Amazon, Starbucks, and Netflix are able to provide; it is not easy, but it is what students now expect from college and universities. Having the ability to do this in the channels of their choice anytime, anywhere, is a must to creating the type of meaningful engagement that leads to enrollment. Whether it is email, mail, phone, text, video, your website, or social media, you have to be ready to present them with relevant and personalized content that allows for two-way interactions. It is not about pushing content to them, but presenting content that is actionable, timely, and customized to their immediate needs.
4. Nudge the nudgers.
As expressed earlier, parents are more involved than ever and they are getting involved earlier and earlier in the process. And like their college-bound children, parents also expect a highly personalized experience. Impersonal mailers addressed to "The parents of" or engaging parents later in the admission process will not cut it in today's environment.
So how do you nudge these nudgers? RNL does this by enabling hyper-personalization with parents via ommichannel communications that are based on data and engagement analytics throughout the entire admissions process. Prospective parents have a 40 percent higher email open rate on our platform, are 3X more likely to apply, and have yield rates up to 6 percent higher than average.
Level up search and engagement and you'll level up your enrollment results
What you do now will impact the enrollment success of the next several classes. You need to:
Respond to the expectations of today's students and families about when and how you engage them
Build experiences that resemble Amazon and Netflix in terms of personalization and engagement.
Embrace today's digital world and make sure your search efforts work for the smartphone era.
We provide all of this with RNL Student Search and Engagement, a modern search solution that supercharges traditional search with digital communities and parent engagement. Learn more about this solution and how you can take your student search to the next level.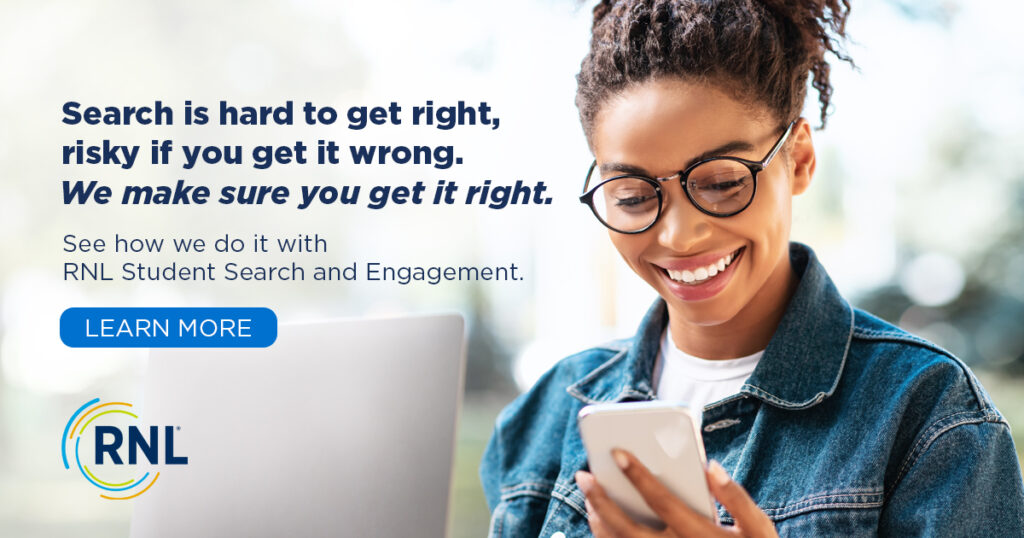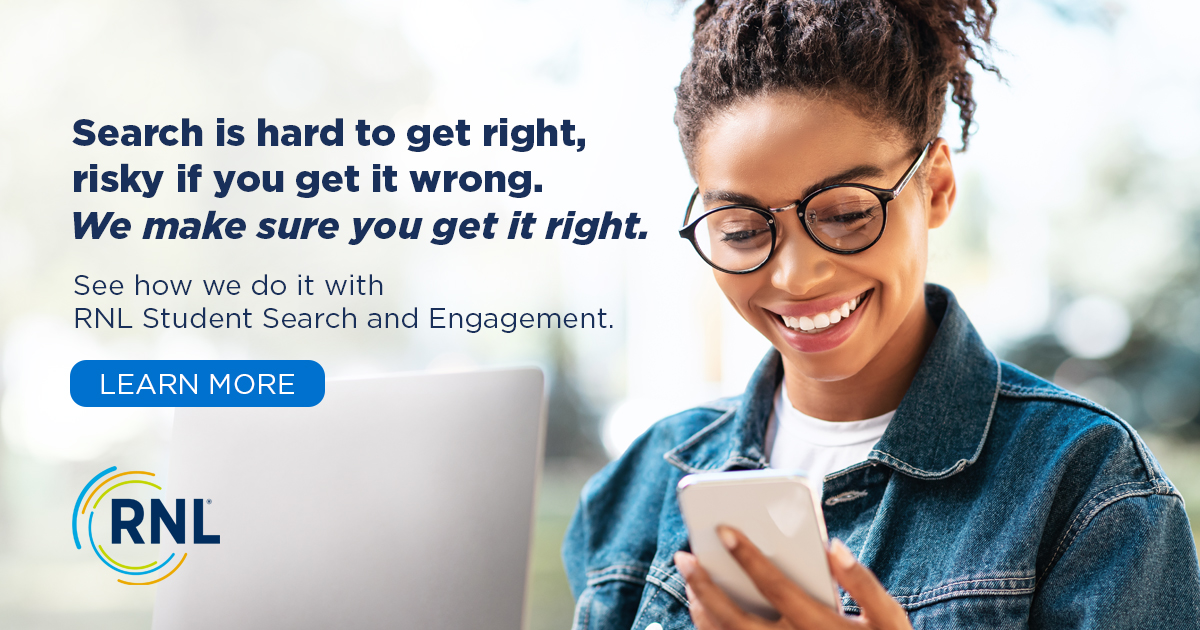 ---