enrollment
Graduate, Online and Adult Student Recruitment Best Practices: 4 RNL@Home Interviews to Get You Ready for RNLNC 2020
We're excited about the upcoming RNL National Conference (RNLNC), where enrollment management and student success leaders will gather (virtually) to hear about the latest trends and best practices for recruiting and retaining students. For the first time, the conference will feature a full Graduate and Online student recruitment track.
I got on video calls with four of our presenters for the RNLNC, all graduate and online enrollment veterans. Here are the interviews, which are great previews of their sessions at the conference.
Dr. Susan Aldridge: Harnessing technology and lifetime learning with a burgeoning online and adult enrollment population
Dr. Susan Aldridge is an online enrollment veteran, and served as president of Drexel University Online and president of University of Maryland University College. She's one of the foremost experts in serving adult and online learners as well as how colleges and universities need to adapt and change to serve this growing population. This is a preview of her keynote session which will unpack the impact of the economy and technology on what's next for online enrollment.
Lisa Braverman at Farleigh Dickinson: Be flexible and focus on partnerships to serve adult and online students
Lisa R. Braverman Ph.D. is dean of Petrocelli College of Continuing Studies at Fairleigh Dickinson University. She has led schools and colleges serving working adults for more than two decades and has championed efforts focused on partnerships with employers, developing career-enhancing short courses, certificates, and micro-credentials, and has also developed online programs on a budget. Lisa and I talk about the environment we now find ourselves in, how likely it is that adults will return to the classroom in the coming weeks and months, what we need to do to make that happen, and how to keep cultivating valuable employer partnership in these trying times. She'll cover these topics deeper in her RNLNC presentation.
Keith Ramsdell from Bowling Green: Graduate recruitment best practices from the RNL/NAGAP research study
Co-sponsored by NAGAP and featuring insights from member institutions, our research offers insights into how graduate recruitment strategies are adapting—or will need to adapt—in this challenging time for recruitment. (Here is the published report). Keith will present with RNL's Raquel Bermejo about the survey at the RNLNC
Adam Binkerd from Indiana Wesleyan: Focus on the human touch with online students
Adam has helped create one of the leading engines that supports online and adult students. Celebrating its 100th anniversary this year, Indiana Wesleyan has transformed into a flexible, multi-platform institution with both a brick and mortar campus and comprehensive online programs. Adam will tell us at RNLNC what Indiana Wesleyan has learned during the COVID-19 pandemic, which hit right as the institution was engaged in a comprehensive review of its services. They've actually seen growth during this time, and personal attention to students is at the core of this success.
Join us online for the RNLC 2020 to hear more
Register for the RNL National Conference today and join (virtually) hundreds of peers at this insight-packed event.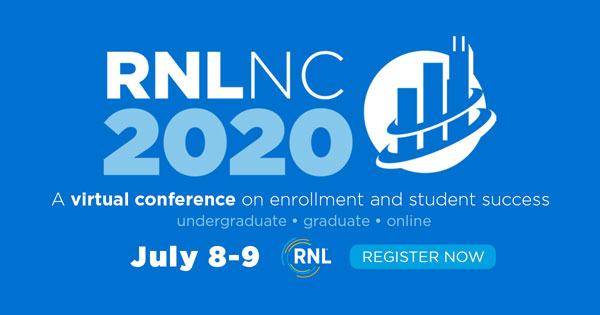 ---