enrollment
Almost 90 Percent of Institutions Serving Graduate and Online Students Face Budget Cuts
Scott Jeffe
Vice President, Research (Graduate and Online)
June 25, 2020
As we continue to move into a new era in higher education—one that I refuse to refer to as the "new normal"—the conversations I have been having with institutional friends and colleagues make me think that the shock has worn off and we are now firmly in the "now what do we do" phase. In calls and emails, I have been asked what is happening with budgets (how pervasive are the cuts, how much, what is being affected) and how are goals and targets being adjusted.
Budgets: 9 out of 10 have already made cuts or are contemplating cuts
With this in mind, the June RNL Graduate and Online monthly poll focused on "budgets and other surprises," assessing how plans are developing for the fall and beyond (see the end of this blog for our poll methodology). We jumped right in my asking if institutional budget cuts have been decided or are on the table. Almost 40 percent indicated that cuts have already been made, while 51 percent said that cuts are being discussed. Only 11 percent said that no graduate and online budget cuts had been contemplated yet. Although the question was worded to assess if "changes" had been made, the comments on responses indicated that changes were almost universally cuts—with a few bright spots where increased funds have been allocated to marketing and recruitment efforts.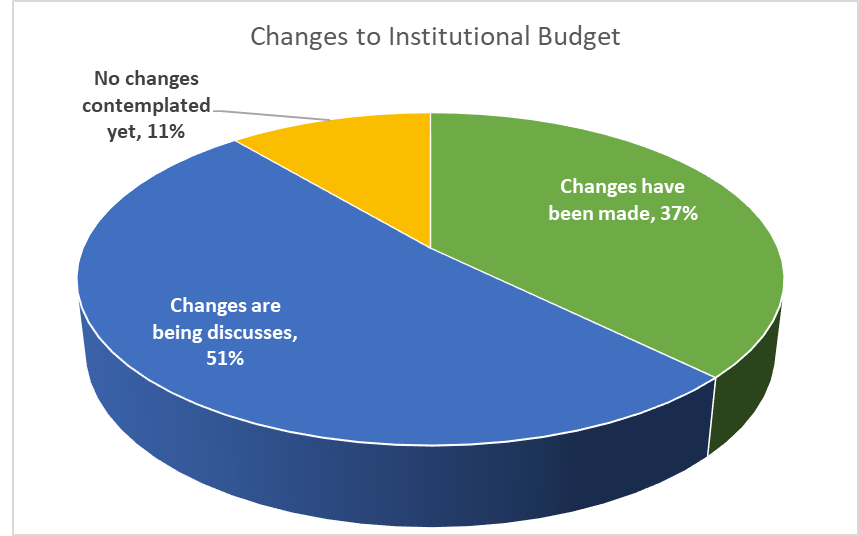 Travel budgets slightly edged out staff hiring as the most common change to budgets. Yet in both cases only about one-third of respondents indicated that either of these two changes is on the table. At the opposite end of the spectrum, only about one in ten institutions is contemplating laying off faculty. Twice that number is contemplating laying off staff or stopping faculty hiring (almost universally not replacing open positions, according to comments on these answers). Marketing budgets are slight more likely to be affected than recruitment budgets, but in either case, not more than 23 percent of responding institutions indicated that this had been done or may be done soon.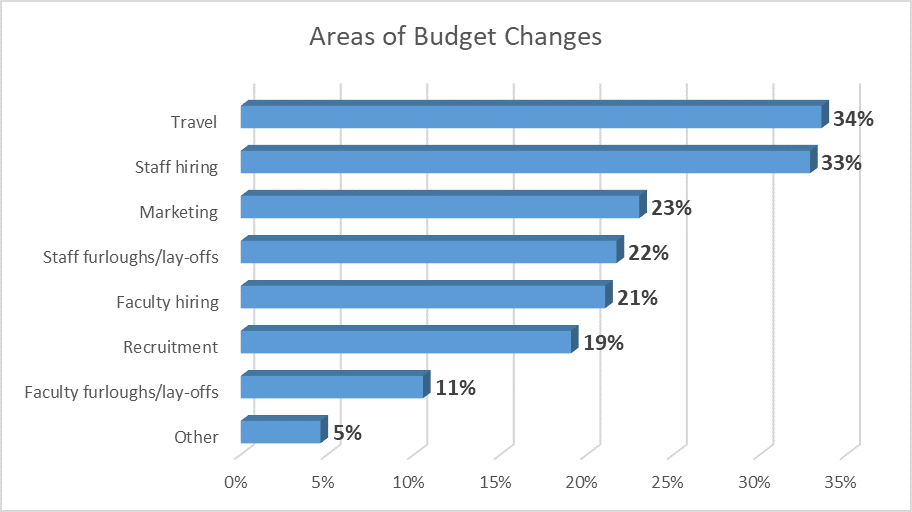 Talk with our graduate and enrollment experts
Ask for a free consultation with us. We'll help you assess your market and develop the optimal strategies for your prospective graduate students and online learners.
Goals: Half of institutions have not made changes
While formal enrollment goals are often not changeable for any number of reasons related to budget development, the targets that enrollment (and marketing) teams use to plan their strategies are often easier to change. In order to understand exactly where institutions are on this issue, we specifically asked if any changes have been made (as opposed to planned/discussed changes). Slightly more than half of responding institutions have made no changes, while almost one-third have adjusted gradate goals, and about one-quarter have adjusted online or adult undergraduate goals.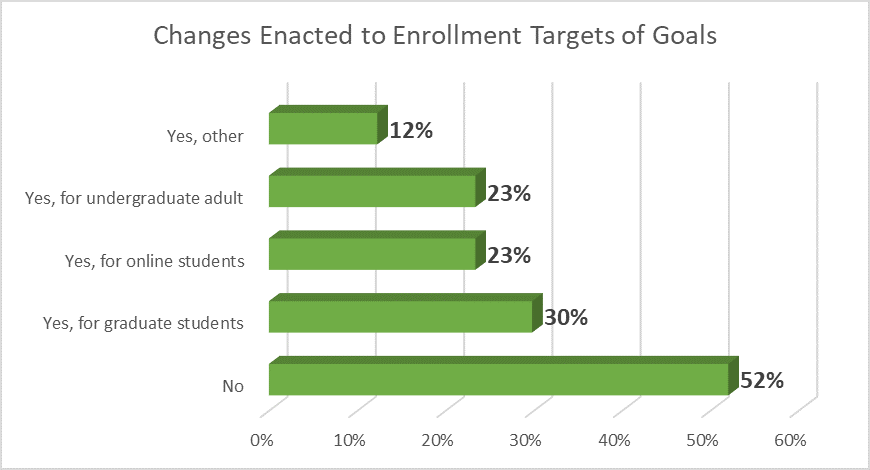 Comments from respondents on goals
By analyzing the explanatory comments offered by all those who have made changes, we know that 31 percent specifically indicated that goals/targets for at least one of these populations has been reduced, while nearly the same number (29 percent) indicated that targets for at least some audiences has been increased. The balance of respondents, while not detailing specific changes to their numbers, described tactics that they have put in place over the last several months to maximize enrollment among these populations. Among the things they have put in place are:
"We have taken this opportunity to make our processes more fluid. Instead of having defined dates for benchmarks, core leadership and stakeholders are meeting regularly and assessing the situation day-by-day. This is providing us with the opportunity to continually adjust our plans and tactics to maximize enrollment. Basically our goals have been set aside."
"This situation has allowed us to make more concerted efforts than we ever have before to meet folks where they are at, assist them with job changes and impacts, and increase presence in our region. There is a sense that this is a long-overdue change and while it is new to some, it is a net-positive change."
"Goals were always decentralized, and we had little understanding of what the schools and colleges were doing. We have used this to centralize goal setting and planning into an overall university team structure instead of per campus/school."
"We have implemented a number of (likely needed) policies to enhance flexibility and convenience. They had allowed for a deferment of acceptance until next year. Enrollment was re-opened for fall 2020 admissions (after the original deadline passed) as a way to help support the newly graduating seniors who may not be moving out of state to go to college."
Making the best of it
We closed the poll by asking respondents to tell us how they are making the best of the current situation. There were a lot of comments focusing on "doing less with more"; of increasing the availability of on online programs; and increasing the flexibility of deadlines, requirements, and programs themselves. In my opinion, there were not enough comments on enhancing communications with prospective and enrolled students—just 6 of more than 150 responses. There were many comments that stood out for using the current situation to address things that have long needed attention:
"We are getting buy in from faculty on some very big decisions, and that seems to be the biggest driver in focusing attention on programs that are attracting students. We are also doing focus groups and social media campaigns like we've never done before to get information from students that underpin our plans."
"We've been doing just the opposite as many other institutions—we're identifying how we can better/best serve students from all over, not just in our community. We have great online programs, so we don't need to go local."
"We're using this crisis and an opportunity to recreate programs and marketing measures that better relate to prospective students. We have finally been able to implement more effective and user friendly registration and virtual aid systems. Our institution was forced into a situation that required eliminating antiquated technology in favor of systems that could be used easily by professionals and prospective students alike while ensuring consistent updates. It drove the institution to move out of the current silo and engage in models that offered better outcomes."
"This has allowed us to be more strategic. We are putting our investments where we see the most potential growth in a way that we just haven't been able to do in the past. Adjusting low enrollment degrees to better fit the skills needed in today's job market. Without the issues of today—this change would not have come as easily."
Poll methodology: 173 individuals responded this poll. Respondents were drawn from more than 30,000 higher education practitioners on RNL contact lists. The screener stipulated that respondents have graduate, online, or adult undergraduate marketing and recruitment among their primary responsibilities. More than 70 percent of respondents were either enrollment or marketing leaders, with the balance comprised of institutional leaders and academic leaders.
How can you make the optimal adjustments in this very fluid environment?
First, many thanks to our participants, their responses really provided some highly useful insights as we head into what will certainly be a challenging fall.
Second, their responses show that knowing what to do right now remains difficult. That's why many programs are talking to our graduate and online experts. I invite you to reach out for a free consultation to talk about how you can keep your enrollments on track.
---