enrollment
Families and College Financing in the Wake of COVID
New research from a survey of more than 5,000 families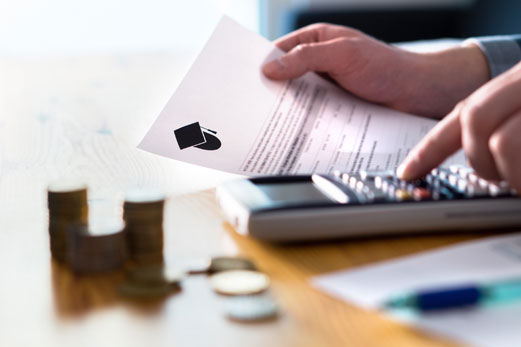 Families have long expressed concerns about higher education's costs and the related financing challenges. COVID-19 and the extraordinary financial challenges many families faced only added to their concerns. RNL, in conjunction with CampusESP, sought to learn more from families the past two years. In the 2021 version of our survey, 5,291 families of high school students responded to questions about college planning and enrollment. Sections of the survey related to college financing and borrowing.
The good news is most families (87 percent) reported that COVID-19 will not have an impact on their decisions of their students to enroll in college in the fall of 2021. However, families did express concerns about funding and financing college.
Importance of financial aid and scholarships
The importance of financial aid and scholarships has increased over the past year: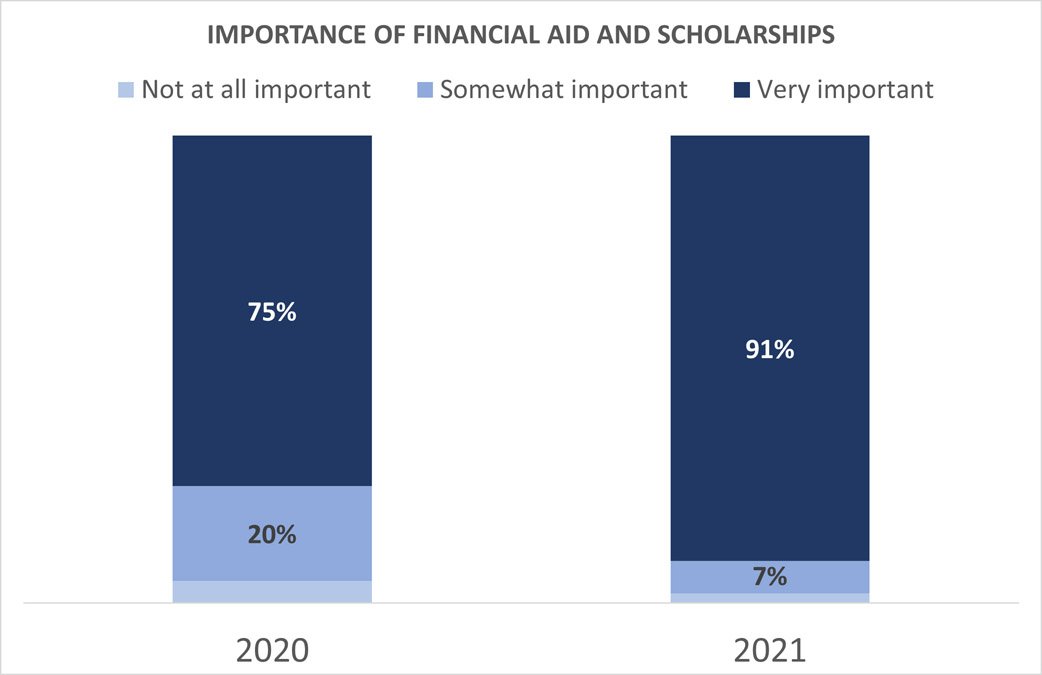 There are modest variations in these results when examined by grade level of the student, region of the country where the family lives, and whether the family has prior college experience. The starkest contrasts, though, are when examining the results by ethnicity.
White families are less likely to deem scholarship and financial aid as very important than are Asian/Pacific Islander, African American, or Hispanic or Latino families.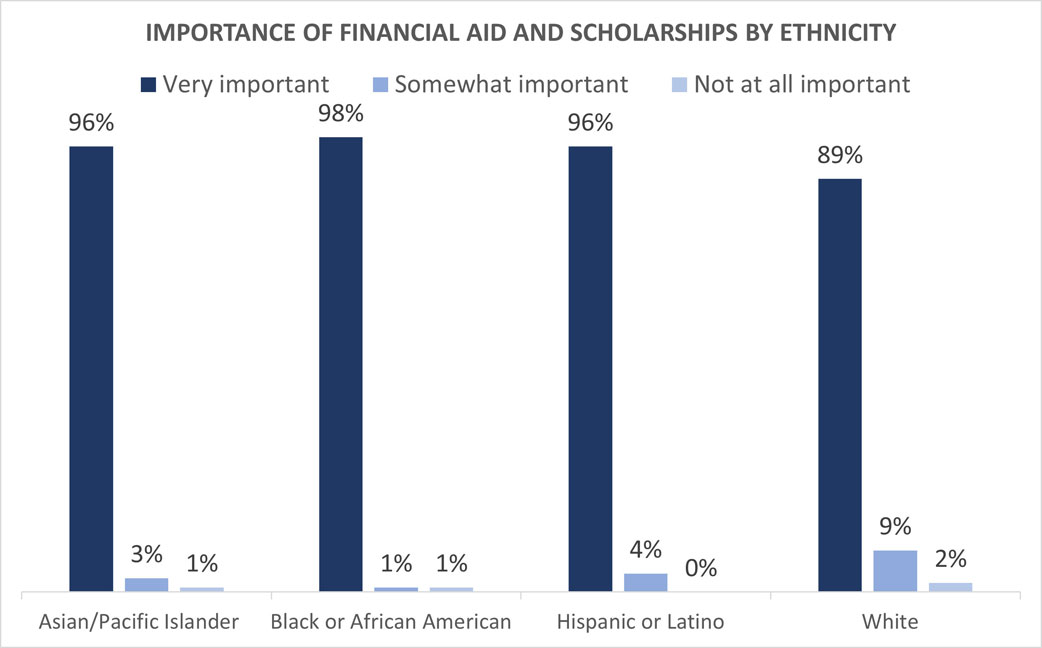 Not surprisingly, this same measure of importance dropped as family income increased. The following chart shows the percentage of families that said financial aid and scholarships were very important, and the numbers dropped significantly once family income crossed $100,000.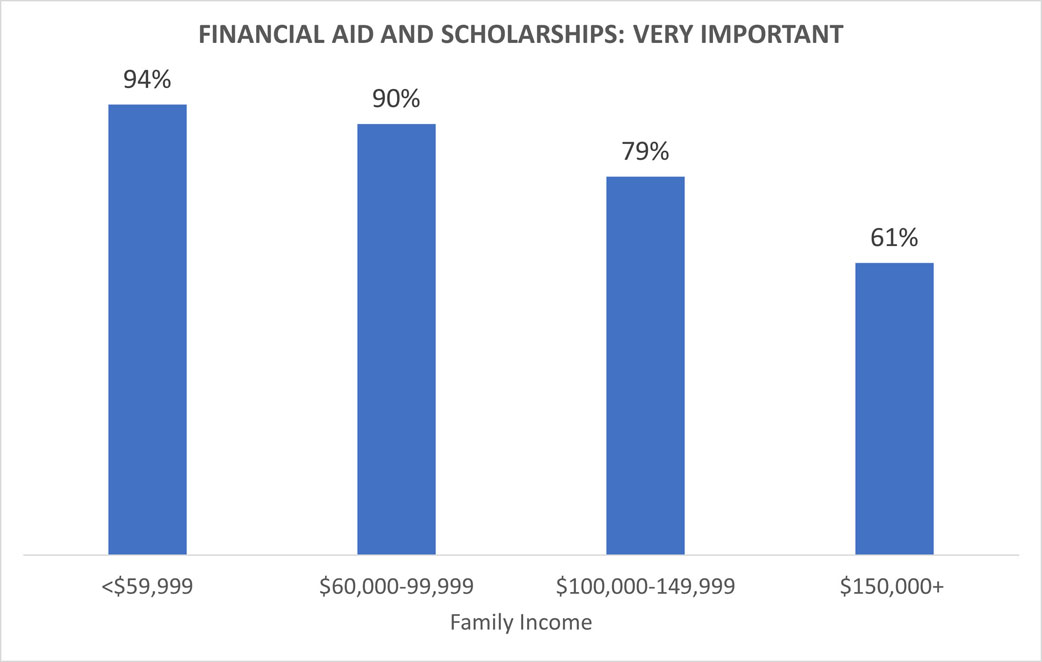 Financing difficulty
Whether families deem financial aid and scholarships to be important appears linked to their expectation that financing higher education will be difficult. Survey results found that 57 percent of families expect financing education to be very difficult, an increase of 9 percentage points from a year ago.
Regional, ethnic, and educational differences between survey respondents showed little variation. Family income is where differences surface. At family incomes below $30,000, 52 percent of families said the ability to finance a college education would be very difficult. For families with incomes over $150,000, only 14 percent said financing college would be very difficult.
Tuition as a worthwhile investment in the student's future
Though it is a future-based evaluation for these families of high schoolers, the survey asked for the level of satisfaction with "tuition as a worthwhile investment" in their student's future (something campuses can ask current college students on our satisfaction surveys) . More than three-quarters of families expressed some level of satisfaction, and that high of a rating cut across all cross sections of race, regions, educational levels, and income levels.
Borrowing
Many families—some willingly, some grudgingly—choose to borrow to finance part or all educational expenses. COVID and the financial aftermath have increased expectations about borrowing. This recent survey showed 76 percent of families expect to borrow, up from 67 percent in 2020. Families at all high school grade levels share this expectation somewhat equally. It is concerning that 42 percent of those who expect to borrow do not know how much they will need to borrow, even when given choices that range from less than $10,000 to more than $40,000. Those with the lowest incomes and those with a two year college degree or less have higher levels of uncertainty about the amounts that will be needed.
More than 80 percent of families Asian/Pacific Islander, Black or African American, and Hispanic or Latino students express a higher expectation to borrow, compared to 72 percent of families of White students.
A much higher percent (87 percent) of families in the Northeast expect to borrow compared to 66 percent in the West, with other regions reflecting approximately the national average. Families with no college experience or two-year degrees as the highest level of college attendance are more likely to expect to borrow (85 percent) than families with four-year or graduate level degrees (72 percent).
Website traffic
The vast majority of families (85 percent) report checking costs on college websites, higher than any other area of college information. Financial aid and scholarship check in at 84 percent of families looking for that information. And scholarship and financial aid calculators are heavily trafficked as well, with 70 percent of families have checked that area of the web.
Key takeaways
First, check the cost and financial aid section of your website! You want to ensure these pages are ready to help guide parents and students through the financial aid process.
Make the financial aid section clear and concise and update it constantly.
Ensure this section be easily accessible, not buried.
If scholarships and aid are so important to families, minimize the clicks to get to your scholarship pages!
Consider the financial aid section part of your marketing efforts, not just your rules and policies efforts.
Check it often because families are checking it often. It's not a place to update once a year and forget.
See your information from the eyes of your families, a number of whom have no or limited college experience and need clear, understandable language about scholarships and financial aid.
If families have concerns about costs and financial aid and seek information about those topics more than any other topic about colleges, be proactive about communication and information.
Communicate with families, not just the students. Families want to hear from you, so be sure to collect all relevant contact information. Be sure to not only collect cell phone information from families but also give them the option to opt-in to text messages—these are great for sending out alerts of upcoming financial aid deadlines.
Use the data you have about families to segment messaging. Don't assume one size fits all when it relates to sharing about scholarships and financial aid.
Don't assume that information is clear and easily accessible. Be proactive in nudging families to information you want them to see. Instead of suggesting they go to your website and check out your videos, direct them to content that's relevant to the interests of their student (ex. "Your student expressed interest in biology—have them check out this link about the biology department .")
Share detailed information about net prices after aid, direct costs by income category, etc. If sites like College Navigator publish your school's detailed information, you should as well.
Use technology such as personalized financial aid videos to inform and engage families. These can quickly communicate the cost of attendance and the size of an aid award.
I hope you have found these findings helpful. We're also here to help you find the right enrollment and financial aid solutions. Just reach out and we'll set up a time to talk.
Optimize your awarding to meet student need as well as enrollment and revenue goals
Talk with our financial aid strategists and discover how you can use a more data-driven, strategic process to provide more families with the aid they need while also achieving your institutional objectives.
---