Explore topics on student persistence, completion, and outcomes
| Register | by June 21 | after June 21 |
| --- | --- | --- |
| 1 to 5 from an institution | $735 each | $785 each |
| 6 to 15 from an institution | $715 each | $785 each |
What are campuses doing to maximize student success and create stronger student outcomes? Catch sessions from experts across the country as they examine issues.
What attendees have said
"The sessions provided me with guidance and answered some of my questions about what it means to be a director of retention."
"So much information and innovative ideas to take back to campus and share."
"Meeting various peers and colleagues created great sources of information."
"I am glad my supervisor sent me to this conference. I look forward to next year's experience."
Student success sessions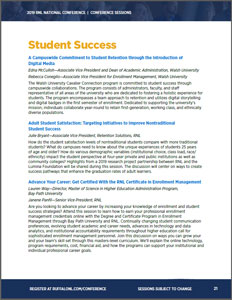 Read the session descriptions for our sessions on student retention, college completion, and career services.
Student success topics at this year's conference include:
First-Generation Students' Success From High School to College Graduation
First Things First: Increasing the Success of First-Generation Students
Retention for Rookies
The TIP Method for Online Student Engagement and Retention
Adult Student Satisfaction: Targeting Initiatives to Improve Nontraditional Student Success
Engaging Gen Z on the College-to-Career Pathway
The Transformation of Career Development
The Sophomore Slump: Strategies for Supporting and Retaining Second-Year Students
Improve Graduation Rates by Improving Second-Year Retention
Creating a Student-Centered Academic Initiative That Retains and Persists Males of Color
Increasing First-Year Student Engagement for Males of Color
Student Self-Advocacy: Four Areas to Help Students Help Themselves
The Refinement of a Case-Management Advising Model and the Development of an Advising Scorecard
Before They Leave: Designing Effective Recruit-Back Programs
A Campuswide Commitment to Student Retention Through the Introduction of Digital Media
Mentoring and Mentoring Programs: Powerful Tools to Engage and Retain Students
The Role of Faculty in Recruitment, Retention, and Mentoring
Performance Outcomes in Two-Year Colleges
Synchronizing Community College Student Expectations With Best Practices
The Power of Expectations: An Imperative for Improving Student and Institutional Performance
Using Student Satisfaction Data for Retention, Strategic Planning, Accreditation and Recruitment
Providing Quality Student Service in Higher Ed
Transform Your Academic Advising Program
Results to Evolve: A Student Guide to Self-Case for Academic Success and Personal Well-Being
Leveraging College Student Inventory Data to Enhance the Support of First-Year Students
Success Coaching Within Higher Education at a Historically Black College and University
How a College Embraced Relational Advising and Innovative Outreach Practices to Drive Student Success
Disadvantage Before Birth: The Journey From Disadvantage to Significance
Student Withdrawal Data at New England Community Colleges and Institutional Actions in Retention
Putting the Pieces Together: Supporting the College Student in Experiential Learning
Re-Imagining Student Success: Using an Academic Course on Excellence to Change Your Student Story
(Please note: Conference session titles, content, and programming are subject to change.)
These student success conference sessions are designed for:
Presidents and chancellors
Provosts and vice presidents for academic affairs and student affairs
Deans with responsibility for student retention
Career services staff members
Campus retention teams
Institutional researchers