Learn what campuses are doing to engage donors and boost giving
| Register | by June 21 | after June 21 |
| --- | --- | --- |
| 1 to 5 from an institution | $735 each | $785 each |
| 6 to 15 from an institution | $715 each | $785 each |
Looking to boost alumni participation? Increase annual giving? Cultivate more donors online? Our presenters will dig into the biggest issues in higher education advancement in these fundraising conference sessions.
What attendees have said
"I came home with ideas from other schools that I could implement and hopefully increase our student philanthropy and annual giving."
"It was a refreshing break to give me time to think outside of my work."
"Excellent topics and experienced speakers."
"This was my first RNL conference, but it won't be my last!"
Fundraising sessions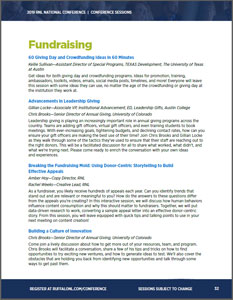 Read session descriptions for our fundraising sessions on digital philanthropy, omnichannel fundraising strategies, increasing donor participation, and more.
Fundraising topics at this year's conference include:
Digital Fundraising: Key Strategies and Practices
Creating a Mobile-First Fundraising Strategy
Three Keys to Successful Annual Giving Programs
Developing a Culture of Innovation in Fundraising
Engaging Donors 24/7 Through the Power of AI Chatbots
Increasing Engagement by Getting to Know Your Prospects
Storytelling for Impact: Helping Donors Understand the Value of Their Dollars
Leveraging Campus Relationships to Maximize Fundraising Results
Advancements in Leadership Giving
Hack the Mind: Using Psychology to Boost Fundraising
The Annual Giving Throwdown: An Interactive Planning Session
New Innovations With Traditional Fundraising Channels
How to Create Donor Surveys that Improve Your Fundraising
Building a Strong Partnership That Impacts Results
Getting the Most Out of Crowdfunding
Direct Facts About Direct Mail
Direct Mail Strategy: Looking at Annual Giving From Your Donor's Perspective
Fundraising and the Power of Public Speaking
Making the Student Phoning Program the Best Job on Campus
Structuring a Data-Driven, Donor-Focused Major Gifts Program
(Please note: Conference session titles, content, and programming are subject to change.)
These fundraising conference sessions are perfect for:
Campus presidents
Presidents of foundations
Vice presidents for advancement
Directors of development
Directors of annual giving
Marketing and communications staff for fundraising
Alumni relations staff