Dive into key topics on recruitment, marketing, financial aid, and more
| Register | by June 21 | after June 21 |
| --- | --- | --- |
| 1 to 5 from an institution | $735 each | $785 each |
| 6 to 15 from an institution | $715 each | $785 each |
Campus professionals, higher education experts, and enrollment consultants with vast experience will lead our enrollment management conference sessions, tackling the most important topics impacting student recruitment today.
What attendees have said
"This is definitely the place to be for any higher ed professionals interested in managing their enrollments."
"I brought back so many ideas that can be used in admissions and recruiting."
"As always, this conference was fantastic. The session topics were well thought out and invaluable."
"This conference is the gold standard of conferences for admissions and marketing."
Student recruitment and campus marketing sessions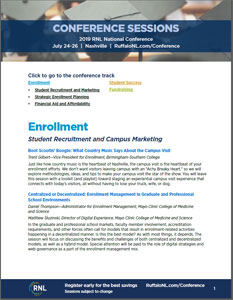 Read the session descriptions for our student recruitment, marketing, financial aid, and strategic enrollment planning sessions.
Enrollment topics at this year's conference include:
Digital Marketing Channels: Which Ones Are Right for You?
Emerging Technologies in Recruitment Marketing
Using AI Chatbots to Lift Conversion at Every Stage in the Funnel
The Art of Digital Storytelling
Going Digital or Bust
How to Build Your Website Around the Needs of Your Prospects
E-Expectations 2019: What Students Want From Their Online Interactions
Authentic Social Media Use in Recruitment
Using Text to Boost Conversion
Taking the Next Step With Web Leads
Crossing the Streams: Connecting Online and Offline Events
Eight Steps for Creating a College Marketing and Communication Plan
Making Your Marketing ROI Business Case With Marketing Performance Metrics
Standing Out in a Crowded World: Being Heard Through the Noise
You Have a Brand, Now What?
What's Next in Non-Traditional Marketing Program Level Recruiting- Soup to Nuts Small College Recruitment
Reaching Gen Z: Creating Emotional Content That Authentically Connects Parents' Role in College Planning and College Success
Creating a Healthy, Goal-Driven Culture
Creative Trends We Love: Inspiration to Invigorate Your Campus Communications
Stemming the Tide of Summer Melt
The 360-Degree View of Student Engagement
Campus Visit Best Practices
Building a Partnership Between Admissions and Athletics
Developing a One-Stop-Shop: Combining Multiple Divisions to Better Serve Students
Advance Your Career: Get Certified With the Ruffalo Noel Levitz Certificate in Enrollment Management
Tips to Successfully Select, Implement, and Utilize a CRM
Transfer Student Advising and Recruitment
First-Generation Students' Journey From High School to College Graduation
Enrolling Out-of-State and Traditionally Under-Served Students
Same Program, New Market: Going Rural
Four Keys to Attract Students at Community and Technical Colleges
A Complete Outreach Model for Two-Year Schools
Centralized or Decentralized? Enrollment Management in Graduate and Professional School Environments
The Ultimate Recipe for Productive Cycle Planning (for Graduate Admissions Professionals)
Eight Fundamental Issues to Understand for Graduate/ Professional Enrollment Planning
What Can Graduate and Undergraduate Enrollment Offices Learn from Each Other
Keeping up with the Internationals: A Marketing and Comms Action Plan for Driving Enrollment Success
Recruiting International Students- Strategies for Success
The Political Climate and Impact on Recruitment of International Students
Strategic enrollment planning sessions
The Fundamentals of Strategic Enrollment Planning
Great Outcomes for Students: Reverse-Engineering Strategic Enrollment Management
The Financial State of Higher Education and How to Leverage Your Position as Institutional MVP
Building Capacity for Engagement in Successful Strategic Enrollment Planning
Built to Plan: Do-It-Yourself Strategic Enrollment Planning
One Private Catholic University's Use of Pricing and Program-Demand Research to Aid in Strategic Planning
Strategic Enrollment Planning: Three Institutional Perspectives
SEM at Community Colleges: Why and How?
Employer Demand: A Look at Emerging Skills Requested
No Surprises Revisited: Assessing What's Essential for Enrollment Success
Developing Strategic Enrollment Strategies in Response to the Current Environment
Navigating Strategic Enrollment Planning and Management at a Large, Complex, Urban University
Financial aid and affordability
How does Your Discounting Compare? Results From the 2019 RNL Discounting Report
What to Measure and When to Track It? Top FA Metrics to Follow
Financial Aid for Rookies
Should We Consider a Tuition Reset? A Quantitative Look at 130 Examples
Fear of Student Loan Debt: Reframing College Worth to Regain Lost Prospects
Financial Aid and Affordability: A College/Guidance Counselor Panel
Explaining Financial Aid in a Way Students Can Understand
The Impact of Athletic Recruitment on Admissions and Financial Aid
College Financing: A Juggling Act
Using IPEDS to Understand Your Market Positioning: A Workshop
Financial Aid Allocation for Transfer Students
From High School to College Graduation: Here Is What Your Students Think About College Financing
(Please note: Conference session titles, content, and programming are subject to change.)
These enrollment management conference sessions are ideal for:
Presidents, provosts, and chancellors
Vice presidents for enrollment management
Directors of admissions
Directors of financial aid
Campus marketing professionals
High school counselors