enrollment
7 Top Tips for Designing a Great Higher Ed Website
Stephanie Geyer
May 24, 2019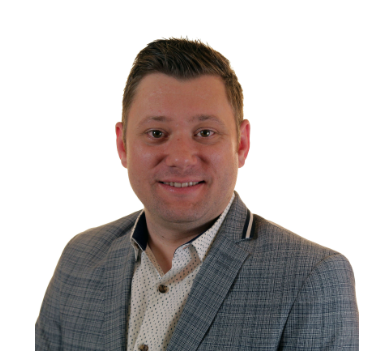 This blog was produced by Court Campion, director of marketing at OmniUpdate. Court has over a decade of award-winning digital marketing, creative management, social media, and strategic ideation expertise and has worked with small to global agencies, and large celebrity brands. He and his colleagues at OmniUpdate also partner with me to produce the annual E-Expectations Report.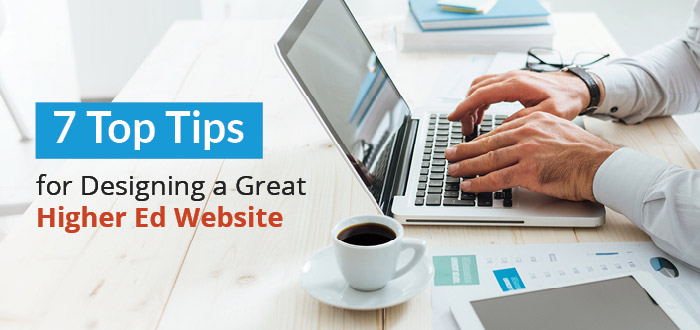 Your website is an extremely important tool in your college or university's marketing arsenal when it comes to communicating with your community. It is frequently the first place that prospective students will go to learn more; where current students go to learn about ways to get involved; and where alumni go to find out how to support their alma mater.
But if your website doesn't provide these groups with the information they need to remain engaged with your institution, you could miss out on prospective students or donations from alumni. To make your website as functional, attractive, and useful as possible, your digital team should consider what website visitors are coming to your site, what they are looking for, and then make it easy for them to find the correct information.
For help designing a great higher ed website, we've compiled 7 of our favorite tips:
Consider your institution's needs.
Start with a strong foundation.
Look for examples.
Focus on your brand.
Provide visuals.
Create easy-to-navigate paths.
Keep accessibility in mind.
These tips cover a variety of areas from website architecture to graphic design, but all of them are important in creating a strong, inviting website for your college or university. If you're ready to improve your website and strengthen your online presence, then let's dive in!

1. Consider your institution's needs
No design tip, no matter how well it's implemented, will benefit your unique institution if you don't know what it's helping your school achieve. When you consider how to best design your college or university's website, think about exactly what you need the site to accomplish and for whom.
The list of objectives for a college or university website will look different from school to school, so don't worry about finding the perfect plan. Instead, ask yourself and other department/school stakeholders the following questions to determine what the website should prioritize:
Which audience primarily comes to our website, or which audience do we want to come to our website? Understanding which audience primarily comes to your site, or even better, which audience you want to come to your site, will help you determine what content should be served and will influence ways to encourage them to spend more time on the site.
What are the programs that visitors are searching for on our site? Are we highlighting our key programs to the best of our abilities?
Is our website an important source of information for individuals who aren't prospective students, faculty, or alumni? Are we including readers like researchers, current students, or parents in our plans and making it easy for them to benefit from our resources?
These questions can help you determine which facets of your institution's website to focus on when improving your design.

2. Start with a strong foundation
While it is important for your website to look good, it's even more crucial for your website to function properly. If it is difficult to navigate or full of broken links, you can lose out on prospective students or donations from alumni.
For your website to perform to the best of its abilities, look at its framework, or the CMS that you use. A CMS is a content management system, or the software that powers the skeleton of your website. It is this software that powers your content and allows the user to interact with your website.
Plus, your CMS powers the integrations that your website should have with your other software solutions, like student information systems or learning management systems.
Your CMS is the most important part of your website, so it's imperative that it provides the tools you need, not just for you, but for everyone who will be using the CMS to update and add to the website. This includes:
Content contributors.
Content approvers or supervisors.
Web developers or programmers.
Marketing specialists.
Administrators.
Choose a CMS that allows all of these different team members to work efficiently, easily, and responsively in providing site visitors what they want to know about your institution. Click here to learn more about the best CMS options for higher education.

3. Look for examples
Once you've identified your website's priorities and have chosen a CMS as the backbone of your site, it's time to decide what the most effective visual concepts are for your site.
What do you want your site to inspire in your visitors? Are you trying to make them feel welcome, excited, empowered, or curious?
Search for college and university websites that elicit the same response in yourself as you would like for your visitors to experience on your website. Try to determine what about the site's design inspired those feelings.
While your school's brand styling, colors, and logos will heavily influence the design of your site, you'll want to look for examples of:
Navigation and menu styles
Images
Use of videos or GIFs
In addition to these facets of a website, don't forget to look for other important characteristics to emulate. Is your website as mobile-responsive as some of the others? Does it promote your social media presences?
It's important to make your website's visual impact unique, but don't be afraid to learn from other sites that are already doing great things with their design. For examples, check out OmniUpdate's list of awesome college and university websites to learn from some of the best.

4. Focus on your brand
Your website should be a natural extension of your college or university's identity, so make sure that you keep your institution's brand in mind when making any design choice.
Your school's brand is the face that it presents to the rest of the world. The brand includes everything from voice and tone to color scheme. To make sure that your website is in line with your institution's established tone, consider the following areas:
Color scheme. Your institution has colors that it is known for. Your website should emphasize those colors, both in matching them and complementing them. If your logo can't fit seamlessly onto your website, it's time to go back to the drawing board.
Tone. How would your institution talk if it were a person? If your school has a reputation as being more serious, make the copy of your website serious. Just don't conflate being serious with being boring!
Visual content. This group includes all the images, videos, GIFs, and graphics that your website includes. It's important that what you display on your website is in line with what your students and faculty have come to love about your school, and what you want your prospective students or donors to think about it.
Every aspect of your school's website should affirm the brand that you're striving to build, from the "contact us" page to the course catalog.

5. Provide visuals
Show, don't tell! When you're designing your school's website, it's important that you effectively use your visual collateral to woo prospective students, inspire current ones, and invoke nostalgia in your alumni.
Do you have a beautiful campus? Are your professors engaging and exciting? Are your student associations constantly running programs on the main lawn? Don't tell web visitors about these things—show them!
Visual interest is a crucial concept for web design. Visitors of your site don't want to have to sift through paragraphs and paragraphs of small text; they want to see the most important information displayed alongside photos and videos.
Some examples of ways to show and not tell are:
Include a slideshow of hero images on the homepage that display current goings-on at your college or university.
Use GIFs or short videos of performances on your activities, arts, and sciences pages, so that prospective students can get a glimpse of potential extracurriculars.
Include video testimonials of passionate students on pages that prospective students are likely to visit, so they can see students describe your school in their own words.
Providing visuals alongside informative and explanatory text increases the usability of your website as well as the engagement of your readers. When you appeal to all senses (or at least as many as you can) through your website design, they'll have a more immersive experience and want to spend more time on your site.
For more assistance with prioritizing visual interest, check out this list of best higher education marketing campaigns from OmniUpdate.

6. Create easy-to-navigate paths
When you design your website's information architecture, it should be with your site visitors in mind. Who are the three most important visitors that a college or university website gets? Prospective students, current students and staff, and your alumni. These three groups visit your website for different reasons, so it's important that you create the framework necessary for them to find what they're looking for.
Prospective students want to start with an overview of your school: where is it, how much it costs to attend, and what majors it offers. Then, they'll dig deeper to learn more about deadlines, programs, and extracurricular activities. If they can't easily find this information, they can become frustrated and may continue their search for higher education elsewhere.
Current students and staff will visit your website to access a community program or calendar, learn more about ongoing events, or log in to the student and faculty portals. If these components are not easily found, they may give up their search. Your website should help them find what they're looking for so that they can take full advantage of the college experience.
Alumni return to your website after graduation for career networking opportunities, important campus dates such as homecoming, and to hopefully make a donation to their favorite departments. Help them to achieve all of these goals by creating easy-to-find alumni pages, fundraising appeals or letters, and donation forms.
Your website should be a personal, at-your-fingertips guide about everything your institution has to offer. It should assist visitors in finding what they need quickly, whether through a smart search function or a convenient dropdown menu.
Guiding your visitor personas through their respective journeys on your website is important for encouraging continued support from students and alumni alike.

7. Keep accessibility in mind
The Office of Civil Rights requires that college and university websites be accessible to all visitors. If your website is not compliant with current ADA standards, not only will you miss out on some amazing prospective students, but you may face legal repercussions.
To avoid these consequences, prioritize these best practices:
Make sure that your headers are tagged and nested correctly.
Use a combination of automatic and human review to ensure ease of access.
Make sure that your images have alt text.
Provide transcripts or captioning for videos and voiceovers.
Keeping accessibility in mind from the start will allow you to design a compliant and optimally functional website from day one instead of requiring you to go back and make thousands of changes across your site.
Find more strategies, research, and insights for a great higher ed website
Designing your college or university website is a crucial part of your marketing and outreach strategies. Follow our best practices to make sure that your site is accessible, functional, and attractive for all users. When visitors are able to find what they need, they're more likely to stay on the site and convert from prospective students to current applicants, or from alumni to donor.
We also encourage you to read our latest E-Expectations Report to see what college-bound high school students expect from a great higher ed website. Or contact us today and ask to speak with our digital strategists about how you apply these seven strategies to your own website.