student success
Top 5 gaps in the first-year experience at the middle of the first year
Mari Normyle
Assistant Vice President for Retention Solutions
January 14, 2016
I've talked with a number of colleagues on college campuses this week and they are all focused now on helping their first-year students transition to the second semester. On many campuses, a primary vehicle for this support in the fall term is the first-year seminar—most of which concluded at the end of the first semester. But what structures and support for student success are available once those first-semester courses and programs end?
Data collected from institutions that administer first-year student assessments from Ruffalo Noel Levitz (College Student Inventory, a pre-test, and the Mid-Year Student Assessment, a post-test) show the top five areas in which students had requests for assistance as they entered their institutions and the extent to which assistance was provided during term one: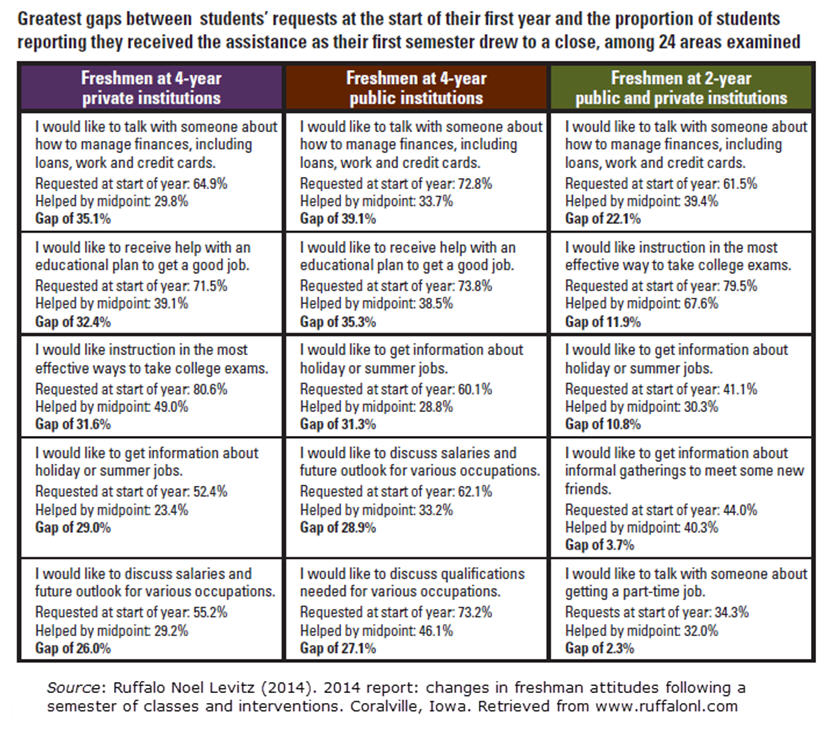 These data from a recent report, Changes in Freshman Attitudes Following a Semester of Classes and Interventions, reveal that students' motivational needs persist over time and are multi-faceted. The most substantial gaps between requests and assistance provided were in three areas that spanned all three sectors: financial guidance, career services, and academic support.
These data from the first-year experience indicate the need for structured, targeted support services extended through the second semester. If your freshman seminar has ended, how will you provide this structure of support? And what data will you have available to identify at-risk students and design the most relevant programs and services to address your students' changing needs in the second term?
My colleague, Tim Culver, wrote about this in a previous blog that I encourage you to read or re-read. The blog emphasizes the importance of paying attention to the P+P=R formula…progression + persistence = retention.
Student attrition continues beyond the first term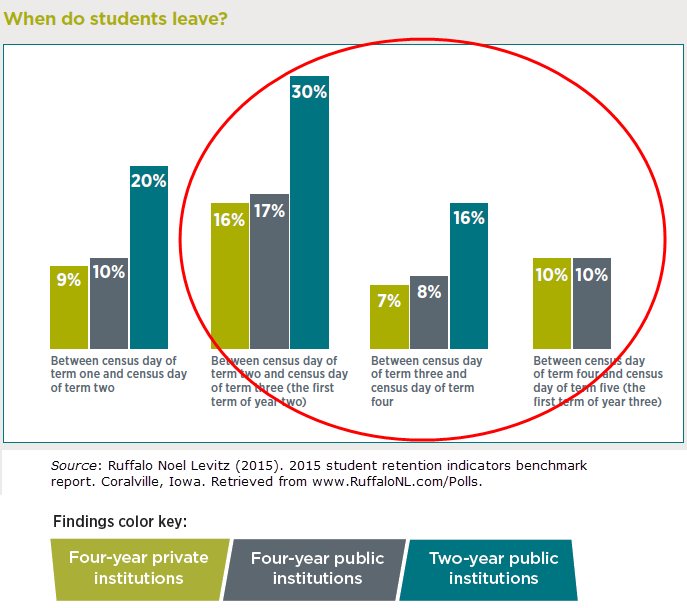 Above, data from the 2015 Student Retention Indicators Benchmark Report show that attrition continues beyond the first semester. This means colleges and universities must develop strategies that support student success beyond the first term, encompassing the entire first-year experience.
How to respond?

Based on the information above, focusing second semester programming on the following key areas may help institutions directly respond to first-year students' unmet needs:
Financial guidance: Financial aid awards for returning students should be available to students before they leave campus at the end of the spring semester. Financial aid offices should partner with student employment offices to provide personal finance workshops and services. Help students manage the money they have and make sure your students know what their financial aid will be before they leave at the end of the semester.
Career services: Many students are changing majors in the spring of their first year. For some, the next steps are clear but for many this is a confusing time that may raise questions of the value of persevering to a degree. Career Services can play a critical role here in helping students better understand how their interests, skills and values align with career paths. Connecting students with alumni can be a powerful way to help both students and alumni engage more deeply.
Academic support: Institutions cannot leave accessing academic support to chance. Embedding tutoring resources, through programs such as supplemental instruction in the "killer classes" that are difficult for all students, is an example of a deep commitment to student success. Providing 24-7 online tutorial support is increasingly important, too, so students can access the help they need when they need it.
If campus leaders are serious about student success, they will gather data about what their students need over time and have systems and strategies in place to continue to address those needs each and every semester.
Questions? Want to discuss your strategy for re-identifying at-risk freshmen at mid-year and for restructuring student support beyond the first term?
Find more information online concerning the Mid-Year Student Assessment and its companion Second-Year Student Assessment, as well our papers and research.  To discuss your institutional strategy for the first-year experience, send me an email at Mari.Normyle@RuffaloNL.com or call 800.876.1117.
---