enrollment
Budgets unchanged for admissions and student recruitment according to recent poll
Ruffalo Noel Levitz
May 4, 2016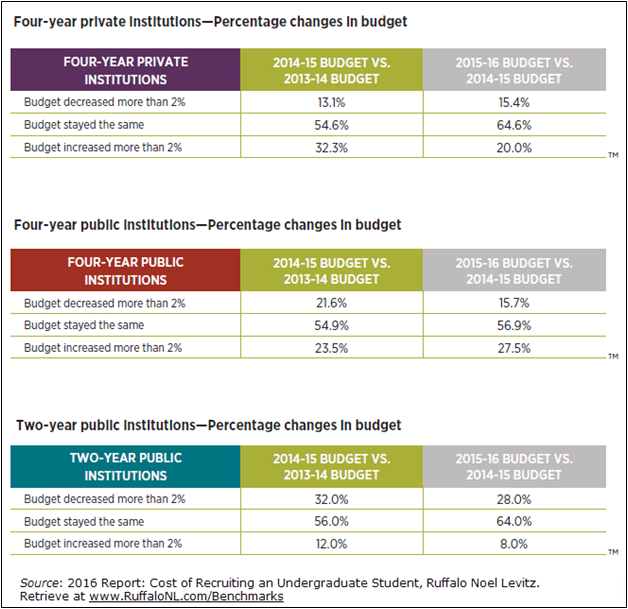 In the face of almost universally rising enrollment expectations, the majority of college admissions and recruitment offices are experiencing essentially unchanged budgets, according to the results of the latest Ruffalo Noel Levitz poll, the 2016 Report: Cost of Recruiting an Undergraduate Student. More than half of the poll respondents—both private and public four-year institutions and two-year colleges—reported their budgets had neither grown nor shrunk in 2015-16 and in 2014-15. (The poll asked about staff and operating budgets, but excluded scholarships or institutional gift aid.)
Flat budgets mean that admissions offices need to be very sure about the return on investment of every dollar they spend—and the value and effectiveness of everything they do—if they hope to achieve their enrollment goals. In addition, flat budgets require a constant assessment of technology solutions—for example, a shift from print to electronic communications to reduce the cost of printing and postage, or use of predictive modeling to focus recruitment efforts on a smaller number of prospective students with a higher likelihood to enroll.
More findings from the poll
The Cost of Recruiting report, published every two years, is based on an online benchmarking poll and provides enrollment officers with a way to assess their own budgets as well as operations and staffing. There are many variables that go into institutions' resource levels, of course, including location, mission, scope of programs, and niche. But the benchmarks provided in this report can provide initial guidance about your budget and staffing that may warrant further scrutiny.
Here are several ways the report can help assess your admissions and recruitment operation:
Median cost to recruit a student by sector and institution size. The median cost per enrolled student is a measure that focuses on the final outcome of the recruitment process, not any single stage, such as the number of applications. By comparing your institution's cost to recruit an undergraduate student (using the formula provided in the report) to the poll benchmarks, you can determine if you are under-resourced or spending more than your national peers. For example if your cost is significantly higher than the median, it may be time to carefully assess the effectiveness of your recruitment strategies to make sure you are getting the most for your dollar.
Number of enrolled students per employee. This metric is as important as your overall budget, because it evaluates the staffing level and the distribution of those staff. If your admissions and recruitment operation has fewer enrolled students per staff member than the median for the study, your office may benefit from an operations audit to determine if there are technology or process solutions to improve efficiency. If, on the other hand, your staff members are dealing with very large numbers of enrolled students per staff, it is important to determine if this is producing processing backlogs or unanswered emails and phone calls that are adversely affecting prospective students' interactions with your institution. When we begin working with a college or university, this is one of the first areas we look at, because lack of responsiveness from an institution can often drive away interested students.
Number of enrolled students per employee involved in direct outreach. I've been in admissions offices with large numbers of "processing" staff but a surprisingly small number of recruitment staff. This can often be the case at public four-year and two-year colleges with a history of application management rather than recruitment. But in this era of "customer relationship management," it is essential to have enough direct recruitment staff to create a personalized experience for your prospective students. If the number of students per recruiter is high, recruitment winds up relying on lots of general communications and contacts. So compare your number to those in the report, and also to the percentage of staff members of your sector's peers who are involved in outreach.
Of course, the most important measure of your budget and human resources is whether you are achieving your enrollment goals. If you are, then your investment is probably just right. However, if you are finding your institution is challenged, benchmarking your investment in recruitment could be a key step to point to solutions.
Questions? Call 800.876.1117 to speak with one of our experts
I hope you find this article  to be helpful and informative. If you have questions and would like to schedule a private, complimentary conversation with an expert from Ruffalo Noel Levitz to discuss your costs or staffing levels, please call us at 800.876.1117 or email ContactUs@RuffaloNL.com. We are also available to come to your campus to conduct assessments of enrollment management operations.