Read how you can transform your college communication plan through student-driven engagement
Download Why It's Time to Throw Away Your Communication Plan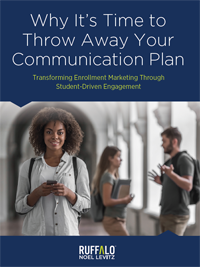 The traditional college communication plan has become obsolete. It pushes information out on a schedule to students, a schedule that the institution dictates.
That's not how today's students want to explore their college options. They want a personalized experience that focuses on their individual needs. They want to pull the information they need, when they need it, in any sequence they want.
This requires a new paradigm for enrollment marketing, one that replaces the traditional college communication plan with a student-directed enrollment journey.
Download this paper and read how you can take a trailblazing approach to student recruitment that aligns with how students explore college now. You'll read about:
Why the paradigm for college communication has changed
How changes in communication, marketing, and personalization have transformed the way students research colleges
What a modern, student-directed enrollment experience looks like
Download Why It's Time to Throw Away Your College Communication Plan
Create an individualized enrollment exploration that's student directed and more engaging. Find out how you can use this groundbreaking approach to target and engage more students for specific academic programs or in new markets. Learn more »