Watch our graduate marketing case study to learn how Vanderbilt University's Owen Graduate School of Management increased lead generation by 74 percent and conversion by 128 percent while drastically reducing their cost per lead.

Several years ago, Vanderbilt University's Owen Graduate School of Management wanted to find a single agency of record with the expertise and capacity to advance the success of the entire school. They had been working with three different agencies—each with their own strengths—but to bring efficiencies across the board, the Owen Graduate School wanted to consolidate to one agency.
What they were looking for
It couldn't be just any agency, however. They needed to find the "unicorn": an agency with deep experience in graduate education, significant experience in business education, demonstrated success in digital marketing, all while being able to speak the language of higher education.
Nate Luce, who serves as senior director of marketing and communications, said, "RNL speaks the language that we speak when we think about how to recruit students, and not just for MBA, including all kinds of programs: specialized master's, executive programs. There was a natural fit there that we didn't find with other agencies."
Why they selected RNL
But demonstrated experience wasn't the only thing that Vanderbilt needed. They were looking for not just an agency but a long-term partner that had the ability and willingness to grow with them over an extended period, that was transparent in its processes and decision-making, and that could communicate effectively.
Luce explained it: "RNL is able to articulate not only what the vision is for how you execute, but also each step you take to get there. That is very important to us. Execution is as important as the vision, so the  ability to show us how you were going to make things work was very impressive."
Goals for the Owen Graduate School of Management
Owen's ultimate goal was to expand enrollment of their six Master's degree programs (which include their MBA, Executive MBA, and other master's degrees in Healthcare, Finance, Accounting, and Marketing) as well as their Executive Education offerings and Accelerator Summer Business Institute. Since the partnership began, these goals have grown to include:
Cross-program campaigns focusing on healthcare, the military, and school-wide brand initiatives.
Event promotion for both Vanderbilt Owen events and external events in which Vanderbilt participated.
RNL's Strategy
RNL (and Converge before it) developed a comprehensive digital marketing strategy based in a highly collaborative relationship. RNL leverages eight platforms—including LinkedIn, Facebook, Instagram, Google Search, Google Display Network, and YouTube—in nine different campaigns that focus on specific programs as well as cross-program brand building. Vanderbilt was also one of our first clients to use our dashboard reporting tool and has played a critical role in perfecting this valuable tool that allows for deeper insights into a prospective student's enrollment journey.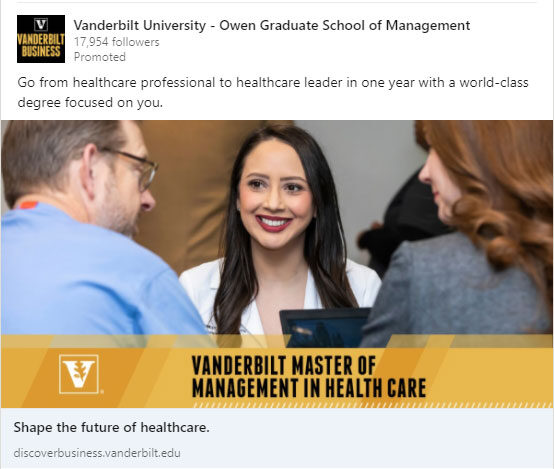 Luce thinks that the key to RNL's success is its ability to work so well with change. "You guys are great at dealing with change, which has been so important over the course of our partnership." Why is that? Luce thinks it's because, "RNL brings so many new ideas to the table—and not in the sense of a sales pitch—but to really continuously adapt to a changing market."
The transparency that RNL prides itself on is also critical to success. Luce said that the best partner is not one that gets everything right every time. Instead, it's one that has the confidence to put everything on the table with the intent to adjust strategy through not only a focus on the data, but also on the input of the client.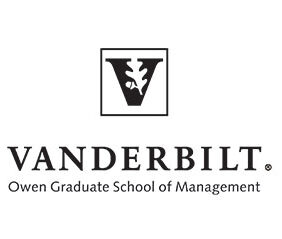 "You're just so data-driven. That is clear every single day, because you prefer to be transparent. You provide us with dashboards and monthly reports that give us a very thorough understanding of how we're doing. And it doesn't just make it easy for us to help make decisions on our end, but also in terms of articulating the value of what we do internally. It's very easy for us to go to leadership and say, "We need X, Y, and Z, and here's the reason why," because you provide us with all the data."
Results
Vanderbilt has seen strong results over the three years of the partnership. Their average CPLs have continually outperformed industry benchmarks, an especially impressive feat in the competitive business school market. When asked to comment on how RNL has affected the overall enrollment trajectory of the school, Luce said,
"Enrollment strategy always starts at the top of the funnel. More inquiries drive more applications, and that trickles down to filling every class. We've boosted our inquiry base across all programs for the entire length of our relationship with RNL.
"Efficiency of spend may be even more important. Business school marketing departments often have budgets that look very different from other schools. So it's important for us to justify the money we spend. Our cost per lead, which is our main metric, dramatically decreased the first year that we engaged with RNL, and has decreased every single year since then.
"Despite all of the challenges the pandemic has brought, 2020 was a very positive year for enrollment. Applications in almost every single program were up year over year and our MBA applications doubled. That is the clearest demonstration of the impact that RNL has had on our success."
KEY METRICS SINCE THE FIRST YEAR OF THE PARTNERSHIP (2018)

What are your best enrollment strategies for graduate students?
Our graduate enrollment experts can help you take a data-driven approach to optimizing your enrollment. Let's talk about how you can exceed your goals and position your programs more competitively in the market.