It's all about getting the right applicants, not just generating more applications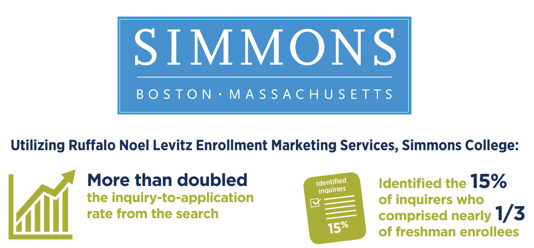 Opportunity
Simmons College was dealing with stacks of applications—many of them incomplete. Yield suffered as the admissions team struggled to keep up with apps while investing enough time in connecting with interested students. It was time for a new approach to recruitment and marketing that focused on the right applicants.
Partnership
Using Ruffalo Noel Levitz Enrollment Marketing Services and Enhanced Search Strategies, the college built a solid, data-driven search program that attracts students who are more likely to apply AND convert to enrollees.
Results
Yield rose by 7 percentage points over two years. The new strategies more than doubled the inquiry-to-application rate for fall 2016 and identified the 15 percent of inquirers who comprised nearly one-third of freshman enrollees. This resulted in a 97 percent file completion rate and a more efficient team that can spend more time building relationships with prospective students instead of wasting resources on inflated applications.
Are you ready to start the conversation about what our Enrollment Marketing Services can do for your campus? Contact us today.
Email us and find out how you can advance your application cultivation process. Or call 800.876.1117.
Case study used with the permission of Simmons College.