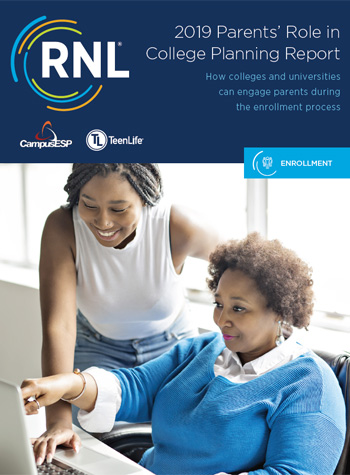 How can you engage parents more strategically during the enrollment process?
Find insights and recommendations based on a national survey of more than 1,300 parents.

Three out of four parents say they are "very involved" in the college search process. Yet only slightly more than half say they have received communications from colleges directed at them. In a time when families are taking a hard look at the investment of a college education, institutions need to make sure they engage the ultimate enrollment influencers: the parents of college students.
This survey from RNL, CampusESP, and TeenLife brings to light many factors that can affect how institutions communicate with, market to, and recruit traditional students. Inside you'll find:
Insights to parents' attitudes about the importance of college and whether a college education is "worth it" for their children.
When parents start the college planning process.
Which resources parents use when helping their children with their college searches and their preferences for communications.
This report will give you recommendations for engaging parents so that you can turn them into enrollment advocates for your institution.
Complete the form above to receive your copy.