DOWNLOAD THE RESULTS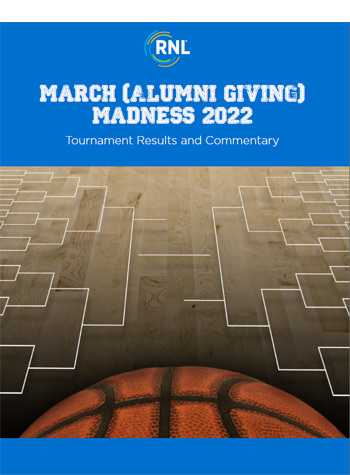 What would happen if the NCAA tournaments were decided by alumni giving instead of basketball?
That's the question we answer in the 2022 March (Alumni Giving) Madness Tournament! We have created a simulation of the men's and women's 2022 tournament brackets that uses fundraising performance to determine which institutions advance. Complete the form on this page to download the full results and commentary:
Final brackets for institutions in the men's and women's NCAA tournament.
Insights into what institutions are doing to engage their alumni and champion more giving.
Observations on ease of giving and ways to create a more frictionless experience for alumni who are ready to give.
Ask for a free Donor Comparison Report
We can give you a quick report based on your data to share how you compare with your peers. Simply check the box on the form above and we will contact you.
A fun way to learn from your peers
The March (Alumni Giving) Madness Tournament is not so much a contest as it is a learning opportunity. The observations here can give you ideas on what you can do to make your giving experience more exciting and efficient for alumni as well as the metrics you should be tracking to chart your success.
Complete the form to download the e-book, see the results, and read our insights!