Why It's Time to Move Beyond Traditional Marketing to Fill Your Academic Programs
Learn why your institution must change how it recruits students for specific majors
Download Majors Matter More Than Ever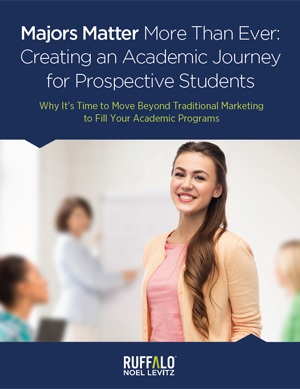 Why should a student study at your institution?
That question is the foundation of the college search process. But the way students answer it has changed. They want to know more than what majors you offer. They want to know if they are a good fit for your program, how your program will fit their needs, and if your program will help them achieve their dreams beyond college.
To address those needs, colleges and universities need to create a targeted, personalized journey for students so they can engage them the first time a student explores a program of study. This customized, self-directed approach empowers students to control their exploration and makes an institution stand out from competing campuses. Ultimately, this is the way that students will discover which institutions are the best fit. Campuses that don't adapt will be at risk for losing students for the programs they need to fill.
Download this paper and read how you can enable this academic journey and reach your enrollment goals for academic programs. Inside you will learn:
How the search for majors has changed among students
Why changes in communications, technology, and behavior have made this self-directed approach a growing necessity for campuses
How to move from an academic program plan to an academic program journey
Download Majors Matter More Than Ever
Create an individualized enrollment exploration that's student directed and more engaging. Find out how you can use this groundbreaking approach to target and engage more students for specific academic programs or in new markets. Learn more »