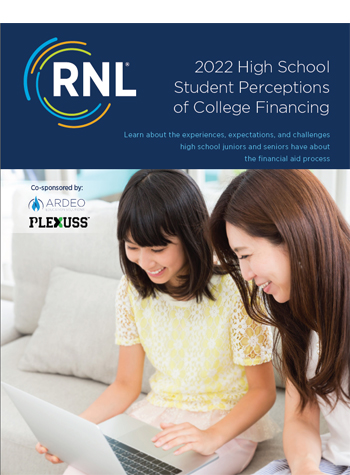 How do prospective college students research financial aid, applying for scholarships, and financing their educations?
The 2022 High School Student Perceptions of College Financing report examines the expectations, concerns, and difficulties prospective college students have with college financing. This survey of 1,250 high school juniors and seniors asks them about a wide variety of topics related to financing as well as how students choose the colleges they hope to attend.

Read the report and find out:
How many students and their families thing paying for college will be difficult.
Whether students are satisfied with the information they receive on financial aid and scholarships.
How many students and families expect to take out loans to pay for college and the amount they intend to borrow.
How many 12th-grade students add new colleges to their search list in their final year of high school.
Why students lose interest in a college or university.
Complete the form above to download your copy.
This research was co-sponsored by PLEXUSS and Ardeo Education Solutions.