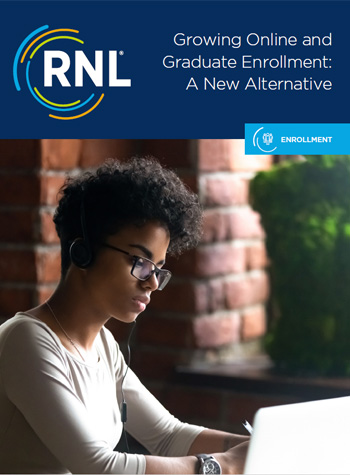 Read about a new approach to online and graduate enrollment management that provides an alternative to OPMs
As enrollment of traditional college students stagnates and more students take college courses online, campuses have looked for ways to manage online education. Many have turned to online program management (OPM) providers to get courses online quickly and at scale. But OPMs have steep costs and significant drawbacks that will not work for many colleges and universities.
Read this online and graduate enrollment white paper to explore a new alternative from RNL, one that puts the institution first and avoids the difficulties of OPMs. This paper explores the pros and cons of OPMs, discusses the need to manage online and graduate enrollment more strategically, and presents RNL's new approach to managing online and graduate enrollment that:
Maximizes enrollment in existing online and graduate programs
Optimizes the mix of programs for an institution
Provides guidance and support for launching new programs
Gives institutions more control and financial flexibility
Supports the institutional brand and mission
Complete the form above to see an important new choice you have for managing online and graduate enrollment.