Watch this interview with Ed Herrelko, executive director for marketing and communications at Dallas Theological Seminary, as he discusses how his institution pivoted to a digital-first, full funnel approach to enrollment marketing with RNL.

Dallas Theological Seminary is a non-denominational seminary located in Dallas, with extension sites in Houston and Washington, DC, and several other sites across the United States. In order to extend its service even further, DTS now offers nine online programs—eight master's degrees and one certificate. Its high quality programs attract students from more than 70 countries and enrolls almost 2,500 student annually.
What DTS was looking for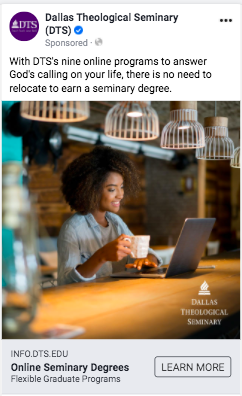 DTS wanted to grow enrollment in its flagship Master of Theology (ThM) program (they have since added their online Master's in Chaplaincy to the partnership) and they knew that they needed help to market this program nationally for the first time. While they were ramped up to cultivate and convert leads to enrollments, they needed more leads and knew that a digital strategy was the only way forward. They wanted to find an agency that not only was deeply involved and committed to higher education, but that also had a deep background in helping programs and schools grow graduate enrollment. Ed Herrelko, executive director of marketing and communications explained: "When we decided to pivot to a more 'digital-first', full funnel approach to enrollment marketing, we realized that was not something we could execute internally. The lift, the technology required, and the expertise were not resident in the department."
Why they chose RNL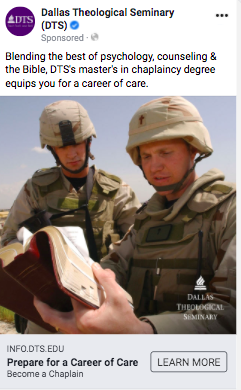 In 2019, Herrelko says they found the partner they were looking for in Converge, and were thrilled when Converge and RNL joined forces to add even more potential to the partnership through their Graduate and Online Enrollment Solutions. He said what really sold Converge/RNL was their clear and deep understanding of the graduate education space and their reputation as THE digital marketing agency for higher education. Herrelko said that even more importantly, "…their ability to really work as our partner and not just our vendor. I had gotten to know people at Converge/RNL at conferences and was confident that they brought a partnership approach to the relationship."
Herrelko said that over the course of the partnership, RNL has again and again proved that he made the right decision—both in terms of results and the partnership approach. "We have a continuous candid dialogue. We offer niche programs, so the ability to sit and talk about our unique value proposition and not feel as if there was a formula that was being hoisted upon us is what we value. RNL does a great job of listening and responding."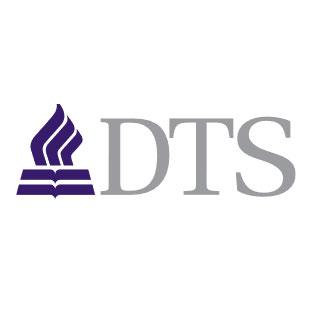 "RNL's willingness to be a partner with which we can have candid dialogue is priceless. The ability to sit with a partner and talk about our unique value proposition and not be made to feel as if there was a formula that was being hoisted upon us, is incredibly valuable. RNL listens, they respond in a way that is clear they understand our priorities, and they are transparent. Everything they know, we know. And… they get results."
Strategies: Focusing on leads that convert by leveraging "new and next" digital tactics
DTS made clear that their primary goal was not a certain number of leads, but leads that convert and result in the types of students that really want to be at DTS. To this end, RNL runs three campaigns—one for each of the two programs as well as an overall branding campaign. All efforts are focused on leveraging digital channels and include Facebook and Google (paid advertising on Google Search as well as banner ads on their display network.) Facebook has been a particularly effect channel with conversion rates as high as 11.7 percent and CPL of as low as $15.72. RNL is always looking to employ "new and next" tactics, and Facebook's Lookalike Audience tool has been effective in using the characteristics of DTS prospects and students to find more like them.
Results: More leads, higher conversion rates, and lower cost per lead

While the relationship that has developed has been gratifying for Herrelko and his team, the results of RNL's work is most important. RNL has generated more than 3,500 leads—leads that have converted at a rate of 8.79 percent. The cost per lead has also dropped to $25.15, an all-time low. "For us to spend money on marketing, part of our return is when we find passionate, excited students," Herrelko commented. "So when we see leads that convert to passionate students, that's what its all about. RNL's dashboard allows me to see the cost-per-lead every day, and every time I look, I am impressed. So whatever RNL is doing, they're the right leads, they're converting well, and we're getting a lot of them for our investment."
What are your best enrollment strategies for graduate students?
Our graduate enrollment experts can help you take a data-driven approach to optimizing your enrollment. Let's talk about how you can exceed your goals and position your programs more competitively in the market.