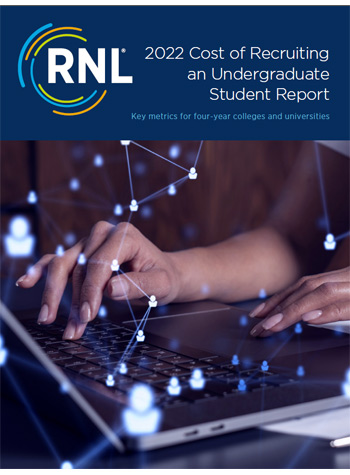 Examine 14 key metrics and findings for recruitment costs, staffing levels, and budget priorities in this cost of recruiting report
How has the cost of recruiting a student changed during the pandemic years? How many staff members do admission offices have per student? What are the budget priorities for colleges and universities?
These are just a few of the 14 findings in the 2022 Cost of Recruiting an Undergraduate Student Report. This report—based on a survey of enrollment managers at four-year public and private institutions—provides data that can help you compare your institution to similar institutions and evaluate your ROI on student recruitment. Read it now to see:
The cost to recruit a single college undergraduate, transfer student, and international student.
Multiple metrics on staffing levels in admissions and recruitment offices.
Budget allocations for 2022 and how those compare to 2020.
Top budget investment areas for colleges and universities.
Plus you can use the Benchmark Worksheet to do your own comparison to the data in the report. Complete the form above to download your copy.