DOWNLOAD YOUR COPY NOW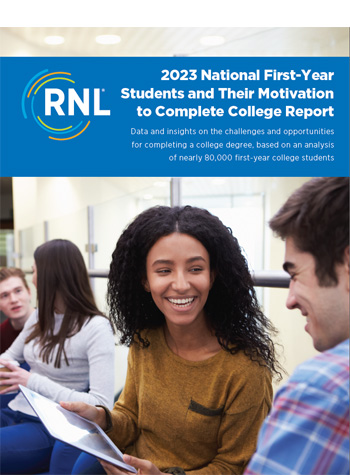 Explore the motivations, interests, and challenges of first-year college students
Based on data from 80,000 first-year college students
The 2023 National First-Year Students and Their Motivation to Complete College Report provides insights that illuminate how you can serve your students. These findings present a student perspective on the challenges and factors affecting their motivation and success. This report captures motivational data from students at the end of 2022 and shows how key attitudes and motivations have changed during the pandemic. Download it to explore findings on:
The impact student assessment has on college completion.
The percentage of first-year students who question whether college is worth the effort.
The top 10 requests for assistance from the beginning of the first year through the beginning of the second year.
Topics related to mental health and wellness that students want to discuss with counselors.
The types of career guidance students want.
Complete the form above to read this insightful report on first-year college student motivations. You will also receive access to the Appendix with full results from more than 80 items students answered.
This report uses data from the RNL Retention Management System, a suite of early-alert motivational assessments to increase student success and college completion rates.