DOWNLOAD YOUR COPY NOW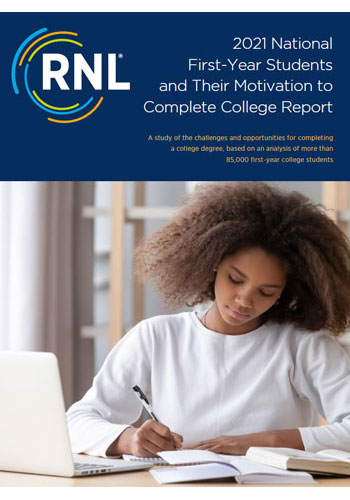 Learn 6 findings about the motivations, interests, and challenges of first-year college students
Based on data from more than 85,000 first-year college students.
The incoming students of the 2020-21 school year faced historic levels of disruption, uncertainty, and challenges. How did this impact their motivation to attend college and the needs they have as they begin their college careers?
Find out by reading the 2021 National First-Year Students and Their Motivation to Complete College Report.* This report captures motivational data from students at the end of 2020—students who were in the thick of the pandemic and the pivot to online and hybrid learning, along with historic levels of social and economic upheaval. Download it to read findings on six key topics:
The number of incoming students who question the value of college.
The top 10 priorities of incoming first-year students.
How attitudes about college vary by student ethnicity.
The top 10 motivations of incoming adult learners.
The financial challenges of students.
How attitudes and needs change over the course of the first year.
Complete the form above to read this insightful report on college freshman motivations.
This report uses data from the RNL Retention Management System Plus, a suite of early-alert motivational assessments to increase student success and college completion rates.
*This report series has been changed from its previous title, the National Freshman Motivation to Complete College Report.