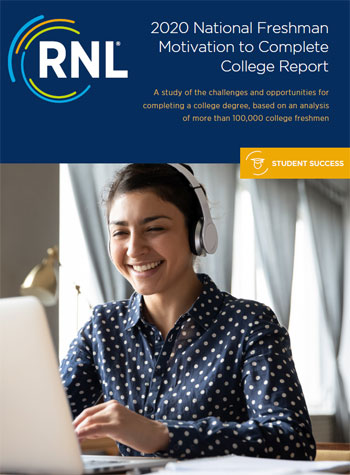 Read about the challenges and opportunities for college freshmen, based on a nationwide study of more than 100,000 students
Featuring 10-year comparison data from 2009 and 2019
What are the motivations of entering college students? What are their top requests for assistance? Do today's students feel that college is "worth it" in an era of escalating costs?
This 2020 National Freshman Motivation to Complete College Report captures motivational data from students at the end of 2019—entering freshmen who completed their first term as well as second-year students. It compares results to students from the 2009 survey, providing insights into how college freshman motivations have changed in the last decade. Download this report to read:
The top priority for incoming freshmen—and how much that priority has intensified in the last 10 years.
How more students have started to question the value of a college degree.
The increased priority on career planning for today's college freshmen.
Whether students feel they have the financial and personal resources to complete college.
If students are receiving the assistance they requested in their first terms.
Complete the form above to read this insightful report on college freshman motivations.
This report uses data from the RNL Retention Management System Plus, a suite of early-alert motivational assessments to increase student success and college completion rates.