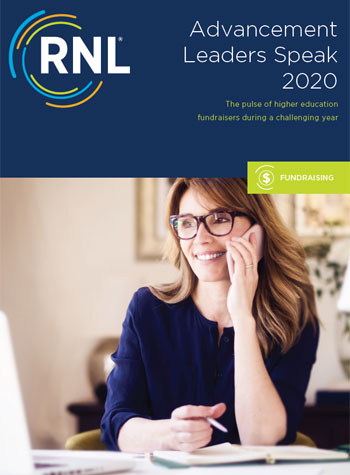 Learn insights and concerns from fundraisers in this Advancement Leaders Speak report
Fundraising has faced unprecedented challenges from the ongoing pandemic as well as changes in technology and donor behavior. While this upheaval has caused major disruptions for fundraising, there has also been many examples of inspiration, generosity, and engagement from donors. Where does that leave advancement leaders as they reach out to donors in this environment?
Download this Advancement Leaders Speak report to read responses from hundreds of higher ed fundraising professionals that RNL surveyed in 2020. We collected data, attitudes, concerns, and goals from chief advancement officers, directors of annual giving, and other gift officers and fundraising leaders. You'll find responses to issues such as:
How goals changed or didn't change because of the current conditions.
How fundraisers are making the digital pivot to engage more donors.
Changes to messaging and tactics.
Key challenges and opportunities.
Priorities for coming fiscal year.

Complete the form above to download your free copy now.