enrollment
Ready, Set, GO: The New Reality of Adult, Graduate, and Online Learner Engagement
Dawn Hiles
Vice President
November 11, 2019
Co-Authored by Gil Rogers, Senior Vice President, PlatformQ Education
For nearly 20 years, higher education institutions experienced graduate student enrollment success with little effort. In fact, from 2000 to 2016, graduate student enrollment grew by nearly 40 percent. The next decade, however, will not be as fruitful; with projections essentially flat (3 percent from 2016-2027). This means that, like their counterparts weathering the storm of traditional undergraduate enrollment declines, enrollment leaders need to have a laser focus on maximizing the efficiency of lead generation efforts while doubling down on ensuring leads progress through to enrollment.
Understanding Today's Graduate and Online Student
Today's prospective graduate and online students are generally nameless and difficult to identify. With the internet serving as the primary destination for research and information to compare educational opportunities, graduate and online students are empowered to do the majority of their research without giving the institution the benefit of knowing who they are or even that they are interested.
RNL's Approach to Lead Generation and Building Enrollment
RNL takes a direct, outcomes-focused approach when supporting institutional partners with aggressive graduate and online learner enrollment targets. These include:
Market Insights
A good strategy begins with a sound understanding of your environment. Our approach begins with academic program research, prioritization, and planning, which helps to guide audience persona development and messaging architecture. It's also important to use market insights related to current and future job trends when reaching out to prospective students. Campus partners must tell a compelling ROI story weaving in examples of recent job placement and salary information. If a campus does not have this data, we augment our research with information we access through a robust network of platform partners.
Consulting and Planning
To support the best outcomes of a campaign, the RNL team provides expert strategic enrollment planning and consulting. We focus on translating big data into actionable information for optimal decision making and investment, so you understand where your greatest opportunities for graduate and online learner engagement are.
Student Success Measurement
Retaining graduate and online learners is crucial in today's environment of increased competition for students and the need for greater enrollment ROI. Once a campus partner is successful in enrolling online and graduate students, we use research to assist campus in retaining those students. RNL provides student success services like post-enrollment satisfaction surveys administered via email and phone as well as data and analytics tracking throughout the student life cycle.
Lead Generation
To fuel enrollment growth, RNL employs a comprehensive lead generation campaign that focuses on building a robust pool of qualified leads. Services include digital lead generation (search, social, display, and retargeting), research driven persona and messaging architecture, SEO, and website design and content.
Lead Conversion
Continuous engagement is the cornerstone of adult, graduate and online student enrollment success. RNL deploys an omnichannel approach including phone with next generation visual caller ID, digital solutions, texting, direct mail, and emailing. In addition, RNL had responded to student behaviors by deploying a video streaming platform to complement other channels of outreach.
By the end of 2020, 80 percent of internet traffic will be video streaming. With this reality comes the understanding that institutions need to evolve to ensure they stay top-of-mind with their prospective student audiences. This means that in addition to legacy communication channels like phone, email and print, leading institutions need to turn to webcasting and streaming to drive greater demand and enrollment conversions.
Additionally, admissions staff need to maximize their availability to prospective students to support demand generation and yield efforts, especially with the unpredictable schedules of graduate and online learners. Live chat tools and AI chatbots fill a void in your communication flow by ensuring students can access the information they are looking for from a trusted source without stepping away from their desk at work to make a call. They also meet student expectations as nearly half of prospective students prefer AI chat over traditional response tools.
Building a Continuous Graduate and Online Learner Engagement Plan
The first thing to know about building video content for the web is that a singular platform or approach is not enough. A truly continuous and consistent plan combines the best parts of live content—think live TV plus recordings (DVR) plus streaming (Netflix, Hulu). Ensuring your content is both immediately available and repeatable for multiple intake cycles on demand is essential for increasing graduate and online learner engagement.
Step 1: Identify Your Audience
Understanding who your prospective students are and their priorities is critical to building a solid plan. Online engagement is a great way to cultivate new leads while also providing a clear nurture path to drive enrollment conversions. Effective segmentation (purchase lists and identified prospects by program) is a good starting point. Additionally, targeted digital media can (and should) drive leads to your live and on-demand webcasting content.
Step 2: Establish Content and Channel Mix
An effective graduate and online recruitment campaign includes two main types of content:
Lead conversion: Program spotlights allowing discovery and lead generation with content focused on financing and ROI in support of conversion.
Enrollment: Faculty, students, and/or alumni panels demonstrating program fit and outcomes and pre-enrollment overviews to support student transition to their academic programs.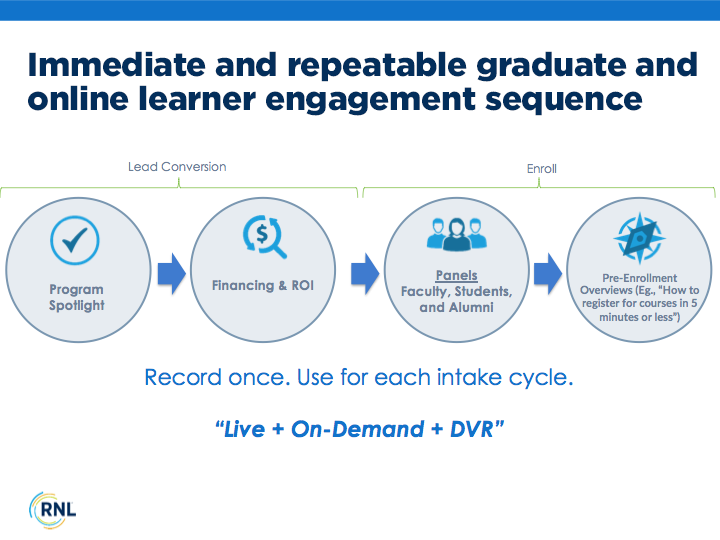 After your content plan is complete, the next step is to determine your channel mix. A comprehensive graduate and online learner engagement campaign will include:
Awareness building channels: Publicly available channels like social media (namely Facebook Live, YouTube Live and Twitter via periscope) to raise visibility and awareness of your content and programs.
Lead generation channels: Live events accessible via your upcoming events calendar as ways for students to register and learn new information. This enables your team to identify new prospects tied directly back to your webcasting content.
Lead conversion content: "Gated" content (accessible only to students who have previously inquired or applied) meant to support lead conversion by enabling identified students to get the information that's necessary for them to take the next steps.
When done effectively, this content and channel mix can be easily duplicated for multiple intake cycles throughout the year, minimizing workload for your team while maximizing utility of the content itself.
Step 3: Integrate Content Into Your Communication Flows
It is important that your content is repeatable and accessible over numerous intake cycles to maximize utility of the content without adding to your team's workload. Effectively built webcasting and streaming content can be developed once and re-played over multiple cycles with accompanying live chat Q&A's to drive engagement, lead generation and lead conversion with limited recurring effort; allowing your staff to "do what they do best" (tell your institution's story and support students through the process) while the webcasting software and managed marketing services do the rest.
Find Out How to Maximize Adult, Graduate, and Online Learner Engagement Today
Integrating online engagement, powered by Conduit, in to your upcoming lead conversion campaign is easier than you might think.

to schedule a demo and get started.
---