student success
Older students are more satisfied with online learning than traditional-aged students
Julie Bryant
Associate Vice President of Retention Solutions
November 7, 2013
Online learning has been growing steadily in recent years. According to the 2012 Survey of Online Learning conducted by Babson Survey Research Group, more than 6.7 million students were taking at least one online course during the fall 2011 term, an increase of 570,000 students over the previous year. Thirty-two percent of higher education students now take at least one online course.
As more students enroll in online courses, how satisfied are they with their experiences? I recently partnered with Dr. Mac Adkins of SmarterServices to examine not only whether students in online courses were satisfied, but to examine satisfaction levels by student subpopulations.
One of the most interesting observations came from looking at the responses by age group. Given that younger students have grown up in the Internet era and that technology is such an integral part of many of their lives, you might expect that younger students would be the most satisfied with online learning. Instead, our results showed that satisfaction increased with age level.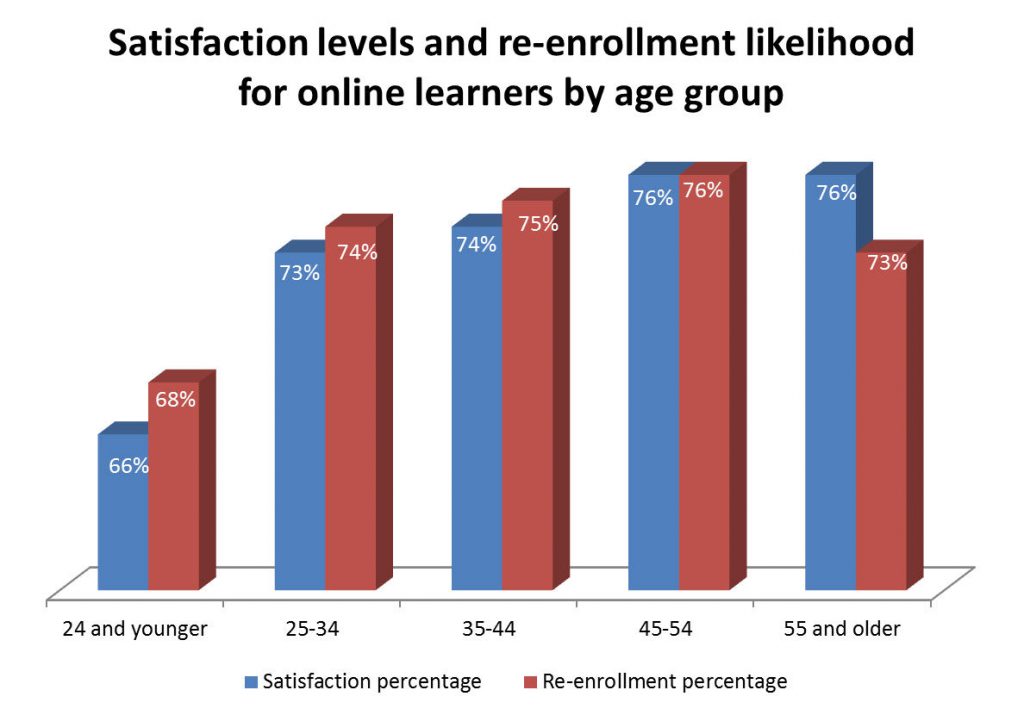 The blue bars represent the percentage of students who said they were satisfied with their overall experience. The red bars show how many students in each age group said they would re-enroll in their current online program if they had to do it all over again.
You can read more about these findings in the full report, Online Student Readiness and Satisfaction Within Subpopulations, which also examines the readiness of students for online learning by age group. I will present a session on November 21 with Dr. Adkins at the Sloan-C International Conference on Online Learning. If you have any questions about how you can better assess your online learners and improve the quality of their experience, please e-mail me and I will share strategies that other institutions are using right now.
---