Reach new levels of success with higher education's leading enrollment growth platform
The higher education world is evolving due to increased competition and focus on the nontraditional student market—graduate students, online learners, and adult students. But campuses and programs have lacked a single solution that can bridge the gap between marketing management, enrollment technology, and enrollment growth planning.
RNL Envision fills that gap. It's the unique higher education enterprise SaaS that combines marketing, enrollment, and technology into one platform. That's why it also powers our RNL Enable solutions for graduate and online enrollment.
4 key ways RNL Envision guides your planning and strategies
Delivers media channel and budget recommendations to put you in position to achieve your start goals.
Provides insights into the enrollment funnel on student behavior and marketing effectiveness.
Enables institutions to optimize their growth with full-funnel reporting and strategic planning.
Powers higher education marketing, enrollment, and retention operations.
Watch the RNL Envision overview
Many institutions cannot measure or assess ROI on their enrollment efforts
47%
have no knowledge of their overall cost per start
72%
lack full-funnel reporting or insights
83%
do not understand their channel-specific cost-per-inquiry
RNL Envision in action
Here is just one example of how RNL Envision can deliver insightful data, actionable insights, and precision planning for your enrollment efforts (click the image for a larger view).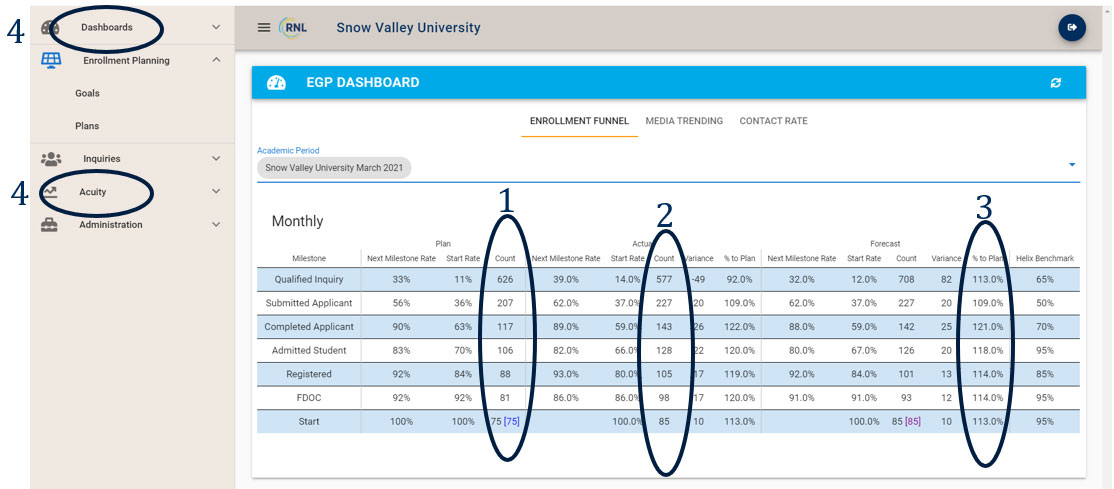 Based on user-defined start targets, RNL Envision algorithms leverage historical marketing performance to build a full-funnel plan. It also provides strategic recommendations on media channels and budget.
RNL Envision tracks performance against the plan in real time, delivering accurate performance data at your finger tips.
RNL Envision continually forecasts delivery against key metrics at the census date. This allows you to quickly see anticipated performance against each stage of the enrollment funnel and identifying areas of improvement.
All marketing, media and enrollment performance data are aggregated within RNL Envision. You can access the aggregated data through dashboards, standard reports, or custom reports.
Power enrollment growth with your own data intelligence hub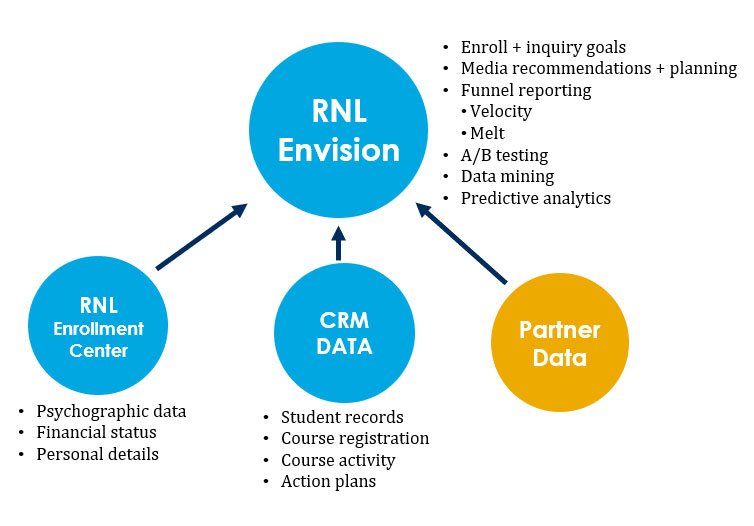 RNL Envision consumes data from enrollment planning, media execution, inquiry flow, student application, enrollment/retention engagement, and outcomes, as well as third-party integration partners.
The platform also utilizes Aggregated Enrollment Lifecycle Data for student profile development, personalized engagement, A/B testing, continuous improvement, and benchmarking.
The result? Strategic insights into student behavior, enrollment effectiveness, and ROI so that you can optimize your operations and achieve your enrollment goals every year.
Complimentary Consultation
Talk with our graduate and online enrollment experts about how our combination of technology, solutions, and expertise can power your enrollment growth.
Free Consultation