Join fundraising management professionals on July 26-27 for this workshop on donor engagement strategy
Come to Nashville for this 1.5 day, data-driven and interactive workshop on key fundraising trends and priorities. Peer experts will join RNL to cover key topics including:
Key changes in donor preferences and motivations.
Technology that maximizes results and can produce 25x donor response.
Trends from the best giving days, and new tools to boost your big day's success.
The best ways to support gift officers to amplify the leadership, major and planned gift pipeline.
A focus on "sustainable" fundraising, and engaging rising generations of Gen Z and Millennial givers.
Registration Fees
$249/per person
Bring a team to spark discussion and create momentum for implementing new strategies.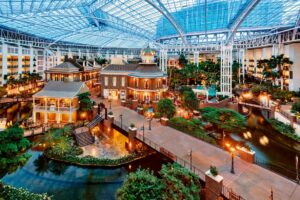 Location Details
Gaylord Opryland Resort & Convention Center
2800 Opryland Dr, Nashville, TN 37214
Get your RNLNC discounted hotel room
Rate $255 (inclusive of resort fee). Cut-off date: July 3 but may sell out sooner
Cancellations must be made at least 72 hours prior to arrival to avoid a one-night room and tax penalty charge.
Workshop Agenda
All times are Central Time
Tuesday, July 25
3:00 – 6:00 p.m.
Consultations and mentorship meetings
---
Wednesday, July 26
8:00 – 9:00 a.m.
Networking breakfast and consultations
---
9:00 – 10:00 a.m.
FY23 Fundraising Year in Review and Predictions for FY24
We will review data on FY23 results, including an advance release of our year-end fundraiser survey, and share key trends that will impact our donor engagement in the coming year.
---
10:00 – 11:00 a.m.
Accelerating Your Donor Pipeline Through Sustainable Fundraising Practices
How do we achieve long-term fundraising success? Embracing new generations of donors, maximizing the impact of our people, and making data-driven decisions is key. We will discuss how to achieve these objectives and how they impact your goals.
---
11:00 a.m. – 12:00 p.m.
The Future of Omnichannel Donor Engagement
A panel discussion with peer fundraisers who have had success in moving the needle on donor response, using channels in combination to create an engaging donor experience.
---
12:00 – 1:00 p.m.
Lunch
---
1:00 – 2:00 p.m.
Breakout sessions
Fundraising peers and RNL experts will lead breakout sessions on:
Trends in Donor Acquisition and Giving
Smart Identification and Qualification of Major and Planned Gift Prospects
Leveraging Your Volunteers: Activating, Motivating, and Containing Your Boards
---
2:00 – 3:00 p.m.
RNL360 Unpacked: What You Need to Know About Your Donors in Order to Succeed
During this data-rich session, RNL's lead consultant Sarah Kleeberger will share insights and trends gleaned from RNL360 data analyses completed at RNL's partner institutions. The commonalities amongst our partners may surprise you! You'll leave this session with a much better understanding of the big data picture and several actionable insights to take back to your organization today.
---
3:00 – 4:00 p.m.
How to Turn Your Digital Engagement Center Into a Leadership and Major Gift Pipeline Engine
Learn about new technology that helps leadership giving programs engage potential donors personally at scale, and that also serves up warm leads who are ready to meet with a major or planned gift officer.
---
5:00 – 6:00 p.m.
Happy hour and consultation time
---
6:00 p.m.
Dinner and trivia with the Giving Geeks
Enjoy dinner over a competitive round of pub trivia, with some featured questions about workshop attendees, fundraising trends, and philanthropy.
Thursday, July 27
9:00 – 10:00 a.m.
Burning Questions Breakfast
Answering questions submitted by attendees, fundraisers, consultants and analysts dive deep into key topics that you decide.
---
10:00 – 11:00 a.m.
The Future of Giving Days
Giving days are a highly effective tool for donor acquisition, retention and major gift engagement. Hear about the greatest hits from RNL's 2023 "Givey" awards and key ways that organizations are innovating to create incredible giving day experiences.
---
11:00 – 12:00 p.m.
Conference wrap up and action plans
We'll review the key messages from the event, and each attendee will construct a personal action plan based on what we've learned.
---
12:00 p.m.
Adjournment
Registration Fees
$249/per person
Bring a team to spark discussion and create momentum for implementing new strategies.
All forum agenda session topics, dates, and times are subject to change.