Engage current and prospective students with personalized videos
you can create from anywhere

For college students, their phones are their lifelines. For you, their phone is the gateway to keeping them engaged and excited about attending your institution. Now RNL gives you a powerful way to produce personalized outreach to students, no matter where they are or what they are doing: RNL Video Engagement.
Combine personalized video with enrollment surveys
Create and send personalized videos via text and or email in minutes
RNL Video Engagement is powered by ThankView, the most user-friendly self-service platform for sending personalized video messages. Send personalized video messages with branded invitations—whether you are working on campus or remotely. It's the fastest, most engaging way to keep in touch with students and their families.
Qualify intent to enroll with institutionally branded surveys
Are students planning on attending? What are their most important factors for enrolling? Our survey collects attitudinal data that reveals their intentions. The surveys are fully branded to your institution and embedded as part of the video message, improving response rates.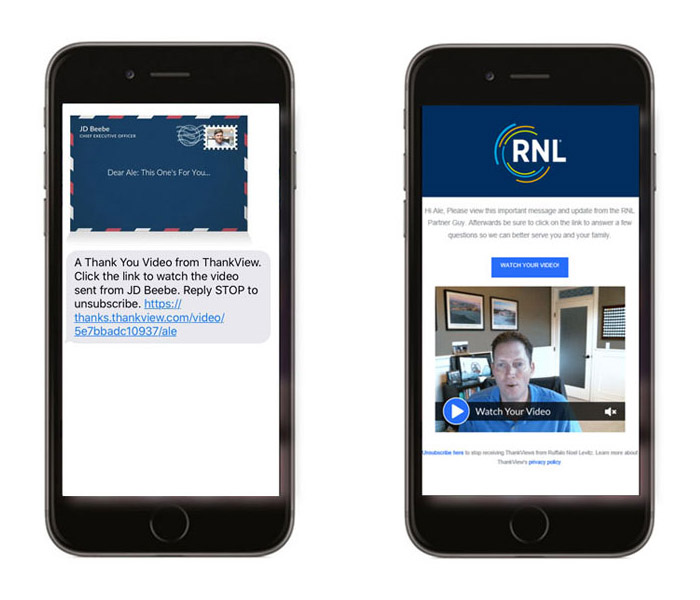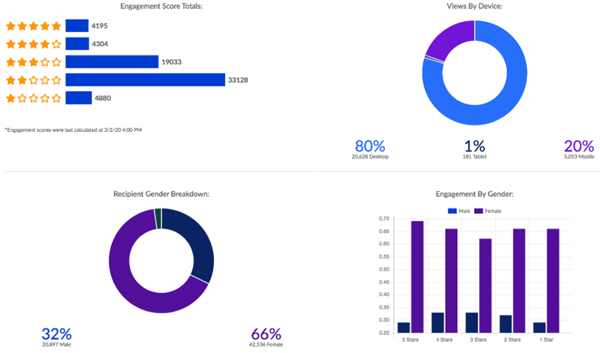 Receive detailed analytics and expert consulting
Analyze results with real-time video data and daily survey reports
See real-time data on open rates, percentage of video watched, student location, and more. Receive daily updates on survey responses so you can qualify student interest, prioritize follow-up, and keep your enrollment moving forward.
Optimize your outreach with remote consulting
Your RNL consultant will work with you via remote consultation to analyze your survey results and adjust your outreach strategies for maximum impact on enrollment.
Engage target populations during the disruption
Disruption in the market has brought both challenges and opportunities to the enrollment marketing "new normal" environment, including:
Inability to leverage predictive modeling
Interruptions to student testing which impacts name availability
Campus visit uncertainty
Institutions freely recruiting students that were previously on your applicant and admitted student pools
Economic uncertainty that brings with it financial aid concerns that may keep students at home or at community college for at least one more year.
Personally communicating with these students and learning their needs, interests, and intentions to enroll is key to being able to recruit them to your campus.
Transfer students
Break through the noise with personable outreach to transfer students via video, increasing your conversion and yield rates while building a seamless transfer recruitment experience.
Inquiry management
Leverage personalized video to qualify student interest and collect critical attitudinal data via branded short student surveys embedded in your messages.
Admitted students
Increase student yield with personalized video messages that allow you to gauge students intentions to enroll and drive them to making enrollment commitment.
Re-Enrollment
Recruit your current students back to campus via personalized video engagement. Qualify their interest and collect critical attitudinal data via short student surveys embedded in video messages to convince them to re-enroll at your institution.
More enrollment solutions to engage students
RNL Online Engagement
Create continuous online engagement with prospective students through livestreaming, webcasting, live chat, digital marketing, texting, and more channels.
RNL Melt Prevention
Boost yield and student retention by connecting incoming students with their college peer community, reinforcing their commitment and connection to your institution.