Boost yield and reduce melt by connecting
current and incoming students
Students who are engaged with their peers are more committed to attending and staying in college. As a matter of fact, 82 percent of students want to know their peers better, and peer influence is the most powerful influencer for Gen Z.
RNL Melt Prevention boosts yield and student retention by connecting incoming students with their college peer community, reinforcing their commitment and connection to your institution. In fact, deposited students are three times more likely to enroll.
CONNECT incoming students early to reduce melt and improve yield.
HARNESS peer influence to help students overcome perceived barriers to enroll.
INCREASE students' sense of belonging, commitment, and connection to your institution.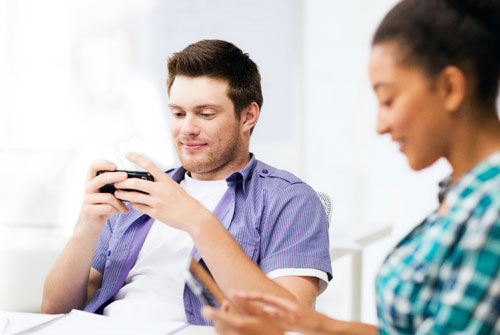 5 ways RNL Melt Prevention boosts yield and reduces melt


Builds familiarity and comfort to engage
RNL Melt Prevention intelligently recommends and prompts matches based on shared interests, major, life experiences, and more.

Engage all types of students
Students voluntarily create their profile which fosters healthy peer discovery in a safe environment outside of social media.

Builds community
Each student has full control in making peer connections, which fosters comfort and familiarity by allowing for personalization and expression. Permission-based connection invite is delivered to peers.
More college student engagement solutions from RNL
RNL Online Engagement
Create continuous online engagement with prospective students through livestreaming, webcasting, live chat, digital marketing, texting, and more channels.
RNL Video Engagement
Engage prospective and current students with personalized videos you can create in minutes, increasing yield and enrollment.