Create student engagement opportunities anytime, anywhere
RNL Online Engagement creates continuous student engagement opportunities across multiple channels with prospective students, increasing engagement and moving them through the funnel more effectively.
DELIVER online interactions through livestreaming, webcasting, and live chat.
CONNECT with students continuously across nearly any channel: social media, texting, digital advertising, AI chat, email, and phone.
MAXIMIZE conversion and yield at every stage of the funnel.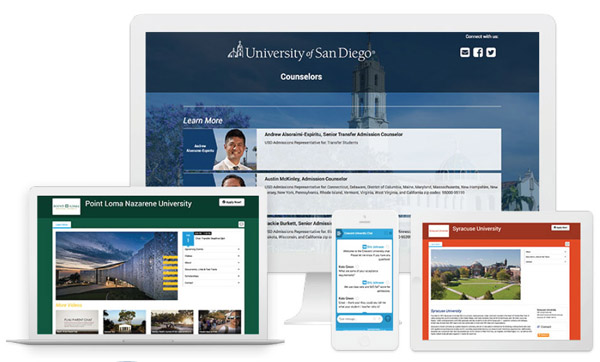 RNL Online Engagement



Better conversion at each stage of the funnel
35% INCREASE


inquiry-to-app conversion
26% BOOST


application completion rate
7% INCREASE


inquiry-to-deposit rate
6 ways RNL Online Engagement increases student engagement
VIDEO STREAMING
Share your story on your branded platform and across social media, live, on every device.

"We were ready to engage students as quickly as possible, but the level of engagement we have since our first chat experience through our website was unexpected. We aren't just communicating with students through webcasting and chat … We are building relationships with them."
More college student engagement solutions from RNL
RNL Video Engagement
Engage prospective and current students with personalized videos you can create in minutes, increasing yield and enrollment.
RNL Melt Prevention
Boost yield and student retention by connecting incoming students with their college peer community, reinforcing their commitment and connection to your institution.