enrollment
Creating a data-informed campus culture
Gary Fretwell
Senior Vice President
January 21, 2016
Most institutions collect data. However, few institutions use that data to understand trends or patterns that should be monitored and instead use data to establish annual enrollment strategy. Leaders may look at a particular data element and set a goal to change it, deciding, for instance, to set a goal of increasing the number of inquiries or applicants. Meanwhile, many campus leaders fail to consider aligning both internal and external data with trend data to determine the real issues the institution faces.
A data-informed institution, on the other hand, takes the all-important next step of analyzing its data and drawing a more informed awareness of its situation and environment. The institution uses that awareness to make decisions that align with its mission while allowing it to adapt intentionally to the future instead of simply reacting to it. A data-informed institution asks:
"Does our data allow us to understand our context and draw implications about how we will need to change in order to fulfill our mission and vision in the future? Does our current state align with the future needs, demands, and trends? If not, can our institution sustain itself?"
Such institutions are, in effect, developing a kind of data wisdom that provides an impetus to move forward. This data-informed strategy also drives the Strategic Enrollment Planning process that our campus partners use.
As challenging as this might seem, there is nothing magical about data. They are simply a resource that can be neglected, exploited, or understood. Frequently, a campus will have reams and reams of data with no one purposefully assessing it, considering its implications, or suggesting ways to change institutional behavior based on what it indicates. A campus must charge key personnel with taking the data and drawing conclusions from it, as illustrated in the following figure.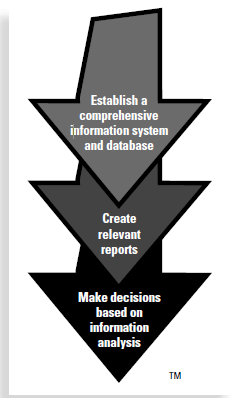 It begins with the establishment of a comprehensive database of internal and external information that an institution can use to better understand its current situation and the context within which it operates. From these sources, the institution must extract relevant reports that inform campus leaders about its context, trends, strengths, and challenges. Finally, the institution takes that information and uses it to make decisions that will guide its operation on both strategic and tactical levels.
Within this framework, it becomes plain that it is not enough to simply collect data. It is essential to understand what data reveal about an institution's state and environment, and then use that data sagely and with integrity.
Choosing data that matter
On any college campus, the list of items that could be tracked and analyzed is daunting. For that reason, it's helpful to think in terms of themes or categories that will encourage an institution to divide, prioritize, and conquer. An obvious place to start is by making a distinction between internal and external data.
Internally, campuses should be tracking the makeup of their undergraduate and graduate students by type, academic program, entry point, and conversion rates at each stage of the recruitment process, as well as retention and graduation data. Campus administrators should have good data about recent enrollment patterns and trends at their institution. Campuses must also have the means to track information such as the quality of the academic experience, student expectations, and the level of student engagement and satisfaction. Financial indicators comprise another critical field of data with campuses tracking their net tuition revenues, auxiliary income, and costs and revenues by student group, as well as developing an understanding of the price sensitivity of prospective students in various income subgroups. This will allow the institution to create financial aid awarding strategies that are grounded in data and aligned with a desired future state.
In terms of external data, institutions can examine a number of factors, including demand for programs the institution offers, overall perceptions, and perceptions of specific program areas. Institutions can also study competitors and points of differentiation, shifting demographics and changing needs of students in the institution's marketplace, and how changes to state funding could impact the institution going forward.
Helpful resources for making comparisons among institutions include the Integrated Postsecondary Education Data System (IPEDS) from the National Center for Education Statistics (NCES) (which consultant Todd White has written about), and College Results Online provided by The Education Trust. State and regional data can yield information on occupational trends, projected numbers of high school graduates, and shifting state and regional demographics. Other readily available sources of information include the Cooperative Institutional Research Program (CIRP) American Freshman Survey, along with state and association reports that summarize relevant data for their constituent institutions. Colleges should mine these data to develop an understanding of trends in student demographics, attitudes, and other information. Although the data may not be institution-specific, they can provide valuable groundwork for long-term institutional planning. Ruffalo Noel Levitz also produces a number of benchmark reports  that provide comparison data for student recruitment and retention.
Simply put, in an age of enrollment volatility, using data to inform decision making is crucial. This post is just an introduction to a deep and essential subject for all enrollment managers. We will explore this topic in much more depth at the 2016 Strategic Enrollment Planning Executive Forum in Chicago (April 12-13). This in an interactive event that brings together dozens of campus leaders to discuss high-impact strategies that cross divisional lines. It provides an ideal exchange of ideas in a leadership-focused environment, and I encourage you to join us.
I also can share any strategies with you directly or answer any questions you have. Please send me an email or leave a comment on the post.
---