Build a world-class campus visit experience
that aligns with your enrollment goals
More than 250 colleges and universities have turned to RNL+Render for campus visit consulting. We are the leading experts in creating dynamic experiences for prospective students and their families to engage them, highlight the greatest assets of your campus, and keep them on the path to enrollment. Institutions turn to us for:
Campus visit consulting
Experience excursions
Ambassador training
Events and yield
Campus visit audit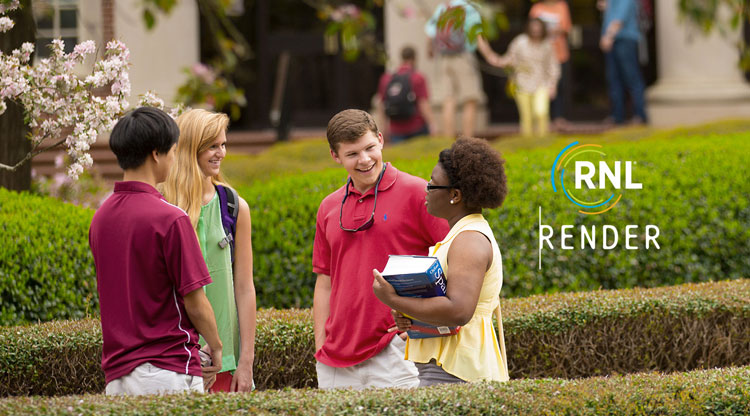 Why RNL+Render is the leader in campus visits

13 years of experience optimizing campus visits

Partnered with more than 250 campus clients

2,200 campus tours taken at colleges and universities

Trained more than 10,000 tour guides
5 key steps to creating a great experience for you with our Campus Visit Consulting
Consulting is a team sport and we can only help you as much as you help us.  We tailor every consultation because each institution has different wants, needs, and goals. Prior to working with us, here are five steps we go through with you.
Step 1: Identify the current state of your campus visit.
What are your pain points, goals, and what's going well?
What brought you to our site in the first place?
Step 2: Review the offerings.
You made it here! Now it's time to look through what we do. Everything can and will be customized to fit the goals and challenges of your institution.
Step 3: Get in touch.
We love phone calls and are ready to set one up with you to talk through options.
Step 4: Proposal time!
After our phone call, we will draft a proposal that can be shared with leadership. It will be full of explanations and references from our wonderful clients to help make our (your's and Render's) case.
Step 5: Decisions, decisions.
Once a proposal is delivered, the pricing and project outline is good for 60 days. After 60 days, we'll want to review and update the proposal. We won't bother or pester you while you're pondering our proposal. If the timing isn't right, don't be afraid to tell us. If it is though, we're ready to get started.
Remote Campus Visit Powered by RNL+Render
How can your institution generate the energy, engagement, and effectiveness of a campus visit when yours is closed or students can't physically come to your institution?
Remote Campus Visit Powered by RNL+Render gives you the ability to create a fully customized, totally engaging online campus visit experience for students and families. You receive expert guidance, full customization, and immersive technology to make your campus come alive, no matter where students are.