student success
Are First-Year Students Receiving the Support They Need?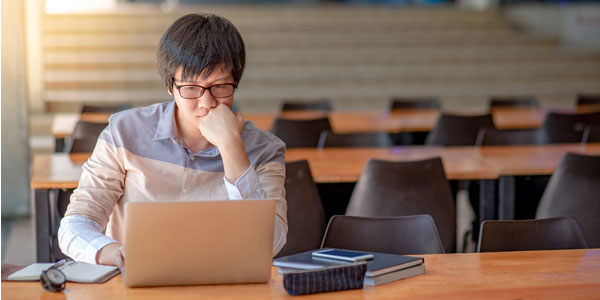 With COVID-19 still impacting our students, it's more critical than ever for student success advocates to be in touch with the ongoing needs of their first (and second-year) students.
What do we know now about first-year (FY) students' priorities midway through their first year of college?  How can acting on these motivational insights help institutions protect their enrollment as you move into the spring semester and strengthen their student success efforts for the full first year?
From our 2020 Freshman Motivation to Complete Report, we can see the "top 10" requests for assistance as reported by more than 100,000 entering college freshmen in 2019. While these are pre-COVID 19 data, the patterns here are likely to hold true—and even be amplified—for the students who entered college in the fall of 2020.
The data below showcase the percentage of students who entered college with these requests for assistance, the percentage of students who reported receiving assistance in their first term, and the remaining percentage of students still seeking assistance as they enter their second term.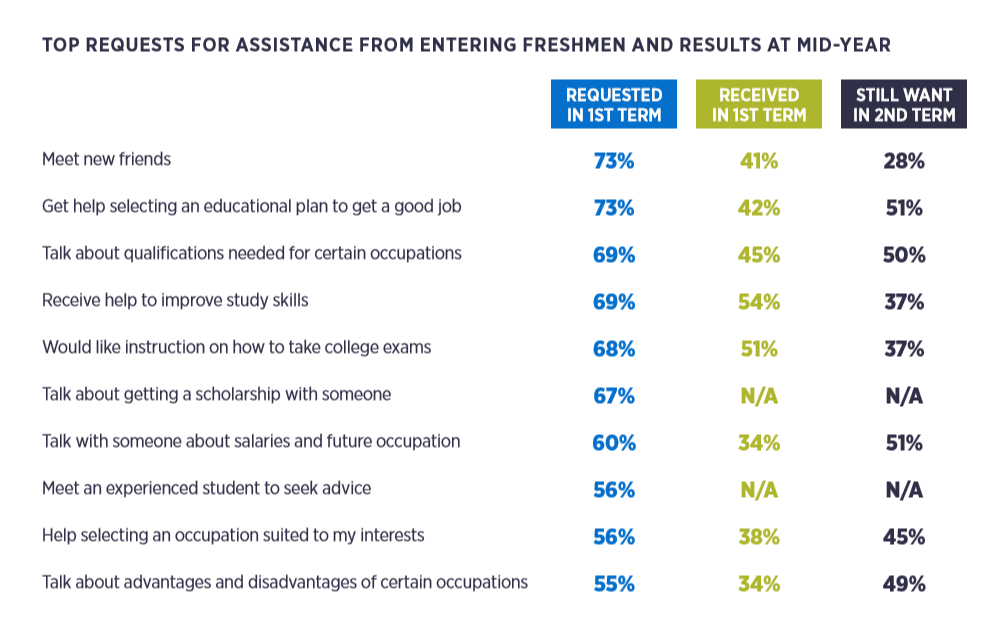 A few patterns emerge. First, as students enter college they are keenly motivated to make connections with their peers—almost three-fourths of FY students want help to "meet new friends." Career development needs of FY students occupies the largest footprint in students' needs—55 to 73 percent of entering FY students made requests for items related to career development.
Career development continues to be of significant importance to FY students as they move into their second semester of enrollment.  While 34-45 percent do report getting help with career-related resources in their first term, half (45-51 percent) still seek help in their second term. The percentage of first-generation students seeking career development assistance in their first year is even higher than for those with college-educated parents.
Assessing the needs of first-year students at mid-year will increase student persistence and success
Continuing to attend to the needs of your first-year students as they make the transition to the next semester—while still dealing with pandemic-related situations—should be a priority for the remainder of 2020 and into 2021.  What do you know about the trends in your FY class and how you prioritize what you address next?  Being able to understand these trends—and act on them—will influence revenue for the spring semester as well as the well-being of your FY students.
For more insights into the motivational, non-cognitive patterns in first and second year students, download the latest National Freshman Motivation to Complete Report.
Understand the motivations and needs of your students
Assess the motivations of your students to complete college, identify challenges to their persistence, and gauge their receptivity for assistance with the Retention Management System Plus.
---