enrollment
Transformational Growth: A Roadmap for Success in the Online and Graduate Education Space
In the guest blog that follows, Dr. Susan Aldridge (former president of Drexel University Online and University of Maryland Global Campus) summarizes many of the points from a session focused on the key elements in implementing transformational growth through the establishment of online programs. She co-presented this session at RNL's recent National Conference.
Little more than two years ago, as the COVID-19 pandemic began upending our lives, colleges and universities of all sizes and types turned to the online learning environment to keep their students moving.  While some of the larger institutions had well-developed virtual campuses, most were still well behind the curve.  But the rapid switch definitely paved the way for an ongoing uptick in demand for online courses and whole programs at both the graduate and undergraduate level, as face-to-face enrollments continue to decline. 
This is a 4-minute excerpt of my talk with Susan Aldridge. Click here to watch the entire interview.
Demand is growing: According to data from the National Center for Education Statistics (NCES), only one in five (or 20 percent) of graduate students prefer a fully face-to-face (F2F) program, while the remaining 80 percent prefer fully online (32 percent) or hybrid (48 percent) program formats. What's more, in each semester since spring 2020 (pre-pandemic), online graduate enrollments have consistently grown. So with findings like these, an increasing number of institutions are making plans to invest in building and/or expanding their virtual campuses.
Transforming programs: While we encourage moving into the online learning space, keep in mind that going virtual is about so much more than just choosing e-learning platforms and converting coursework.  The real challenge lies in not merely replicating, but greatly improving upon the campus-based F2F learning experience. And in doing so, we must embrace a very different mindset when it comes to recruiting and engaging "right fit" students, with market-driven programs and state-of-the-art content, along with 24/7 service support and ample opportunities for professional networking.    
Be data-driven: It also means avoiding the political expediency trap, which although tempting at times, often minimizes both student outcomes and revenue potential. To be sure, there are more than a few "sunk costs" that fledgling institutions incur from making decisions driven by power and politics, rather than grounded in best practices and solid data. If you have yet to master the virtual market, you will need to create and follow a data-driven roadmap for success, with the help of an experienced education research and development internal team or external partner. A roadmap that incorporates each of the following steps.
Get to know your market
The target student market for virtual education differs significantly from the campus-based market when it comes to needs and motivations. Indeed, those individuals most likely to pursue online programs and courses—both graduate and undergraduate—are among the rapidly growing population of nontraditional students. More than half of them are working professionals interested in acquiring industry-relevant skills and credentials to stay ahead of the career curve—whether advancing in their current career field or changing fields altogether.   
Flexibility and convenience: They are far more often than not busy adults juggling school with job and family, who want to complete classwork on their own schedule—as both full- and part-time students—without expending additional time and money on commuting, childcare, and/or room and board. For them, e-learning provides a viable, flexible and cost-effective path to the education they need. And if seeking graduate level degrees and certifications, the data show that they are twice as likely to choose a virtual option—all the more reason to consider graduate program offerings.   
Responsiveness: Prospective online students are also far more likely than their on-campus counterparts to make enrollment decisions based on streamlined admissions processing (including rapid response transfer credit evaluation and financial aid packaging). As such, they typically apply to one or two institutions and the first acceptance package they receive is usually the winner. 
Career focused: Likewise, industry-relevant curricula and competitive pricing trumps university reputation and faculty for the nontraditional market when shopping around for the best academic deal.  Therefore, it's important to invest in robust research to assess job market projections and in-demand skills, with the goal of identifying programs that meet the needs of prospective students while promoting sustainable growth. It can also help determine how your tuition cost stacks up against that of your perceived competition.       
Frame your bottom line and establish realistic targets
As with any new venture, the first step toward launching online programs is to frame your bottom line by defining quantifiable goals and strategies for success, with attainable key performance indicators (KPIs), supported by market research and economic realities. 
Be realistic: It's wise to think big, start small, and scale quickly to avoid the trap of taking on more than your budget and/or institutional infrastructure can handle. This approach empowers you to make wise decisions around recruitment targets and resource allocation, based on good research around such critical success factors as market demand, student satisfaction, and mission alignment. It also makes it easier to calculate and track your return on investment, using sound cost-benefit analysis, for each online program you launch. 
Metrics: What's more, as you kick-start your planning process, remember that the metrics for success may differ from one key stakeholder group to another. University boards and presidents typically view the virtual campus as a path to greater financial security for the future—thus, their overarching goal will most likely be net tuition revenue (revenue over expenses). On the other hand, deans are more interested in the number of academic programs they can launch, while recruitment and enrollment managers are focused on the number of students they can engage by forging new markets and corporate partnerships.
To meet in the middle, you might start by launching two to three high-quality, industry-driven signature programs that are not only in high demand, but are also easy to scale and less costly to market. In addition, you could propose adopting a hybrid business model that combines "B-to-C" (direct to student marketing) with "B-to-B" (tuition discounts for companies with whom you have signed agreements), which also lowers your recruitment and enrollment cost.
Talk with our graduate and online experts about program planning
Find out how we can help you prioritize programs by growth potential, assess the market demand for new programs, and develop personas of potential students. Ask for your complimentary consultation.
Define your value proposition
Once you have researched your target market and framed your bottom line, it's time to clarify the reasons why prospective students would choose your institution and/or online program over others—which is why it's essential to define your value proposition.
Put simply, a value proposition is a concise statement that describes how and why your school benefits both its students and its community more effectively than the alternatives.  It should clearly articulate how what you offer can help meet the career needs and academic goals of prospective online students, while alleviating pain points like tuition cost and time to completion. What's more, when done well, your value proposition will serve as the foundation for messaging aimed at enhancing online student recruitment and enrollment. 
To prepare a compelling statement, you should explore the many ways your institution can add real value to the online education experience, based on student requirements and expectations around career advancement, tuition investment, and academic achievement.
For instance, you might highlight how your solid network of industry partners and/or scholar-practitioner faculty model helps ensure that online program curricula and content are both timely and relevant. Or that you furnish prior learning credits and/or accelerated dual degree programs, which lower tuition cost and shorten the time to program completion.               
Identify essential resources
Given their unique needs, online students require a distinctive set of resources to support their academic success from first point of contact through graduation and beyond.  Some can be incorporated in-house, while others are more cost-effective to outsource – which is why investing in an experienced research and development partner can pay big dividends.          
Student marketing.  It all begins with student recruitment and enrollment – which always occupies a significant portion of the virtual campus budget.  Consequently, it's important to ensure that your marketing team has the requisite experience and expertise in recruiting non-traditional students – which as we know, are very different from their traditional counterparts.  That's why for each program you launch, you must first define your target market—or those individuals who are most likely to enroll. 
To meet the online student market where it is, research demonstrates the efficacy of a personalized and authentic outreach strategy, using high-impact, demographic-specific communications channels to convey your value and enable one-to-one messaging on any device. For example, text message marketing not only has a 98 percent open rate, it facilitates personal contact that is immediate, engaging, and cost effective. Well-produced videos have also become a powerful form of digital marketing, given that the human brain processes images 60,000 times faster than text.  And 24/7 digital chat tools—manned by real people—provide a convenient and flexible option for busy professionals to use for acquiring important information.   
Admissions and support services. Likewise, you must implement a seamless, transparent process for ensuring a quick turnaround on admissions decisions—days rather than months—including automated transfer credit evaluations, extended service hours and rapid financial aid packaging. Because online students often live and work far from campus, they need wraparound virtual support services that are accessible at any time, from anywhere, on any device. These services should include:
career counseling and networking opportunities
financial aid and academic advising
tech support, tuition payment and re-enrollment
digital library services and tutoring
Program development and delivery.  To be successful, online students also require a user-friendly, device-independent virtual learning platform and a team of experienced professionals to design and deliver high-quality e-learning experiences that are active and authentic, customized, and measurable. Platforms should be chosen for their capacity to deploy a wide variety of digital learning tools, from interactive videos and simulations to augmented reality and artificial intelligence. By the same token, instructional designers should have extensive experience in effectively using these tools.
Equally important, faculty must be well-versed in the art of teaching and providing resources online, using a system that empowers them to enhance their skills over time. Think about incorporating a center for teaching and learning that furnishes online instructors with rigorous training and support, while also stimulating innovative research in the field.    
Keep investing in what works
There are plenty of growth opportunities in online—particularly with respect to high-quality graduate programs. When it comes to reaping those benefits, successful institutions promote a culture of investment grounded in data-driven decision-making. 
As such, they collect and analyze plenty of cost/benefit data from both internal and external sources. They survey students and employers around the value on tuition investment, i.e., if the education received was worth the cost of acquiring it in terms of meeting professional needs and expectations. Likewise, they track enrollment along with net tuition revenue against key performance indicators to assess program viability over time.
Once collected and analyzed, these data can be employed to make a strong case for investing in virtual campus expansion that aligns with institutional mission, student outcomes, and strategic growth targets. You will also want to know how your virtual campus metrics stack up against the competition. If lagging behind, you should reclarify your goals, remediate your weaknesses, and rework your business models to align more closely with revenue targets, market trends, and workforce needs.
Above all, as you decide where to invest, as well as where to divest, remember that success in the online space is a journey, rather than a destination, that requires continuous improvement and innovation, grounded in solid research, institutional expertise, and quality standards. Having reached its tipping point during the pandemic, virtual higher education—particularly at the graduate level—is definitely here to stay, with the circle of providers growing ever larger and more competitive. By investing wisely with the goal of not only meeting, but actually exceeding, the lifelong learning needs of current and prospective students, you will continue to reap the rewards of sustainable enrollment and revenue growth, both now and in the future. 
About Susan Aldridge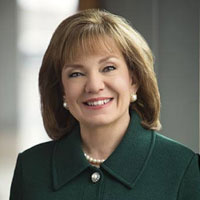 Dr. Susan C. Aldridge served as President of the University of Maryland Global Campus and recently retired as President of Drexel University Online. Dr. Aldridge is a recognized higher education leader, strategist, and futurist, who has held executive leadership positions in some of the country's largest universities.
Read white papers written by Dr. Aldridge for RNL:
Talk with our graduate and online enrollment experts
Ask for a free consultation with us. We'll help you assess your market and develop the optimal strategies for your prospective graduate students and online learners.
---