enrollment
RNL to Publish the Most Comprehensive Look at Online Learners
This May, RNL will publish the findings from a groundbreaking study of the preferences of prospective online students. Built around 10 challenges to successfully attracting online learners to your programs (rather than some other institution's), the report also offers solutions—insights from RNL experts—for how institutions can meet each challenge.
The report is based on a survey of 1,689 prospective students who plan to enroll in a credit-bearing academic programs within the next year. Students interested in online course taking (within a face-to-face program) were not eligible because the report seeks to profile the fully online program market. The report presents data by level of study—undergraduate degree, graduate degree, and non-degree (credit bearing) and also included commentary on divergences from trends by age of respondent.
Here's a look at three of the challenges in the report. (Be sure to subscribe to our research reports to be notified when the report is ready.)
Challenge 1: Online has become an essential element of any institution's growth strategy. Data make clear that all annual net growth—as far back as 2012—has been among online or partially online programs at both the undergraduate and graduate levels.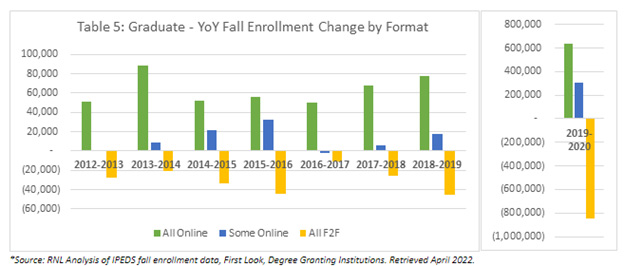 SOLUTION: Institutions that want to grow their online footprint will have to start by ensuring that they have their programs in subjects in which online students want to enroll (the report documents what is in demand as well as what is not) and configured in a manner that online students demand (the report profiles how online students want programs configured). Only when the "product" matches student demand should institutions begin to plan how to meet online students' expectations during cultivation from first inquiry to enrollment.
Challenge 2: Online students demand personalized attention and speed response to their inquiries and questions along the way. Data make it clear that institutions that are not prepared for a personalized approach and timely response will lose out to that do. Among students, 72 percent expect a personalized email within 24 hours, and nearly one-quarter expect a personalized email within minutes. This is only one of many channels through which online students will contact—and expect a speedy response from—the institutions that interest them. We also learned how these expectations compare between different levels of study and age of the online student.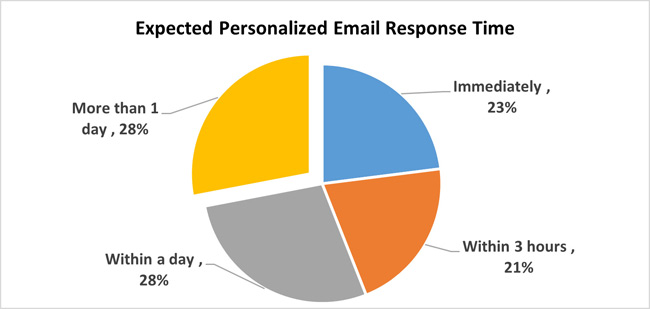 SOLUTION: After ensuring that the program itself matches the preferences of online students, and before investing heavily in marketing efforts, institutions need to ensure that they are ready for the type and intensity of attention that online students require today. To start marketing before plans are in place to meet these specific preferences and expectations (all laid out in the report) is to "put the cart before the horse" (pardon the expression).
Challenge 3: Online students are "sophisticated shoppers" when searching for an online program. Data indicate that there is no "silver bullet" channel that all prospective students use to identify the programs that interest them, but they DO search online, they visit institutional websites, they click on digital ads, particularly on social media platforms. We also learned what type of material they want to look at, and how to keep them engaged, and how these preferences differ by level of study and age of online student.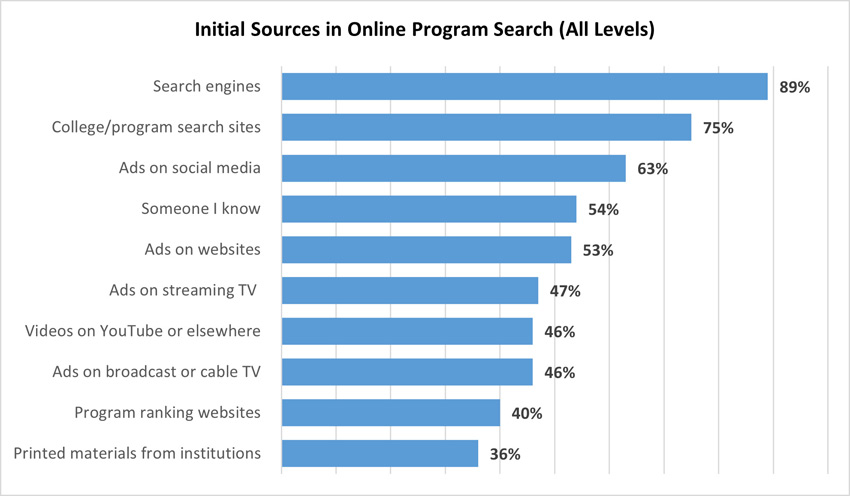 SOLUTION: Only once your programs are configured to meet market demand, and processes are in place to ensure that expectations are in place for effective communication, you should work toward a sophisticated multi-channel marketing campaign with a significant emphasis on digital marketing. Social media advertising – and advertising on other digital channels – should include videos. We also learned what type of content should be included in the videos, how long they should be, and how details like this differ by level of study and age of student.
Watch our discussion of the research and subscribe to receive the report
My colleague Brian Gawor and I dive into the 2022 Online Learner Report in this Insights video.
You can hear more about the findings by watching this edition of Graduate and Online Insights. And if you want to be notified when the 2022 Online Student Recruitment Report is ready, be sure to sign up to receive RNL research. I also am happy to answer your questions, just send me an email.
---