enrollment
8 Keys to Moving Graduate Students Through the Enrollment Funnel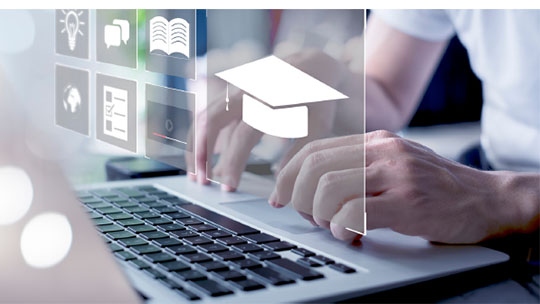 RNL will publish our 2023 Graduate Marketing and Recruitment Practices Report in early December. The report will detail the responses from enrollment leaders at more than 200 universities, uncovering several best practices that are used widely across institutions to achieve results. Here, we compare these practices with what both graduate and online students have told us about their expectations and preferences in three student-focused studies (graduate students in 2021 and 2023, and online students in 2022). The goal is to help enrollment leaders align enrollment processes with student expectations. As I worked through these data, I thought back to my days on campus and wanted to share my thoughts on how the data could be put to use to create the most successful approach to responding to inquiries at the top of the funnel and communicating throughout the funnel for best results.
Moving students from inquiry to application
1. Who? Use dedicated admissions counselors or recruiters to respond to inquiries.
What grad students want: 64 percent of prospective students surveyed in the 2023 Graduate Student Recruitment Report indicated that their desired first point of contact is a recruiter who can respond to general questions about timeline, cost, admissions criteria, and the like.
What grad schools are doing: Similarly, up to 91 percent of institutions responding to our 2023 Graduate Marketing and Recruitment Practices Report are using admissions counselors to handle these first-level inquiries. Larger institutions are still using a more decentralized approach, with 46 percent of academic program leaders responding to initial inquiries, but it can be difficult to attain the speed-to-lead response time needed with this type of process.
2. How? Email is often the quickest way to respond to inquiries—whether personalized or automated.
What grad students want: Up to 76 percent of prospective graduate students in our survey indicated that it was their preferred contact method.
What grad schools are doing: More than half of all sizes of institutions are using personalized emails or sending an automated email message as their first response to an inquiry. RNL recommends using a personalized video that is linked to an automated email, sent within two minutes of the initial inquiry, for the highest engagement.
3. When? The sooner an institution can respond to inquiries, the better. But in any case, responses must be made within 24 hours.
What grad students want: Our survey showed that 86 percent of graduate students expect a response within 24 hours. Of these, 28-41 percent of prospective students across all age categories expect a response within 3 hours! (In fact, our 2022 Online Student Recruitment Report showed that almost a ¼ of online graduate students expected a response "immediately.")
What grad schools are doing: This is an area in which universities have been working to meet student expectations. Their marketing practices show that only about one in five of the schools take more than a day to respond to initial inquiries, although only one in five can respond "within minutes."
4. Why? A slow response may turn away students who feel they're not a priority – but most importantly, 60 percent will enroll at the first school to respond to their inquiry.
What grad students tell us: 42 percent of graduate students surveyed interpreted a slow response as a sign that they were not important to that school. A fifth of these students also concluded that the graduate program was not of high quality if the school did not respond to them quickly enough. And 78 percent of online graduate students responded that they were likely to enroll in the program that reaches out to them first. So for the smaller, tuition-dependent schools that are not reaching students within 24 hours, the pool of interested prospective students to move through the funnel is quite narrow, even at this early stage.
Talk with our graduate and online enrollment experts
Ask for a free consultation with us. We'll help you assess your market and develop the optimal strategies for your prospective graduate students and online learners.
Moving students from application to enrollment
5. Who? Use program staff to respond to students after initial inquiry, or professional enrollment coaches will guide students through the funnel.
What grad students want: Only 43 percent of graduate students wanted program details like course content and information about the faculty at the beginning of their searches. However, students will need this programmatic information later as they compare programs and make a decision to apply and enroll. A large percentage of students (46% ranked this in their top 3 concerns) indicated that speaking to someone who knows "me and my situation" is also essential. And 77% of students expect this follow-up contact at least weekly, so if program staff cannot meet this level of engagement, then dedicated enrollment coaches should be used at this funnel stage.
What grad schools are doing: Although not asked in this year's survey, two years ago, grad school leaders told us that contact was as often done outside the recruitment office as within. This aligns with what I hear as I travel around the country meeting with grad school recruitment leaders. Many are struggling to convince academic and other stakeholders to let professional recruiters and counselors conduct early contact and response—often to the detriment of a quick response, and putting accountability for speedy contact outside the purview of the enrollment leader.
6. How? Email is the preferred method for following up with students, but a multichannel approach is imperative.
What grad students want: 60 percent of online students surveyed indicated that they preferred email communication with their school of interest, followed by text messages (18%), phone calls (13%), and mail (7%). A personalized approach is also important here, as the majority of students ranked "use my first name" and "send me information specific to my program" as their #1 concern.
What grad schools are doing: Again, we did not ask this question in this year's survey, but two years ago grad school recruitment leaders indicated that their primary format of response and ongoing communication was via email. As I have talked with grad school leaders over the last few years, I have also sensed that many schools continue to allow the people doing the contact (whether they be faculty, program staff whom they cannot control, or recruiters whom they do) to decide how they want to make contact rather than use the methods that work best to move students forward in the funnel. For schools making phone calls, RNL recommends using a branded calling platform, so students are more likely to answer your calls.
7. When? Communicate with students throughout this stage of the funnel faster and more often than you may think!
What grad students want: Regarding speed and timeliness, 15 percent of graduate students expect to be notified of admissions decisions within 24 hours of applying. Another 29 percent want notification within 3 days, and 27 percent will wait up to one week. However, only 10 percent of graduate students will wait longer than two weeks for this notification. Regarding the frequency of communication, 12 percent of students expect DAILY communication with university staff as they move through the funnel. 35 percent of students would like follow-up 2-3 times each week, and another 30 percent state that they want to hear from their chosen school weekly.
What grad schools are doing: While greater numbers of grad schools are admitting students faster (for more information on this read my colleague Chelsea Hoffman's excellent blog) too many schools are taking too long to admit students – particularly those with fixed admissions windows rather than rolling admissions processes. In my work with graduate programs nationwide, I see evidence of communication flows that overuse a single channel of communication (typically email), do not offer sufficiently personalized content that will keep the student engaged (particularly a stream of unique information about their program of interest) and also ends too soon (many stop at either 21 or 28 days when my experience indicates that some students need to be cultivated for as long as 3 to 6 months.
8. Why? Almost all students will enroll in the university program that admits them first.
What grad students tell us: In fact, 85 percent of respondents indicated they would enroll in the first school to admit them into their selected program. And 67 percent of students are exploring two or more programs, so the market is highly competitive. If your admissions criteria are slowing down this process, consider streamlining required document submissions, making the decision more objective, and allowing your enrollment team to determine program admission and send immediate notifications to the applicants.
Look for new findings in our forthcoming report, or reach out to talk with our recruitment experts
The data that will be published in our upcoming 2023 Graduate Marketing and Recruitment Practices Report will show that leaders are struggling to handle inquiries and cultivate leads throughout the funnel. To provide a preview, institutions of all sizes indicate challenges: about 50 percent said prospects and inquiries are a challenge, and at least 35 percent said they experienced challenges at each of the applicant, admit, and commit stages. However, the data are clear that responding to prospective students quickly and personally throughout the funnel is critical to solid enrollment health.
We are also happy to talk with you about how you can more graduate students through the funnel more efficiently. Contact us for a complimentary consultation and we will set up a time to talk.
---