fundraising
What Content Matters for AI-driven Personalization in Higher Education Fundraising and Enrollment Outreach?
When we mention artificial intelligence (AI), a lot of higher education leaders think, "We could never do that." But it's not a huge leap. AI-driven personalization in higher education works like personalization in other industries.
Take Netflix, for example. With more than 200 million subscribers, the streaming service is familiar to most of us. Movies, series, and other programming follow a well-understood, informal taxonomy: action, comedy, crime, documentary, drama, romance, and so on. Video programming has metadata: stars, writers, descriptions, release dates, etc. There are many more ways to describe your options on Netflix, but let's keep it simple.
By looking at both my viewing habits and using categories and similarities about my preferred programs, the AI that powers my Netflix feed can recommend the latest documentary or romantic comedy. Making a good recommendation can make all the difference. If it's clear that I watch a lot of comedies, presenting a lot of recommendations for thrillers may be off-putting—don't they know me by now?
Personalization through AI in higher ed works the same way. For an alumni outreach example: consider that some of your alumni may care deeply about your arts program and absolutely nothing about your popular athletics program. Or the opposite. Or maybe they care about both. Using AI-driven personalization helps you serve up content to show that you are listening and care about your alumni. Here's how it works.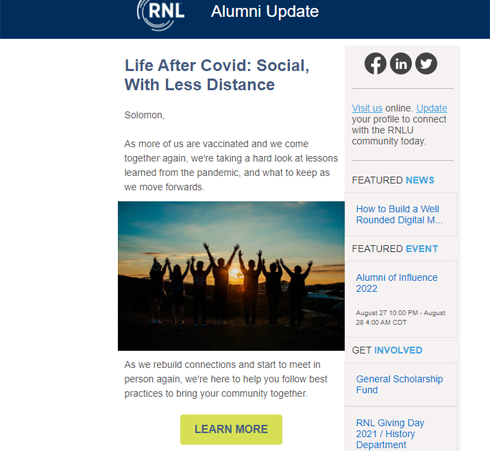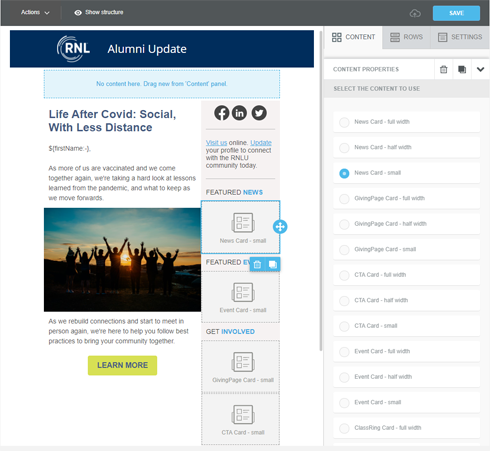 AI-driven personalization can help you feature variable content that matches the set of interests demonstrated by each member of your audience.
To Personalize, Start by Presenting Options
Selections drive personalization. In the Netflix example, the first time that I use the service, I may watch a popular new show, even if it's not something that I typically watch. Over time, I may seek out more of the type of programming I tend to prefer—perhaps science documentaries instead of buzzworthy shows. The point is, I have a choice of very different programming, and over time, my out-of-character selections may be an important nuance, but not a habit.
Now consider the content that you provide to your alumni and other constituents on a regular basis. If you review your website's news page, your blogs, the alumni benefits site, student newspaper, magazine, athletics news, and department sources, you already have a wide variety of topics that cater to a variety of interests. To get started on the path to improved engagement, you present options, let the AI learn from consumption, and fine tune what it presents over time.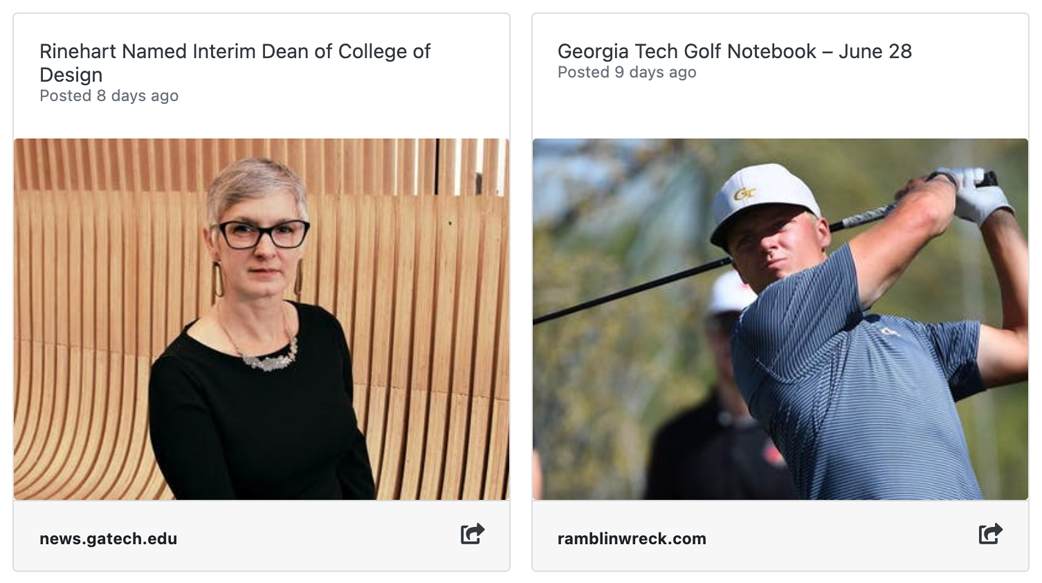 Here are examples of Georgia Tech University using variable content to align with alumni interests and improve alumni communications.
Traditional Segmentation Doesn't Work
It's tempting to simplify our communications with traditional segments—we've been doing this forever, and it works okay. Segments are human-produced categories that put people into a box: you're a documentary person, you're an athlete, you're an artsy person.
Compared to treating everyone the same, segments can help: we could always choose programs from three major networks that program based on segments, but few people want to go back to the world before personalization. As people, we want to be understood for our complexities—our nuances.
The good news for universities is that personalization does not require new content to uncover nuance. I'll offer an example. Recently, we worked a university to use AI-driven personalization (in RNL QuadWrangle) to create a newsletter. The institution drew content from different sources, which included news articles that inevitably discussed COVID-19 and vaccines and information about their pharmaceutical sciences program, along with other features.
The artificial intelligence learned from nuances in content and personal choices at the individual level for each reader. Previously, those nuances were lumped together in broad segments. In future communications, variable sections of the newsletter changed for each user by their demonstrated interest.
The result: more than double the engagement with the newsletter. Greater open rates, more time spent on content, and a closer connection with the institution.
This is the power of artificial intelligence—not to replace us or have our constituents interact with a robot—but to finally live our dream of personalization at the individual level.
AI-driven personalization is now a reality, and more cost-effective and easy to implement than ever. To find out how you can be up and running with RNL QuadWrangle and QuadMail in days, not months, contact us today.
See how you could engage more donors with the power of AI
Watch this overview of the RNL QuadWrangle AI-powered platform to see how you can engage donors with curated content that's more relevant, exciting, and accessible. Then ask for a walkthrough to learn more about the:
AI insights
Dynamic emails
Event management
Content curation
Giving pages
---