fundraising
The Evolution of the Personalized Donor Experience: Texting, Video, and Secure Remote Giving
You've heard us saying it: it's time to move past "phonathon" and "contact center" and embrace an engagement-first strategy as we reach out to donors. Over the past two years, we've made hundreds of updates to our industry-leading integrated engagement center platform, RNL Engage. Here are three new ways that this next-generation platform can bring your ambassador engagement to the next level.
Combine calling and texting in real time to maximize donor response, follow through, and your ROI
You're not going to reach everyone by dialing, and that's the biggest reason smart fundraising shops are integrating multiple channels into their outreach. But until recently, texting has either been a mass send exercise or somewhat disconnected to what happened today with a donor.
Enter 1:1 texting—the opportunity to send custom messages after, during, or even instead of a call. That's right, in an integrated platform like RNL Engage, you can do things like send a giving link to a donor who just made a pledge, while you're talking to them. (Hopefully, to a mobile-friendly giving page).
Or, as a time-sensitive campaign culminates (like driving attendance to an event), drop a text to a supporter you haven't been able to reach. It's an awesome evolution of this technology that maximizes the personal touch.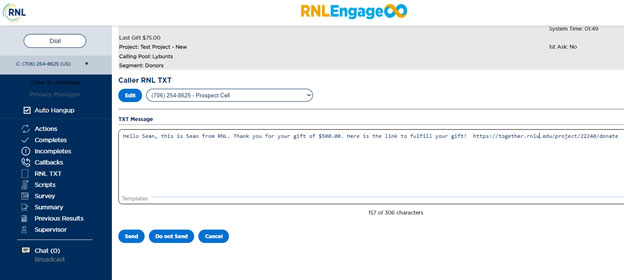 We just sent over a million texts leading up to and during #GivingTuesday. And the results were incredible, with over $11.5M in total giving across our platforms. Donors embrace texting (and probably even expect it), and these new tools make it even more personal.
Take gifts right over the phone, securely, with tone capture
Many engagement centers have moved to a remote or hybrid environment. And even after the safety concerns of the pandemic have passed, we're hearing that many will stay remote. But how do you accept gifts over the phone, as we've done for years, when your ambassadors are making calls from their residence hall or apartment? We can't have roommates overhearing those digits! So, we've invested in tech that lets the donor key in their card numbers live on the call, right from their phone. The ambassador accepting a gift doesn't even hear the audio, but immediately gets a confirmation that a valid number, security code, and expiration date have been entered. It's easy to implement and a great way to engage with donors who are ready to relay their card over the phone.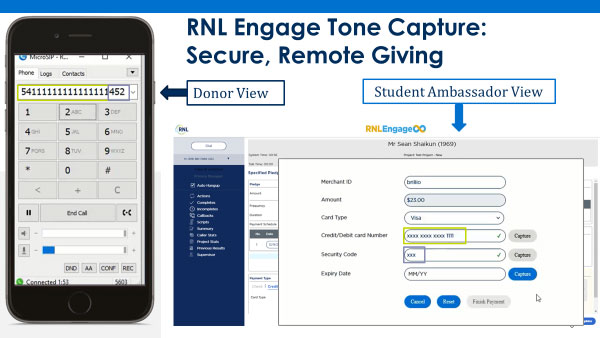 Send one-to-one personalized video in real time to engage, thank, and delight donors
The personalized video revolution has had huge impact as we maintain a personal relationship with donors while we can't visit them in the same way. RNL has worked with our partner, ThankView, to fully integrate personalized video into outreach campaigns in RNL Engage. You can still send video campaigns to groups of donors, but now you can also create new videos on the fly or choose from a library for individual donors.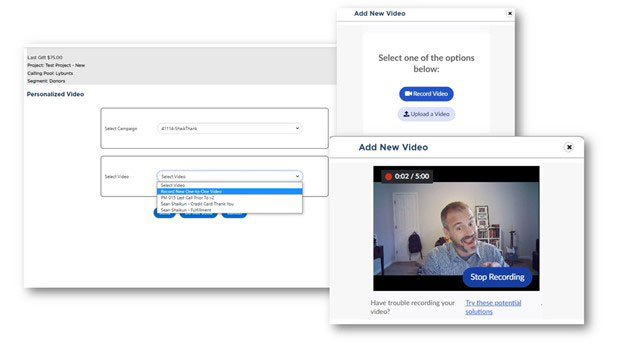 There are a ton of ways that this one to one video can be used. You might ask student ambassadors to make a special video for a donor who just made a leadership (or any) gift. Or create a library of videos from campus leaders to thank donors to specific colleges, programs, or causes.
The ability to select a video to send to a donor instead of a call, or after a great conversation, is an incredible way to keep engagement impactful and personalized.
Trends in creating a personalized donor experience
You'll notice a few trends here. The first is personalization. The world of scripts and sending everything to everyone is ending. The second is integration. If you're operating calling, texting, and video in silos, you're just not getting what you could from this great technology. And finally, immediacy. Being able to push communications in the moment drives donor action. We're here to encourage gifts, and to make it as easy and exciting as possible for donors to give. This sort of integrated approach really makes that possible.
These are just three of the ways that we've led the charge on taking what was once a "mass dialing" endeavor to a truly personalized donor experience. The results have been incredible. We're seeing engagement centers massively boost engagement and giving, even in a challenging time. If you're ready to take your engagement to the next level, let's set up a time to talk. We'll get you some immediate, personalized, and high impact response. Because that's what it's all about in the engagement-first revolution.
Transform donor engagement with RNL Engage
Connect with donors the way they want to interact with you: through texting, email, video, and calling, to create continuous, ongoing engagement. RNL Engage makes it easier than ever to manage outreach at scale and create instant opportunities for donors to give.
---